Every day doctors and scientists unlock new mysteries within the human body. One such mystery that's been getting a lot of attention recently is the endocannabinoid system (ECS), thanks to its role in pain management and injury recovery.
The endocannabinoid system is an electrochemical signaling system in the body that plays a large part in self-regulation and is one of the systems that responds when the body experiences injury. The body has cannabinoid receptors in the brain, connective tissues, organs, glands, and immune cells that can be stimulated by the body's naturally occurring endocannabinoids or by plant-based cannabinoids like the ones found in cannabis plants like hemp and marijuana.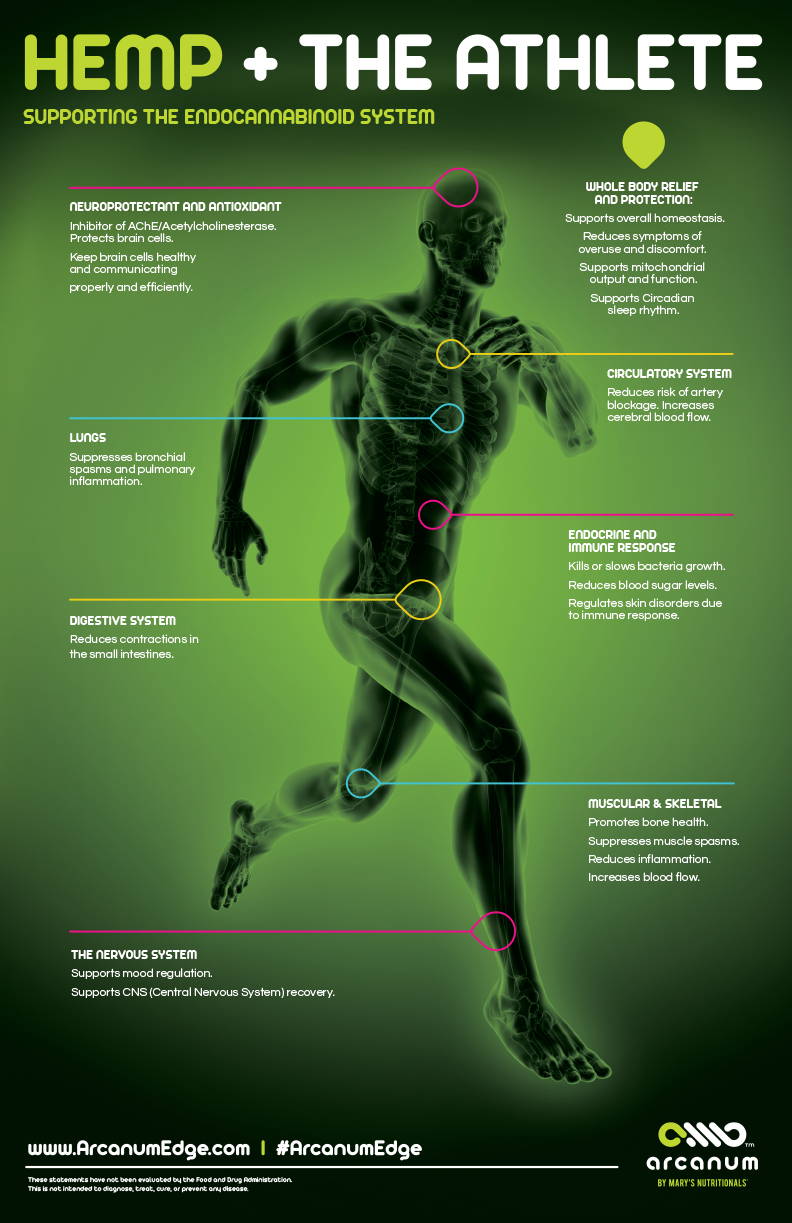 There are two primary plant-based cannabinoids: tetrahydrocannabinol (THC) and cannabidiol (CBD). Both compounds are found in marijuana and hemp in different concentrations. THC is found in higher concentrations in marijuana, which is why it has psychoactive effects on people. Hemp has higher levels of CBD, which does not produce any mind-altering side effects and makes it the better choice for use as an everyday remedy for pain and inflammation.
How do cannabinoids improve recovery and performance?
Supplementing with high-quality cannabinoids facilitates cellular communication in the body, allowing your endocannabinoid system to function optimally. Preclinical trials have shown that activated hemp extract can act as a natural anti-inflammatory, antioxidant, neuroprotectant, and antidepressant.
Arcanum utilizes full-spectrum activated hemp from Mary's Nutritionals in all their products to enhance your body's ability to repair itself after injury or physical activity, allowing you to recover smarter, recover faster, and perform better.
Recover smarter:
flush waste out of muscles
increase blood flow
Recover faster:
speed up your natural recovery process
reduce symptoms of overuse such as discomfort and swelling
supports Circadian rhythm improvement/sleep cycle improvement
Perform better:
facilitate faster central nervous system recovery
improve energy uptake and expenditure
improve focus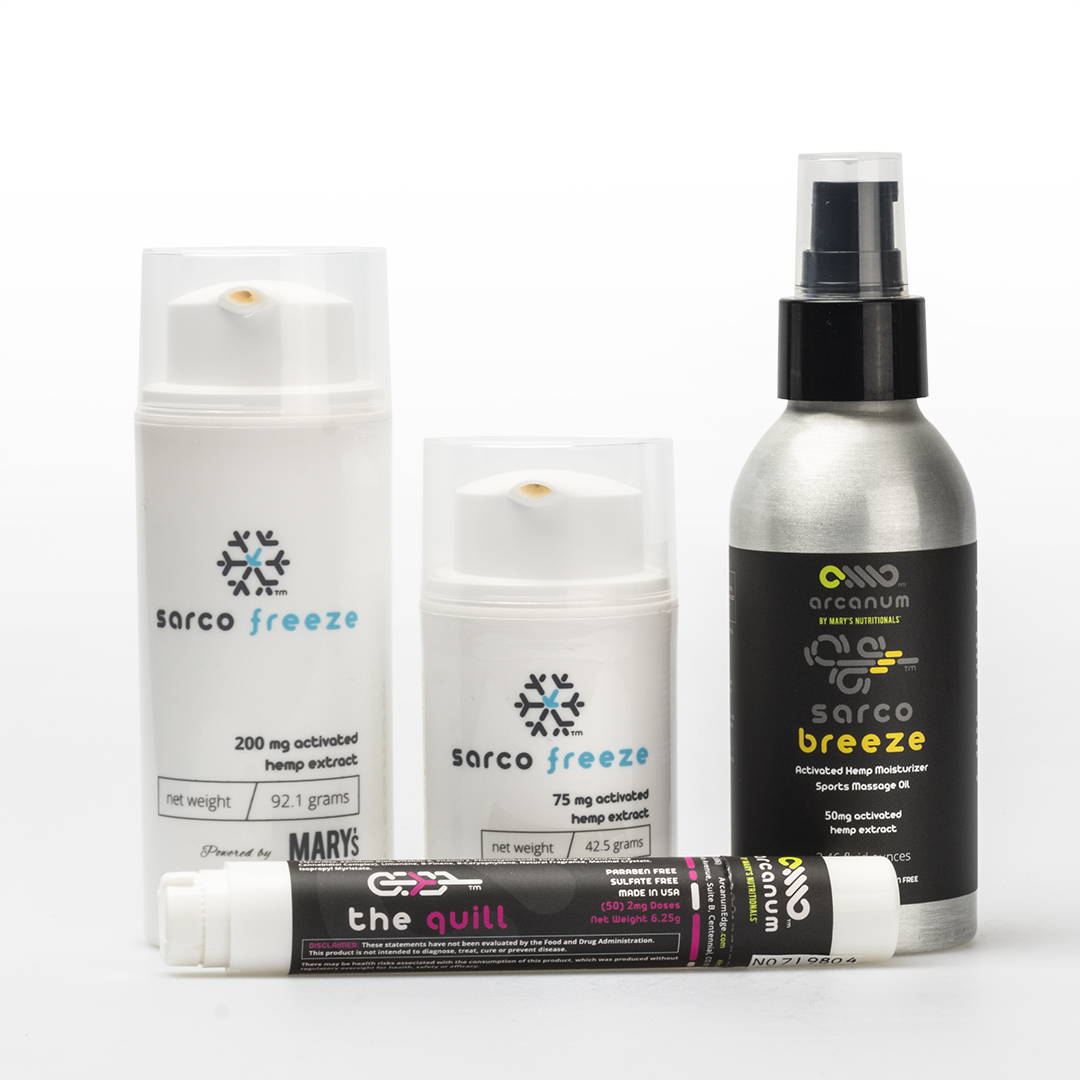 Are Arcanum CBD products safe?
Arcanum uses 100% naturally grown and pesticide-free hemp that's grown in Colorado. This hemp is free of harmful chemicals, solvents, heavy metals, and pesticides and all raw materials, extracts, and final products undergo rigorous on-site testing prior to distribution. The hemp is heated to a high temperature in a process called decarboxylation in order to increase its bioavailability and effectiveness.
What's the best CBD delivery method?
When medicine is ingested and absorbed through the gastrointestinal tract, it's filtered by the liver before hitting the bloodstream, meaning only some of the active ingredient is circulated through the body. This is not only less effective, it's a waste of the active ingredient. Arcanum products are formulated to be delivered dermally so that you get an effective amount of cannabinoids without stressing your internal systems or wasting the active ingredient.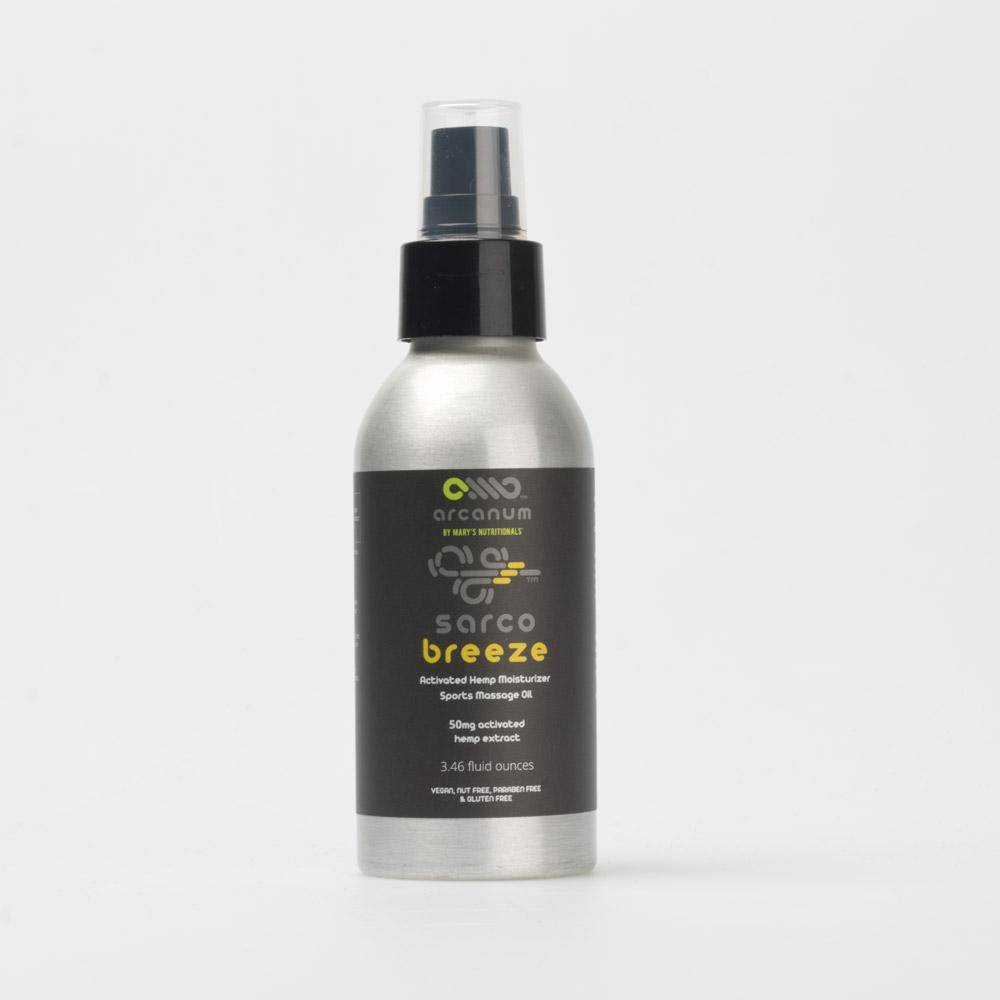 Sarco Breeze
Moisturizer and massage oil for all skin types.
4 oz pump bottle
Aids muscle recovery and soothes aches
Designed for full-body use
Great for massage therapists, chiropractors, physical therapists, and other professionals who specialize in muscle recovery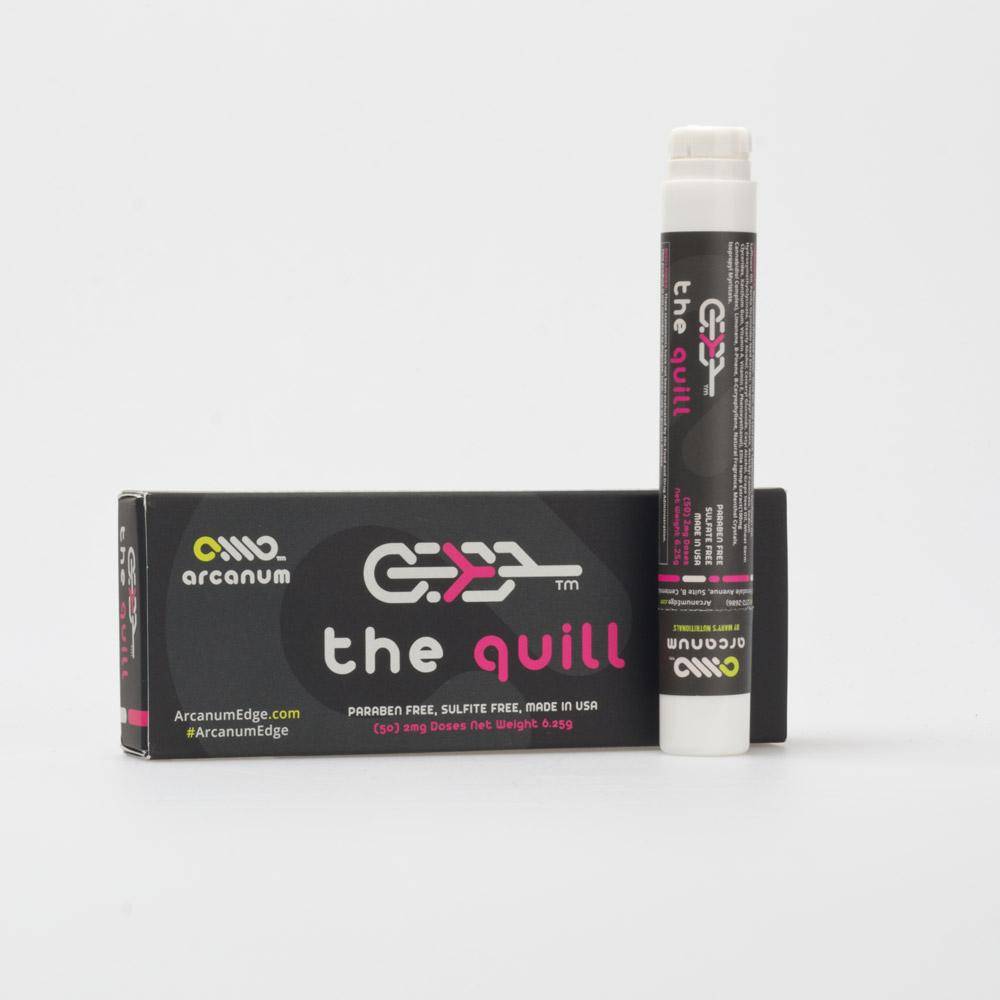 The Quill
Activated hemp delivered through patented gel pen technology.
50 precise 2 mg doses of activated hemp in every application
Relief in as little as five minutes
Dermal delivery for more accurate dosage control and better absorption without the stress on your internal systems
Paraben free, sulfate free, non-GMO and made in the USA
How do you apply Arcanum CBD products?
Sarco Breeze and Sarco Freeze both act locally, so you can rub the product into your skin wherever you have muscle soreness—just like you would any other topical relief lotion or cream.
The Quill delivers a measured dose each time you use it. Simply remove the cap, unlock the pen by twisting it, and press the button to dispense the dose onto your skin before rubbing it in. It's best applied to an area of the body with thin skin and a lot of veins—your wrists are a great place!