Long-time fans of GPS watches and heart rate monitors have a new reason to get excited about them. The new
Garmin Forerunner 620 & Forerunner 220
are seriously impressive.
To start, Garmin's newest Forerunners have a really great looking color display. It's a high-resolution color touchscreen. Plus, the watches are comfortable, lightweight and look great; in fact, they look so good, you might find yourself wearing one all of the time, not just when you're running.
Garmin Forerunner 620
It has smartphone Bluetooth syncing for wireless uploads, a feature I absolutely love since I am really bad at updating things (it does have USB connectivity if you prefer that). Once you're in range of your wi-fi hotspot, your Forerunner 620 will automatically upload all of your new data and it automatically updates new firmware! And, if you have your smartphone and use the Garmin Connect™ app, other people can see where you are. There are many reasons why this feature is incredibly awesome, the first is safety. If you're running someplace new or by yourself, you can always be found. The second is for the social/cool factor, your friends, family and coach can "watch" you run a race or see how your training is going. You can share your PR, workouts and recovery info with as many (or as few) people as you want.
Pace alerts are there to prompt you to pick up the pace. You can set heart rate zones and heart rate alerts. It has auto lap, auto pace, personal records, calories burned, run/walk alerts, training plan support, training calendar, advanced workouts and interval workouts. The GPS connects quickly, in fact, the satellite pre-loads. And, it has 50-meter waterproof construction.
Another new feature is the Recovery Advisor. This extremely helpful little tool gives you an estimate of how long you should recover before hitting the pavement, or the trails, again and how hard (or easy) your next run should be. There are two modes:
• Recovery Time. As soon as you're finished running , the Garmin 620 starts a recovery countdown mode until your next run (anywhere between 6 - 96 hours).
• Recovery check. This is a real-time assessment of how well you've recovered. It happens during the first several minutes of your run.
The Forerunner 620 even estimates how much oxygen your body can use while in motion. The V02 Max feature estimates the maximum volume of oxygen for your body weight at your max performance. As you become more fit, this number should increase. The Forerunner 620 then uses your V02 Max estimate to predict your finish time for a race (based on the distance of the race, your current fitness level and assuming proper training).
Use your Garmin Forerunner 620 with your HRM-Run and a world of amazing running dynamics opens up! During your running motion you can:
• Measure how much time your foot is on the ground rather than in the air, then see where you fall on the spectrum. According to Garmin, "Most running ground contact times are between 160 — 300 milliseconds. Elite runners typically spend under 200-milliseconds in contact with the ground each step."
• Record your steps per minutes. The cadence feature counts your total steps (right and left). Garmin says, "A typical cadence is between 150 — 200 steps per minute, with 180 steps being the sweet spot."
• Monitor the degree of bounce in your running motions. The vertical oscillation features measures in centimeters from the sensor on your chest HRM-Run monitor. Garmin's stats to measure yourself by: "Typical oscillation is between 6 — 13 cm. Elite runners generally oscillate less."
After all of this, your Garmin Forerunner 620 will give you a post-run summary.
To sum up: the Garmin 620 has a ton of impressive features. If you're looking for a new GPS/HRM that does everything, you won't be disappointed.
The
Garmin Forerunner 620
is $449. And, check out the
Garmin Forerunner 620 HRM in blue/black
and the
Forerunner 620 in white/orange
.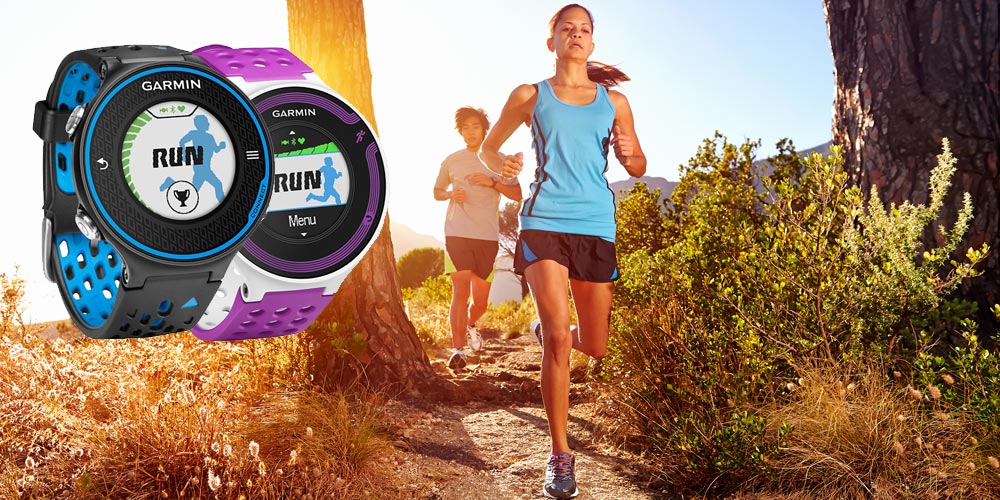 Garmin Forerunner 220
The new Garmin Forerunner 220 is a step down but still amazing.
It has some of the same functions as the 620, including the beautiful high-resolution color display. It's just as comfortable, just as lightweight and just as good looking.
You can still wirelessly connect to the Garmin Connect on your smartphone, but you have to download your data with your USB. You can also make a workout or training plan on Garmin Connect and then upload that from your computer to your watch.
It does have the pre-loaded satellite locations, the 50-meter deep waterproofing, training calendar, training plan support, interval workouts, calories burned, run/walk functions, vibrate notifications and pace alerts.
It does come with the nice Auto Pause feature, which pauses automatically when you stop at an intersection or anywhere else and then starts again when you pick up the pace.
Your Forerunner 220 will let you know when you've achieved a new personal record. Plus, it has the great post-run summary at the end of your run.
The
Garmin Forerunner 220 with Heart Rate Monitor
is $299. Check out the
Garmin Forerunner 220 HRM in white/violet
and the
Forerunner 220 in black/red
.