The adidas Barricade 8 is out and in stores.
The Barricade is one of the most beloved and bestselling tennis shoe lines available today. And when I say beloved, I mean it's loved by everyone: pros and amateur players alike. In fact, the world's top tennis player, #1 ranked Novak Djokovic says that the adidas Barricade is his favorite shoe and that it's best suited for his style of play. Djokovic has worn a version of the adidas Barricade for all six of his Grand Slam wins.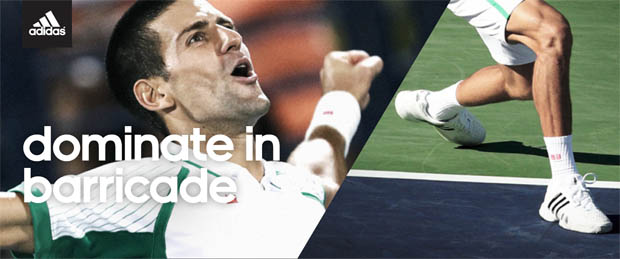 "The adidas Barricade is my favorite shoe. I have been wearing it for many years and have worn all the different generations. I have full confidence in the shoe and am very comfortable on the court when I wear it, which is essential for a tennis player. I have very specific dynamic movements, with a lot of splits and slides, so I need to have the right stability in the shoe, but also have an optimal weight and great performance. The Barricade offers me everything – adidas has provided me with the best shoe possible to help me win Roland Garros for the first time," said Djokovic.
Footwear giant adidas and Djokovic will continue to work together, they recently signed him to a long-term deal.
Djokovic isn't the only tennis superstar who prefers the adidas Barricade. Andy Murray laces up Barricade 8 tennis shoes. (He's playing right now in Wimbledon! We wish him the best of luck!)
Top fashion designer Stella McCartney designed the
women's adidas Barricade 8
. It has a fantastic colorway made up of Electricity Yellow/White/Pride Blue. Tennis superstar Caroline Wozniacki wears them. The full herringbone pattern on the outsole offers superior traction on all court surfaces while a Band-of-Power in the heel gives lightweight comfort and support. These shoes are breathable and lightweight with superior comfort. The anatomically shaped EVA inner skin offer step-in comfort.
What's new with the adidas Barricade 8?
The biggest thing is the 360-degree support.
Other key features include:


adiPRENE® in midsole for superior cushioning at impact


adiPRENE®+ in forefoot for propulsion & efficiency


adiWEAR® 6 for optimum high-wear durability


herringbone outsole for exceptional tractional


Enjoy a 6-month outsole guarantee + FREE 2nd Day Air Shipping on the new adidas Barricade 8 tennis shoes. 
Shop
men's adidas Barricade 8
Shop
women's adidas Barricade 8