Runners who have considered Hoka One One's running shoes "too big" or "too heavy" may want to take a look at the brand's latest models.
Hoka One One expands its line with a new lightweight trainer, the Huaka. The
Hoka One One Huaka
offers a more natural heel-to-toe offset and its staple, ultra-cushioned ride in one, complete package. Best of all, the Huaka is markedly lighter than many neutral shoes on the market.
Hoka has made a name for itself with super-cushioned and ultra-soft running shoes, produced with much thicker midsoles than those seen on competitors' shoes. However, the innovators in "maximalism" have geared their two of their newest models—the Huaka and the Clifton—towards runners who want a lighter shoe for not only racing and workouts but also every day training.
The secret ingredient for the Huaka's light, yet cushioned, feel is Hoka's RMAT midsole/outsole material. RMAT is the company's proprietary foam that gives runners plush cushioning and high resiliency at a very low weight. Unlike the original Hoka One one models, which sported compression-molded EVA midsoles, the Huaka's midsole is entirely made up of the RMAT material.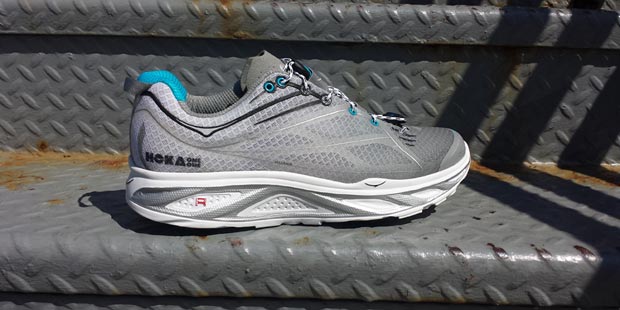 The Huaka weighs 8.9 ounces for men sits atop a 2mm heel-to-toe offset, which allows for a midfoot strike. Likewise, an Early Stage Meta Rocker encourages a smooth transition through the gait cycle. The Huaka is 27mm thick in the heel and 25mm in the forefoot, resulting in one of the slimmest midsoles to be found on a Hoka model.
The end result? A lightweight, neutral running shoe with an extremely cushioned ride that can be used for all types of training, including marathon and ultra marathon prep.Though the shoe's platform is "inherently stable," Hoka One One still classifies the Huaka as a neutral trainer.
Check out the video below to learn more about the Hoka One One Huaka!
[youtube id="cAnmHckGMlg" width="620" height="360"]
Hoka One One Huaka
• Category: Neutral, Ultra-cushioned
• Weight: Men: 8.9 ounces & Women: 7.5 ounces
• Heel-to-toe Drop: 2mm
• Recommended for: Neutral runners who want a combination of a lightweight ride and very soft cushioning
Pre-order the
men's Hoka One One Huaka running shoe
today!