By Buddy Weber, RRCA Certified Running Coach
I once heard a runner say,
"Why do I need two pairs of running shoes? I can only wear one pair at a time!"
While anatomically that is a correct statement, there are some very good reasons, some obvious, others not so obvious, to having multiple pairs of running shoes.  Let's explore some of those reasons and some strategies to managing them.
If you are running a couple of times a week or more, at some point you will get them wet from running in the rain, running through a puddle or even dew on the grass.  You'll want to let the shoes dry out before the next run in them or you'll risk getting a blister.  Having a second pair ready keeps your training plan on track while the first pair dries out.
Another reason to having multiple pairs of shoes is to match the terrain you are running.  This is very true if you are running both trails and roads.  While in theory, you could run in road shoe on the trail,
trail shoes
will provide support and traction for the trail that you may not find in a shoe made for pavement.  Ken Furman, Director of Training for Baltimore Road Runners Club (BRRC) and a veteran of trail running and ultra-races, advocates wearing trail shoes when on the trail and
road shoes
on the road.  If you are running distances in the ultra category, Ken recommends to having multiple pairs of shoes available to change into during the race as he did in a recent 48-hour race.  However, he is quick to point out, "Wear what you like.  Just go out and run.  Don't worry about your shoes."
Bruce Sadler, also from BRRC, considers himself a serious recreational runner.  His approach to multiple pairs of shoes is much more technical.  While like Ken he wears trail shoes on the trail, he tends to pick shoes for the road based on the speed and distance he is doing.  "I like to vary my workout," Bruce mentioned, "so I'll vary my shoes to go with it."  He has a pair of ASICS GEL-Nimbus and a pair of Under Armour Speedform Gemini which he uses for shorter distance and faster races.  He finds them to be more responsive, flexible and nimble.  To him, "they just feel faster."  He has two pair of HOKA ONE ONE Bondi's that he is currently rotating through.  He finds them to have a little more structure, stiffness, and padding that holds up to the demands of a race or a training run of 10K or greater.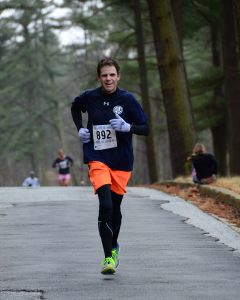 I'm a little more simplistic in my approach.  I tend to be a brand loyalist and have worn
ASICS Nimbus
for years.  I'm currently rotating through three pairs of them.  Even though they are all the same model year, one of them just seems to fit much better and I like to wear that pair in races.  However, I track my mileage on my shoes religiously.  With gear tracking built into applications like Strava, Ken, Bruce and I agree that there is no reason to wait for a twinge in your knees to change out your shoes.  Just follow the manufacture's recommendation on maximum mileage.
[xroadz-shop-button href="http://www.holabirdsports.com/models/asics-gel-nimbus.html" title="SHOP ASICS GEL-Nimbus"]
So how about you?  Do you have multiple pairs of shoes you rotate through before retiring them?  Be sure to check with your shoe experts at Holabird Sports on questions that you might have by leaving a comment below.
Buddy is a RRCA Level I Certified Running Coach with BRRC.  His focus is training novice and intermediate runners in half marathons.  
 For information on the training programs BBRC has to offer, see their website at
http://www.brrc.com/
[xroadz-shop-button href="http://www.holabirdsports.com/running.html" title="SHOP ALL RUNNING SHOES"]