The adidas Barricade series has been a fixture on the tennis scene for years. Over time, the series has continuously evolved to incorporate new features and technologies—mostly for the best—and earlier this year, adidas continued to push the Barricade forward with the introduction of the
Barricade Boost
2015.
This "special" edition of the
Barricade
2015 features boost cushioning technology in the heel for enhanced energy return, added comfort, and long-lasting performance that doesn't break down like midsoles made from traditional EVA foam. Boost technology has been around for a little while now—it debuted back in 2013 in adidas' running footwear—but the adidas Barricade Boost 2015 is the first shoe on the tennis side to get the boost-treatment.
adidas was kind enough to send us some sample pairs for testing; unfortunately, it's taken me quite a while to get back out on the courts, despite my excitement to test out adidas' latest offering.
As usual, I tried not to break in my pair too much before hitting the courts to make sure I got a true "first time" feel and as with most tennis shoes, there's definitely some stiffness when I put them on for the first time. Aside from being a little stiff, the Barricade Boost's felt really nice. The upper hugs the foot, providing a secure, locked-in feeling, and the boost cushioning underfoot feels soft and bouncy. This latest version of the Barricade (both the boost and non-boost editions) is significantly lighter than previous versions and seems lower-to-the-ground as well—both of which are definite pluses for a shoe that's biggest downsides in the past have been its weight and bulk.
Out on the court, the Barricade Boost 2015 also performed positively. There's no doubt that there are lower- and faster-feeling shoes, but this latest version of the Barricade definitely offers a sleeker, more responsive feel on court than past versions. Aggressive side-to-side movements felt smooth and forward sprints felt powerful and fast. The Barricade Boost 2015 feels less "boot-like," but still very stable, even without the trademark Barricade stability claws that adidas ditched a few generations ago.
In addition to a sleeker, faster feel, the Barricade Boost 2015's upper seems much cleaner than previous versions as well. There are fewer overlays—aside from those on the toe and medial forefoot for durability—which contributes to the lighter weight and seems to enhance the shoe's breathability. Fit-wise, I really liked the textured material on the inside of the heel collar as it seemed to help "grab" the heel of my foot and keep it from sliding up out of the shoe. I'm not sure how much of that feeling was just in my head, but I felt like I was able to get my feet locked down in the shoes without having to tie them uncomfortably tightly.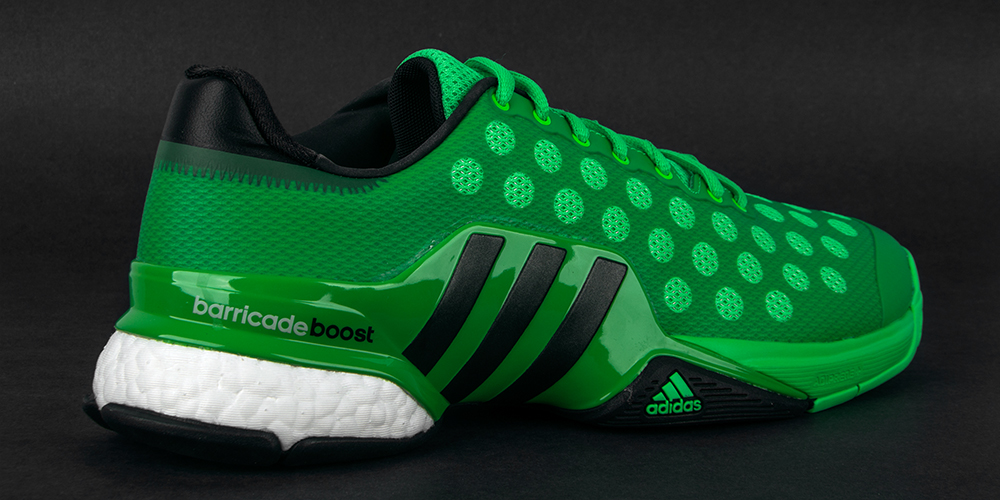 As I mentioned above, part of what makes this latest edition of the Barricade special is the addition of boost cushioning technology in the midsole. Boost cushioning material is composed of small polyurethane foam pellets that are fused together to form part or all of the midsole. This process yields a midsole that offers improved performance when compared to traditional EVA midsoles and the boost cushioning in the adidas Barricade Boost is definitely noticeable. I thought it delivered on the technology's promise of energy return, and comfort, though I would've liked to see the boost placed in the forefoot since tennis players spend most of their time up on the balls of their feet.
The outsole performed well, too, though I thought there was a slight lack of traction that caused a few slips on really sharp changes of direction. I don't know if the traction pattern was made less aggressive as a nod to players who like to slide across hard courts or not, but it was ultimately a pretty minor concern and really didn't affect the shoe's performance. Durability is excellent so far, though I haven't logged nearly enough hours on court with my Barricade's to start seriously wearing down the outsole. In any case, the Barricade Boost 2015—like most past versions of the Barricades—features a 6-month outsole guarantee, so if the outsole gets worn through within six months of the original purchase date, you can send them back to adidas for a one-time replacement. While it's not a direct feature of the shoe itself, the 6-month guarantee is a big selling point for frequent players and juniors who can easily wear through a pair of shoes in four weeks.
Overall, I'd have to say that the adidas Barricade Boost 2015 really impressed me. It lived up to the heritage of the Barricade name, delivering top-notch performance, cushioning, support, and—so far—durability. The Barricade Boost definitely feels lighter, sleeker, and more responsive than previous versions but still offers a stable platform, despite the diminished bulk. I wouldn't have minded feeling the boost cushioning under my forefoot, but even in the heel I thought it made a noticeable difference. The bottom line is that serious players looking for a well-cushioned, supportive, and durable shoe should definitely give the Barricade Boost 2015 a chance. It's a great-fitting shoe with lots of features to love.
Shop the
adidas Barricade Boost
.