Nike may have the most top 10 pros in their line up but adidas has the top of the men's heap:
Novak Djokovic
and
Andy Murray
. Both players favor the adidas Barricade.
World No. 1
Novak Djokovic
is wearing the red and white
adidas Barricade 7 tennis shoes
. These beloved and bestselling classics are lightweight with a seamless upper for optimum stability and comfort. The adidas adiPRENE® under the heel provides amazing cushioning at impact, while the adiPRENE®+ in the forefoot helps with propulsion and efficiency.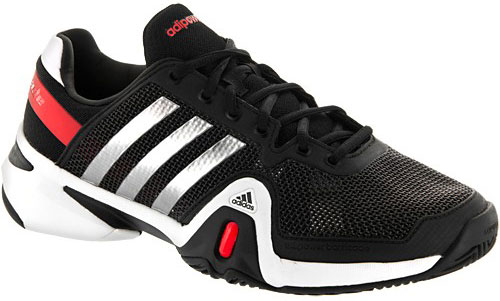 Wimbledon champ
Andy Murray
is sporting the black and white
adidas Barricade 8 tennis shoes
. This updated version features an open weave D Core 6 pattern. The look stays classic and the ventilation stays superior. A big change is the new 360-degree support, perfect for a fast, high-powered game.  
Check out Andy Murray as he visits adidas NYC - #allinforMurray:
[youtube id="56K_U60inRc" width="620" height="360"]