My daily workout called for intervals ranging from 1600 meters down to 200 meters, changing from a "fast" pace to a "recovery" pace every 200 meters. This kind of workout is definitely "in my wheelhouse", with a focus on quality and distance over pure speed. I chose to tackle this workout with the new Altra Torin 2.5 running shoes. I loved the bright coral and blue color way as soon as I saw them and once I tried them on, I was sold. There definitely seems to be an improvement in the fit of this model in comparison to its predecessors. For me, the improvement comes in the fit of the shoe around the heel, which in previous models felt somewhat loose. The obvious, ample toe box really has not changed which in my opinion is for the better. Though I might normally size up by a half in most running shoes, the space around the forefoot is so generous that I really didn't need to do that with this shoe.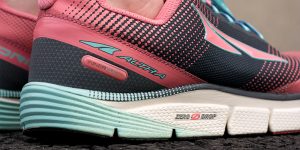 From the start of my very first interval at 1600m, I felt tremendous feedback from the generous cushioning of the Altra Torin 2.5. The spring-like effect made me feel fresh, even when I reached my last interval and fatigue was beginning to set in. Each interval felt full of boundless energy, making for a truly enjoyable training session. My feet were really able to relax and plant naturally, making each transition feel effortless. I was worried that I would need a bit of time to adjust to the zero-drop, but I had no issues with discomfort or pain after the run. I also wore these for a long day of working on my feet and found that they kept me going with a refreshing responsiveness. The only flaw I found was that the original laces tend to come untied often so I opted to install my own set of Nathan Lock Laces to make them easy to pull on and off.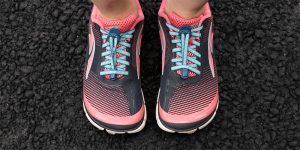 For my overall rating, I think the comfort in the toe box paired with the well-cushioned, lively ride makes this shoe one of my favorites to come along.
Want to see for yourself? Find these new running shoes and so much more at holabirdsports.com.