Last weekend I attended the Pikesville Track Invitational at Pikesville High School. I showcased several pairs of running spikes and was thrilled by the great questions the runners and their parents had. Hopefully, these questions about track spikes will help you find the right pair for your next event.
Q: I run both sprint and middle distance events. Do I need a special type of spikes?
A: Many 400m and 800m runners will find themselves at a crossroads between being a sprinter and a middle-distance runner. You will want a pair of spikes that has a fairly aggressive spike plate so that the shoe recoils and propels you forward without compromising flexibility. The Saucony Velocity 5 is a great option if you fit this mold. If you become more advanced and are looking for optimal performances in both long sprints and middle distance running, you may want to purchase two different pairs: I like the Saucony Spitfire 4 for sprints and the Hoka One One Rocket MD spike for middle distance.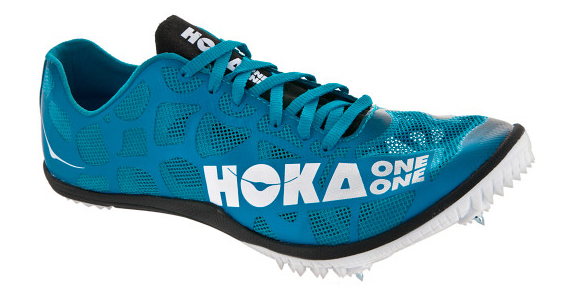 Shop Rocket MD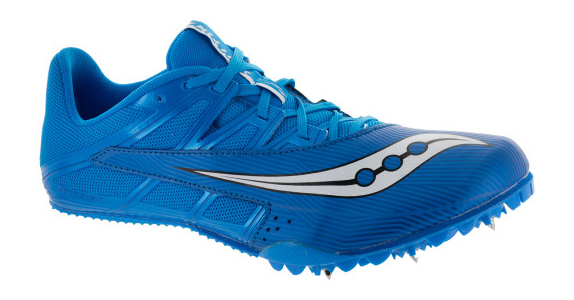 Shop Spitfire 4

Q: I run both middle distance and long distance events. What shoes should I buy?
A: For high school runners, the longest competitive distance is 5,000m. Athletes who compete in the 5,000m may also run distances like the 800m. The adidas adiZero Avanti is a perfect fit for such runners. Some prefer to have a pair of spikes solely for middle distance racing, much like the Hoka One One Rocket MD spikes.
Q: Can I wear cross country spikes on the track?
A: Of course. They are meant to withstand tougher surfaces than a 400m rubber oval, particularly the Saucony Havok XC. Be careful with wearing track spikes for cross country, though. The thinner foam midsole may be damaged easily. Many long-distance runners own different shoes for cross country and track.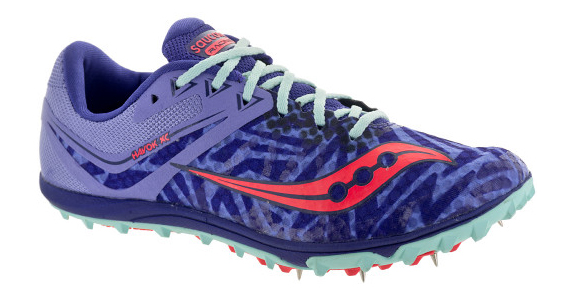 Shop Havok XC

Q: How are track spikes so light?
A: Shoe technology is improving rapidly, and the vast majority of running spikes are less than 6 ounces. Some models, like the Hoka One One Rocket LD Spikes, are approximately 4.6 ounces. Manufacturers design the shoes so that your feet only have what they need; there are no extraneous materials. Fused uppers, ultralight fabric, and special outsole constructions are all reasons for featherweight footwear. Some long distance spikes, such as the Puma Complete SLX Zone, only include four spike pins to reduce weight even further.
Q: Will these hurt my feet?
A: With shoes so light, it is natural to think that they may be uncomfortable. Remember that track spikes are only meant to be worn on the track. Running on a rubber surface will help decrease impact and will allow spikes to fit more comfortably. Cross country spikes are built with a thicker foam midsole and a rubberized outsole to produce more comfort and durability over longer distances and mixed terrain.

Shop Cross Country Spikes

Q: How many spikes do I need?
A: By "spikes," we are referring to the actual pins you wrench into the outsole. The shorter the event, the more spikes you'll need. Sprinters will need more spikes (6-10) for greater traction, and long distance runners only need a few (4-6) to shave weight off of the shoe. Middle distance runners use about 6. Each pair of shoes will come with a fixed number of pins in the plate underneath the forefoot. You can use as many or as little individual pins as you like, depending on what makes you comfortable. Just remember that removing spikes may result in less traction.
Q: What type of spikes (pins) should I put in my shoes?
A: If you're concerned about the type of spikes to wear, ask your coach. 

Shop Track and Field Spikes