Mom's day is coming up and we have an outfit and gear that we think she'll love! That's the whole package... because your mom is the whole package!
Thank her for giving you life by giving her longevity. 
I'm sure the flowers, coffee gift card, and pieces of jewelry you were thinking of fit the bill pretty much every year; however, we encourage you to try something different this year. Show her how important her health is! 
Our spring look for mom is supported by a handful of brands that we carry, and we think it has "2018 [your mom's name here]" written all over it. 
So what do we have here?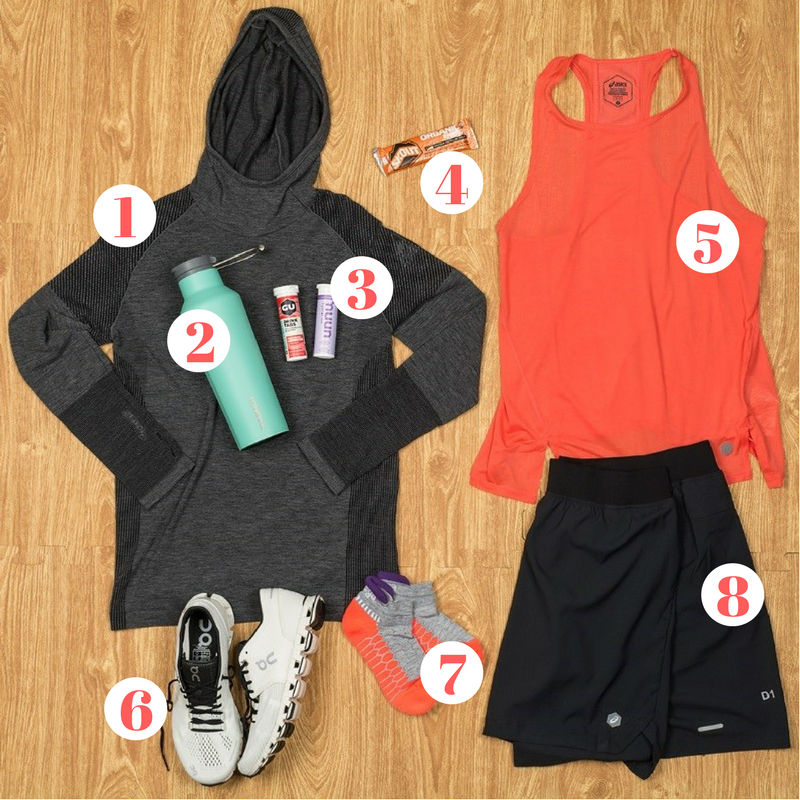 1. adidas Climaheat Primeknit Long Sleeve Hoodie:
It's lightweight and comfortable. The seamless Primeknit wool helps control body temperature and features odor resistant technology for a fresh feel year-round. It has a smooth-fitting style, built-in hood, and thumb-holes.
2. Corkcicle Sport Canteen 20oz: 
This trendy canteen is made from a durable, triple-insulated stainless steel that keeps her favorite beverage cold for up to 25 hours and hot for up to 12 hours. She'll love it for water, coffee and even a to-go mimosa container for mother's day brunch!
3. Nuun Energy:
She needs a healthy alternative to sugary sports drinks and to mix up her water! Even better that this one contains ZERO SUGAR. Nuun Energy (Tube of 10) are vitamin B and caffeine enhanced drink tabs that provide her with sustained energy so she can get through even her toughest workouts. Only 8 calories per tab and 0 grams of fat.
4. Skout Backcountry Organic Energy Bar:
If she's always searching for the next greatest bar, Skout will satisfy her search! These USDA organic bars are a yummy snack for her next adventure. They're made with real, recognizable ingredients, provide energy from low-glycemic ingredients and are naturally sweetened. Yum!
5. ASICS Cool Tank Women's Spring 2018: 
Made with a lightweight, performance and moisture-control fabric in four different colors, this inexpensive, premium workout tank will keep her cool and also looking cool all throughout the warmer months. We all need a cute tank for spring! 
6. On Cloud X:
If your mom has been looking for a shoe that can do it all--or you want to give her something for runs, workouts, and everything in between--the On Cloud X was designed just for this occasion! It's a trendy and versatile shoe for a neutral runner,  perfect for those who like to mix up their training with more fitness-friendly workouts.
7. Balega Silver No Show Socks Spring 2018:
New for this spring, the new Balega silver no-shows are equipped with an antimicrobial silver layer to keep those feet breathing. Balega socks truly rock. Their heel pocket, a cushioned tab at the heel of the socks, protects delicate skin and helps keep them in place during exercise. Help her with her spring cleaning and up her good sock supply!
8. ASICS 7" Shorts Women's Spring 2018: 
Another hit for spring from ASICS to go with her cool, spring tank! These shorts come with an inner brief so she'll feel even comfier and more secure. Complete the outfit!