We had our staff test the new K-Swiss Ultrashot tennis shoes for fit, comfort, and performance. Each tester varies in ability and age to analyze the shoe's effectiveness on the courts and in the gym! 
The Ultrashot is a new K-Swiss shoe with a ton of tech. 
Durawrap X technology helps to prevent excessive toe-dragging and Stay-Tied Laces stop your laces from coming undone, minimizing distraction. Heel Grip lining stops the foot from slipping while you compete. Flowcool System enhances breathability. Seamfree synthetic leather and canvas upper. 
K-EVA provides cushioning and durability. Ortholite keeps feet cool and wicks moisture. GuideGlide midsole construction ensures a comfortable and stable ride. Plantar Support Chassis enhances mid-foot and heel stability.
Outsole: DragGuard located in the high wear areas of the shoe will make it long-lasting. The use of Aosta 7.0 rubber will give you increased durability from heel to toe.
LOUIE: "Worked itself into my rotation."
Tennis Shoes Worn in the Past: Adidas Barricade, Nike Cage, and Babolat Propulse
Tennis Level: 4.5
Favorite Shot: Inside-outside forehand
Racquet of Choice: Babolat Pure Aero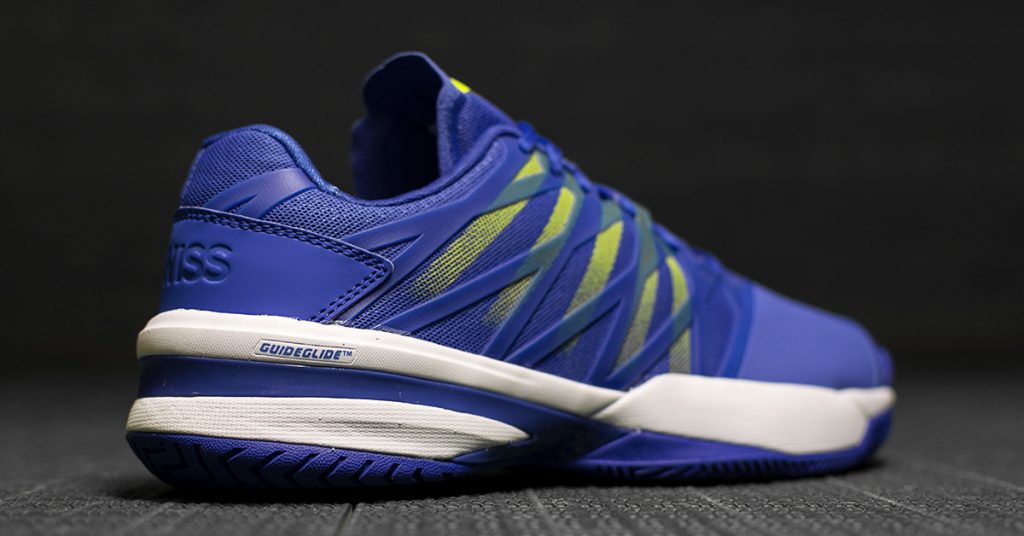 FIRST IMPRESSIONS 
Stylistically the NEW UltraShot is very sleek and modern. I like how Kswiss integrated their 5 stripes into the design of the shoe instead of just placing it on the side like previous tennis shoes.
FIT
This tennis shoe is a cross hybrid between three of my favorite tennis shoes. It has the durability of the Barricade, lightweight feel of the Adizero Feather and lock-in feel of the Nike Cage.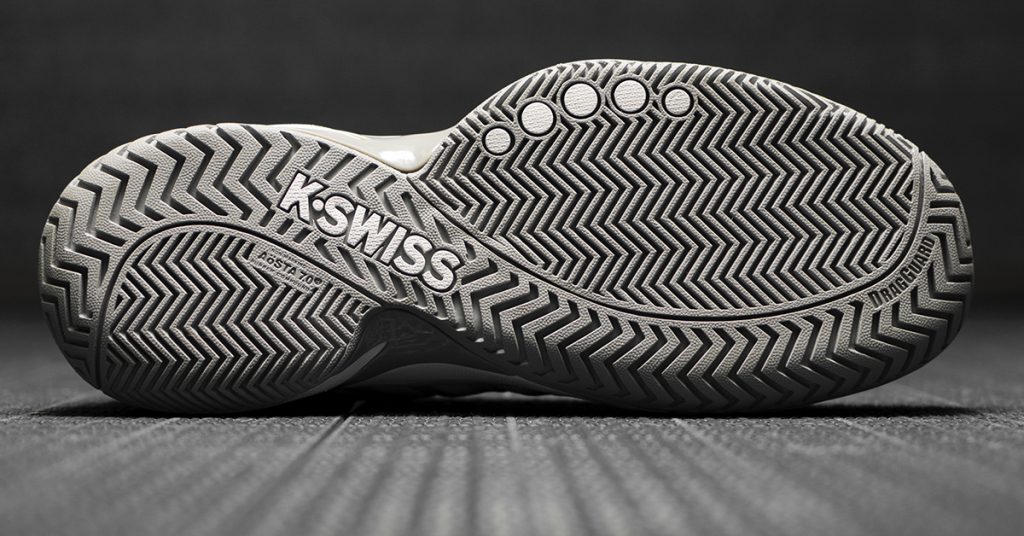 PERFORMANCE 
This tennis shoe has quickly worked itself into my rotation of court shoes. I used this shoe for both my boot camp class and on the courts. It has a firm durable feel without sacrificing flexibility. My heel and forefoot are wrapped securely and comfortably allowing me to change direction with confidence thanks to the GuideGlide Midsole. You really feel the DragGuard technology put to work with short cuts and jolts to reach each shot.
RATING
Overall I would rate the new K-Swiss Ultrashot 4 out of 5 stars. It missed being the perfect shoe mainly for its cushioning. Don't get me wrong, the K-EVA special formula EVA provides excellent cushioning but for a court shoe that I will be in for 2-3 hours of play, I want a shoe with a little more added bounce for a nice, firm plush feel similar to the Barricade Boost midsole. For the price point, and no break-in time needed, this shoe is at the top of my list this season as a must-have to add to your shoe rotation.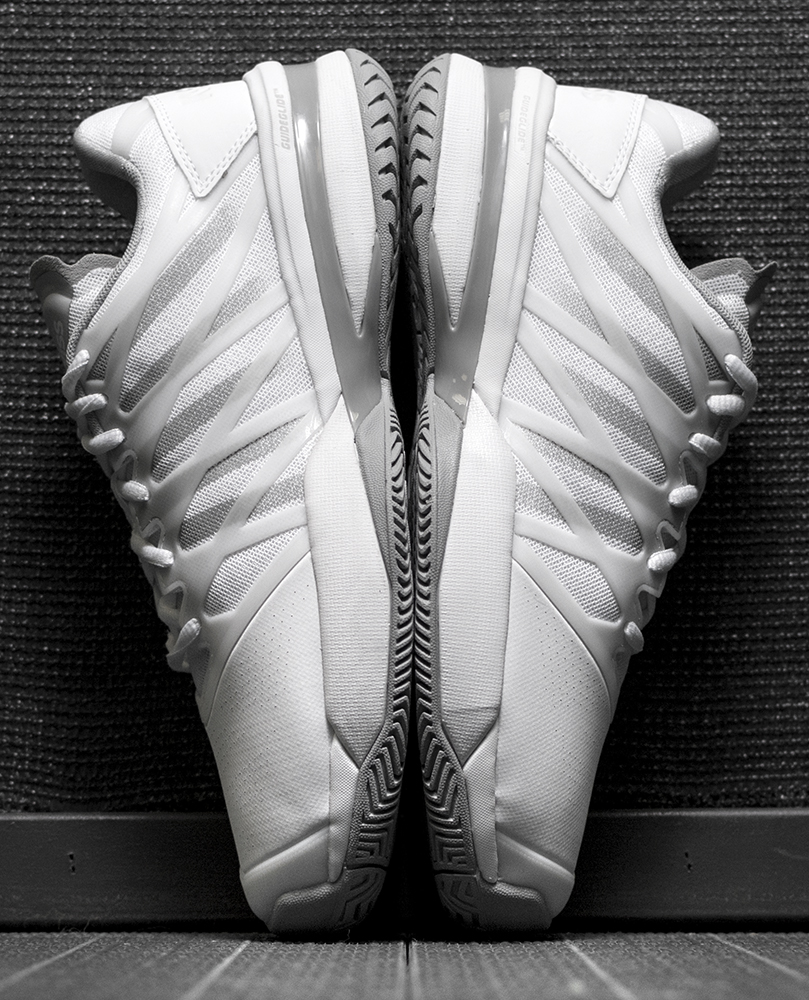 KORYNN: "Quick direction changes."
Tennis Profile: Hello, I'm the non-player in all this jam. The last time I picked up a racquet was in high school gym class… that didn't go well… so instead I decided to wear these during my basic circuit workout during my normal gym visit.
First Impressions: The first thing I noticed about them was how they looked. I know, shallow. But that's how I choose a lot of my shoes. And I will be frank, I didn't like the color. At all. I don't wear neon or bright shoes, and the wear-test pair I was given was a neon coral. The shoe also comes in white/grey and white/blue, so I think stylistically I would have liked the look of one of those better. The profile of the shoe wasn't bulky compared to other tennis brands, and I really liked that.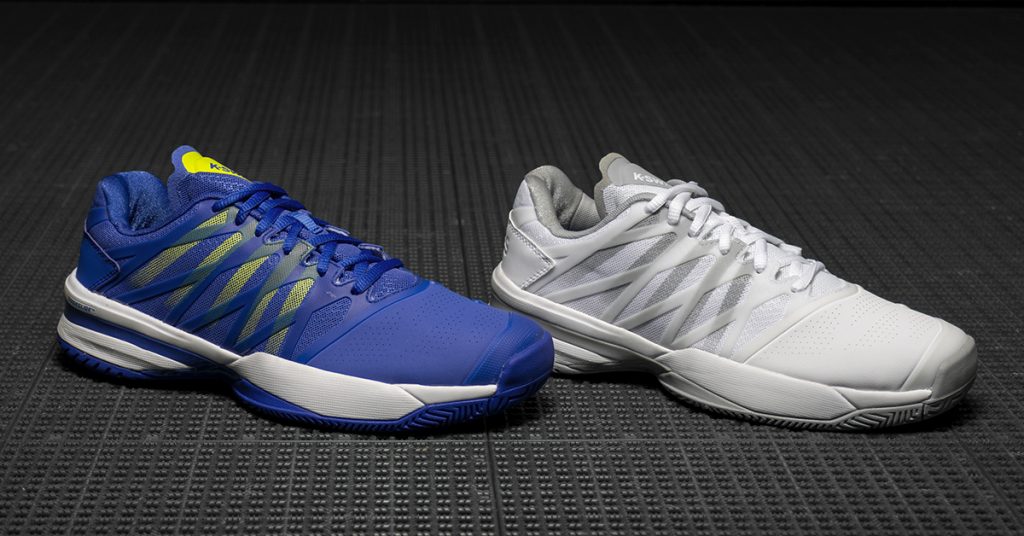 FIT

I definitely felt secure in the shoe. My foot wasn't going anywhere, and there was plenty of room while I was moving around the gym. It should be noted that on me, this shoe ran a half-size LARGE. I normally wear a ladies 9.5 but in this I wore a 9.
PERFORMANCE

There was enough of a stable base for me to feel like I wouldn't fall or slip during walking lunges and step-ups, but it didn't restrict the movement of my foot so much to where I felt uncomfortable. I decided to do some of the old ladder agility drills that I used to do in soccer, these definitely kept me on my feet and made it easier to make those quick direction changes.
RATING

Personally, for me this gets a 3 out of 5. It makes for a great base and a stable footing, but at the cost of some cushioning that I need and love in my regular workout shoes.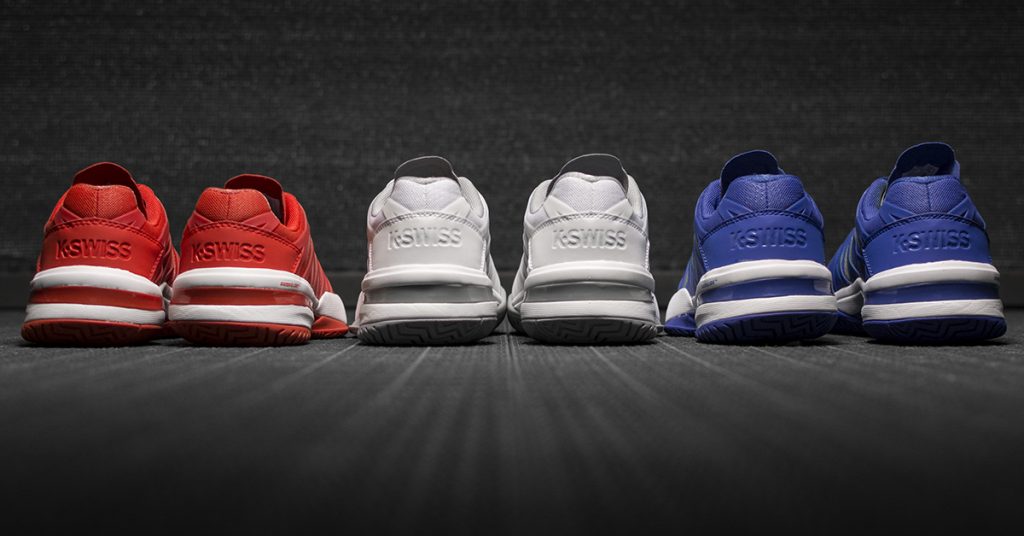 Dustin's review: "This shoe will definitely not be holding you back on the court."
As soon as I put them on and laced up, I felt like the Ultrashot was a little bit narrow through the forefoot for my liking. It is just a little snug for me, but I am still able to wear them. I have a slightly wider foot, but I usually do not wear a wide width in my running shoes or dress shoes. Once I had them on, they definitely had a high-performance feel. Low to the ground with optimal cushion and that snug fit. They are also very lightweight which is a big premium. This shoe will definitely not be holding you back on the court.
I can't speak for the durability yet, but they seem to be constructed very well and both the upper and outsole would stand up to quite a bit of punishment on the courts. This shoe also has really good lateral stability because of that strategically placed outrigger on the outsole. It's small, but it does a lot for your stability through side-to-side movements.
Overall I like the shoe and am really looking forward to giving it a true full test on the court.