This morning marked the end of the CrossFit Open and the atmosphere in the gym was powerful. Our regular 6 am crew consists of a close group of gals that share in the struggles and triumphs that come about during tough workouts. We cheer each other on, we coach, and we learn from one another. What makes us most proud is being better than yesterday, better than last week and better than last year. We share in those small victories and we ring that PR bell when we hit our personal bests.
With chalk on our hands, sweat angels drawn on the floor, and last reps hit right before the time runs out, we feel pretty. We feel, oh, so pretty.
Standing tall in the face of a challenge and picking ourselves up when it doesn't quite go our way. That's the stuff that makes us feel pretty. Fist bumps, high fives, and pats on the back- that's what gives us all the feels.
Under Armour, a supporter of athletes everywhere,  launched their #ImPretty campaign over a week ago to encourage women and men to challenge the idea of "pretty."
They say "'you're so pretty' is still pretty much the highest compliment some people think you can give a woman. Which is pretty sad... you're more than a pretty face. You're pretty strong, pretty tough, pretty fierce, pretty smart, pretty bold. Show the world how you're more than just a pretty face."
I want to show the world that I am pretty relentless.
To all mah fit chicks- Cathy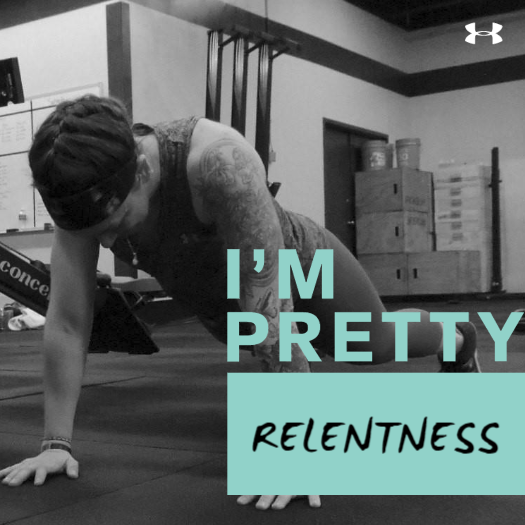 [xroadz-shop-button href="/clothing/shopby/hb_manufacturer-under_armourr.html" title="Feel pretty 'whatever!' in Under Armour"]