Salomon heeded the requests of their sponsored endurance athletes to produce brand new Sense Pro.
"Our athletes asked to have a [S-Lab] Sense shoe for every day training," said Salomon Rep Jamie Heaney. "We answered the call by fusing the S-Lab upper with the Sense Mantra midsole and outsole."
The result is the
Sense Pro
, a lightweight neutral trainer that has both an S-Lab feel and greater durability to last you through hundreds of miles of training runs. The fit is very similar to that of the Sense Mantra, though the upper is more flexible thanks to the materials used. Cushioning is on par with the Sense Mantra, though most runners will find the Sense Pro to be softer underfoot.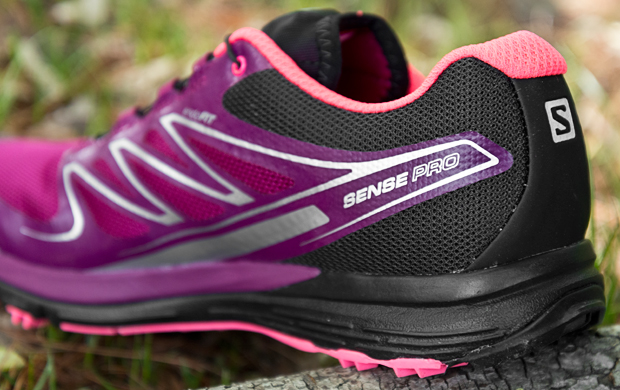 As a part of Salomon's City Trail Line, the Sense Pro is constructed with multiple surfaces in mind. City Trail shoes were designed for runners who traverse both urban and natural environments and seek ample foot protection in a lightweight, fun ride.
With a 6mm heel-to-toe drop, the Sense Pro encourages the runner to land towards the midfoot with each stride. Endofit, Salomon's interior foot sleeve technology, not only wraps the foot exceedingly well, but also gives you the option to comfortably wear the shoe barefoot. Also, multidirectional lugs give you great traction on all surfaces and braking power when running downhill.
Runners with a neutral foot strike that enjoy runs on variable surfaces will enjoy the
Salomon Sense Pro
. Watch the video below to learn more from Salomon Rep Jamie Heaney.
[youtube id="O0vXWwWpYOU" width="620" height="360"]


Category: Neutral


Weight



Men's (size 9): 8.8 ounces


Women's (size 7): 7.9 ounces



Heel Height: 16mm


Forefoot Height: 10mm


Recommended for: Urban/Trail runners who want a lighter ride and less aggressive tread


Shop the
Salomon Sense Pro for women
and the
Salomon Sense Pro for men