I was so excited to get these shoes. I'd been looking for a new trail shoe and with their 5 mm lugs, the
Merrell AllOut Rush
were touted as being great for a variety of trail surfaces. They even won the
Women's Running
2014 Sole Mate Award for Best Trail Shoe. But, I'll be honest, the first time I put them on, I wasn't sure about them. The toe box is much wider than I'm used to and I found myself constantly spreading my toes. As someone with weird toes, it's hard for me to find shoes that fit properly or are completely comfortable, it's why I love the sock-like fit of the Energy Boost 2 and, why, it took me a minute to realize that "odd" toe sensation was… comfort. The next time I put them on, I didn't even notice it -- they just felt
right
.
In fact, the more I run in my Merrell Rush shoes, the more I
really
like them. I appreciate the elastic omnifit laces, which are super comfortable with no pressure or irritation. They kept my feet snugly in place, giving me the confidence I need while trail running. I sometimes have trouble with higher cut shoes causing me friction or even pain around my ankles, but these Merrell's are cut low, providing another perfect fit in an area where I often have issues. I think it was my third run when I started thinking that someone at Merrell must have feet like mine, because they thought of every possible problem and provided a solution for it, or they are simply geniuses who have truly made a perfect shoe for every foot.
The AllOut Rush has a 6mm drop making them more "middle of the road" than a minimalist or a maximalist shoe. The thicker midsole and the 16 mm cushion at the heel provide enough cushioning for longer, harder trail runs, yet it's not enough to kill the feeling that minimalist trail runners love. Plus, neither of those things add too much more weight, and for durable trail shoes, these feel surprisingly light. As if that wasn't enough, the flex grooves in the forefoot let me experience more natural movement as opposed to some other super stiff trail soles that I've tried. Finally, the Rush have a nice rocker to them, it was just enough to help my feet find their natural stride but not too much so that it was super noticeable or annoying.
Even with all of that going for the AllOut Rush, in my opinion, the most impressive thing is the grip. Downhill, even on a wet, slick surface, was no problem. The lugs are big and "multi-directional M Select GRIP traction" and they
work
. They stick on push offs (even on wet, slippery rocks) and hold on tight through the thickest mud puddles. Plus, the nice-sized lugs make it easy to clean out the mud after each run. That said, one of my biggest complaints about these shoes is that they don't drain too quickly, but, unless you are planning on running through some serious water (and, hey, they aren't waterproof and don't claim to be) it's not even close to a deal breaker.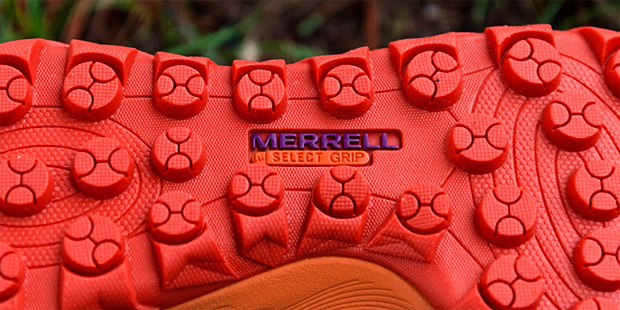 The protective toecap is a must – saving your toes from running into roots, rocks (or fallen logs, like I did). And, you can actually feel the protection on the side of your feet, which again, provided me with enough confidence to run fast through terrain I wasn't too familiar with.
After the amazing grip, it's the heel that makes me most excited. It cups your foot. The wide, toe splaying box and snug arch support are great, but it's the heel cupping that really make you feel that these shoes were made to fit you... whoever you are. It's weird, the AllOut Rush feel loose, yet snug at the same time. The bottom line is that they fit well right away, snug and secure, yet loose and free -- in all the right places.
It's no wonder that the Merrell AllOut Rush have trail runners excited. They fit perfectly, have amazing traction, just enough cushioning, seem exceptionally durable and offer enough protection for virtually any trail. Tomorrow morning I'm heading to a new trail in my Rush and I couldn't be happier.
Learn more about the
Merrell AllOut Rush for women
and
Merrell AllOut Rush for men
-->
*P.S. Right now you can earn a $15 Gift Certificate with every purchase of Merrell AllOut Rush trail running shoes! Use your Gift Certificate on any future purchase.