Wilson Ultra v3 Tennis Racquets
The Ultra® v3 tennis racquets are for players who want to unleash match-winning power every time they take the court. This line uses a PowerProfile layup to improve stability with each swing and generate easy power off the strings. Power Rib and Crush Zone technologies create a lethal combination that increases the racquet's hotspot, giving players the confidence to let it fly from anywhere on the court. With different head sizes, weights, and string patterns, the Ultra v3 racquets cater to every type of tennis player, providing power for all.
Shop All Wilson Ultra v3 Tennis Racquets
Power for Everyone
The Backboard
Meet Carlos. He's the guy that has no business beating you, but the bro can play. That's right, he's got a knee brace, a backwards cap, and a push slice that will drive you mad. His superpower is consistency. His performance enhancer is his Ultra v3's easy power. Either way: He wins games as you lose your mind. Nice job, Carlos.
---
The Competitor
This is Belen. She's gritty, she grinds and her compete level is something to be feared. But even more feared are her wicked groundstrokes, which are amped up with the new Ultra v3. So here's some advice: don't mess with Belen.
---
The Future
This is Olivia. The girl that dreams big and grinds even bigger. She's smart but sassy. Small yet mighty. And even mightier with the help with the amped up easy power of Ultra V3. Don't let her need for a power boost lull you to sleep. She'll push the throttle down deep into the corners with little remorse. Watch out future, she's coming for ya.
---
The Club Pro
This is Chuck. He was born to teach tennis. And if we're being honest, he can probably help you with your taxes.  Either way, he's here to dole out sage advice like "let the racket do the work!" That's why he wants to share tennis' best kept cheat code for easy power: Ultra v3. Because letting the racket do ninety percent of the work is half the battle. Just ask Chuck.
---
The League Lady
Meet Judy: crafty, competitive, and more savage on court than any pro player you'll see. Her sole purpose in life is to beat Linda and Nance at doubles, so she'll take every advantage she can get. Like using her Ultra v3: newly amped with easy power for players who need that extra boost.  But don't let her need for a power boost fool you. She's coming for ya.
---
Wilson Ultra v3 PowerProfile™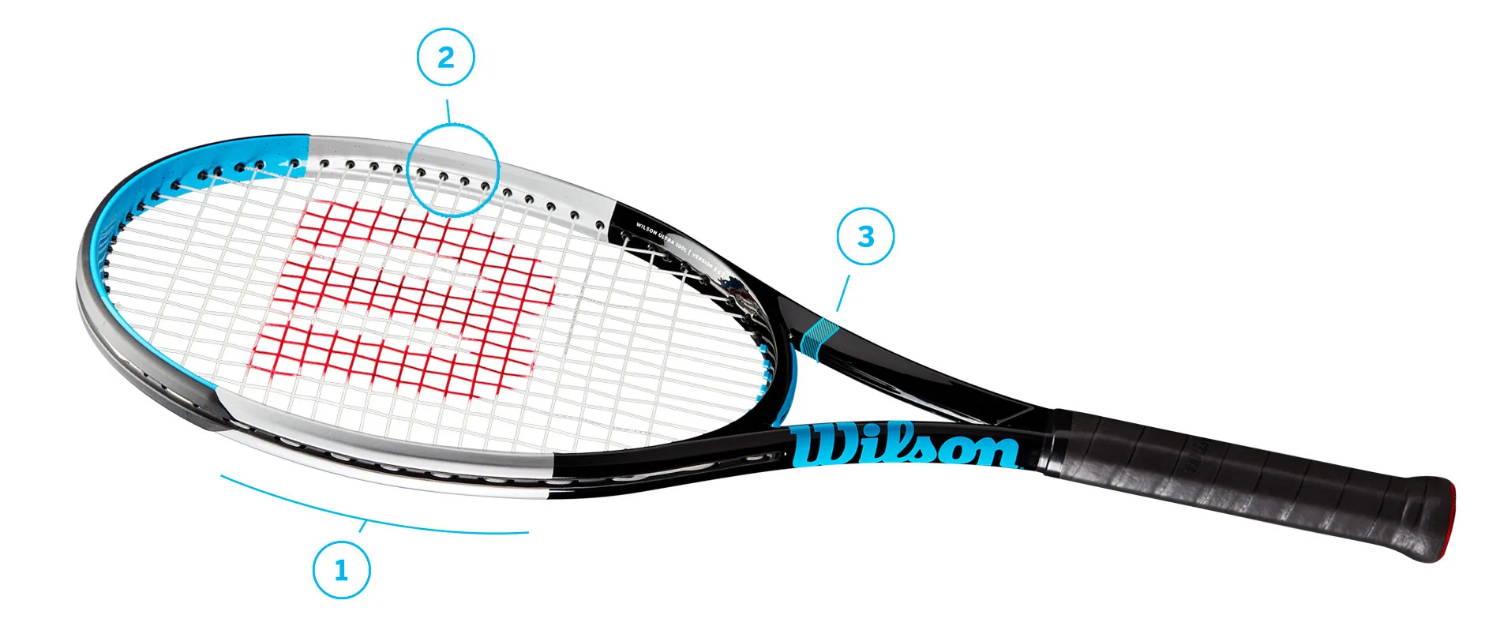 1. Integrated PWS
Integrated PWS takes the volume of the current PWS (Perimeter Weighting System) and blends it over a larger area to open up the string bed, allowing for more power off the strings while maintaining stability.
2. Sweet Spot Channel
The Sweet Spot Channel features a cavity on the inside of frame to extend cross strings by 3.5mm for more power and responsiveness off the string bed.
3. Inverted Power Rib
Inverted Power Rib throat geometry increases torsional stability for easier power and reduced frame twisting.
Learn More About Wilson Ultra 100 v3