Wilson is coming out shining in the new year with bright, bold, exciting colors for your tennis game.
Wilson calls this "a new kind of disruption," with racquet designs no one has ever seen before- ones that focus on only the essentials and strip away all the unnecessary elements. What remains are timeless, uncontaminated designs, meticulous in detail and bold in their beauty. They create racquets that want to be held and a psychological edge for the player bold enough to pick one up.
And to pair with their racquets, their bags represent the color and feel of the new Burn and Blade families.
The Burn represents the baseliner: consistent and patient, a lateral mover unafraid to step inside the baseline and hit through the court and their opponent. They want their racquet to accelerate their power, basing their game around groundstrokes. The Blade represents the attacker: an aggressive player in need of a racquet that controls their power. They step inside the baseline and when they get a short ball, hit big for a winner. Commanding shots and dictating play is their m.o.
With Wilson's consumer segmentation, Wilson helps players identify their correct racquet based on their individual styles of play. When you think Burn, think orange. And when you think Blade, think green.
To add to those colors, Wilson is also adding the Wilson red to their bags and exciting purples and blues to their shoes.
These bright colors reminds us of the old days. Think Andre Agassi in the mid-90s, minus the hair.
[caption id="attachment_7674" align="alignnone" width="630"]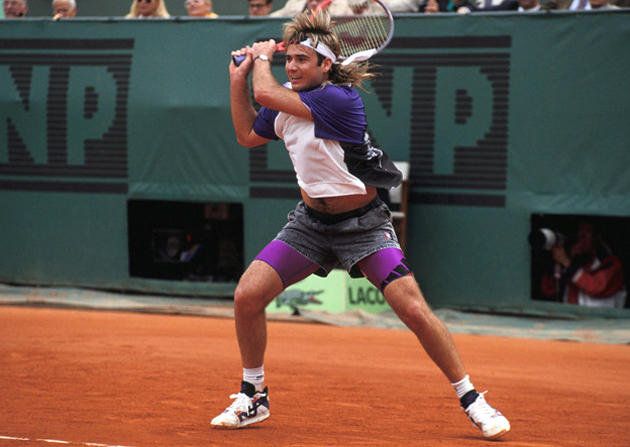 Courtesy of Yahoo Sports[/caption]
We've got the
Wilson All Court Women's Amplifeel high tops
 that are cool, comfortable and make a statement.
The Wilson Amplifeel™ is a brand new model designed for the ultimate on-court speed demon. This advanced shoe includes the amplifeel™ technology gives players premium responsiveness and support during lateral movements. The Pro Torque Chassis arch technology further enhances stability during explosive movements. Players will enjoy a strong feel with each step they take on the court during play.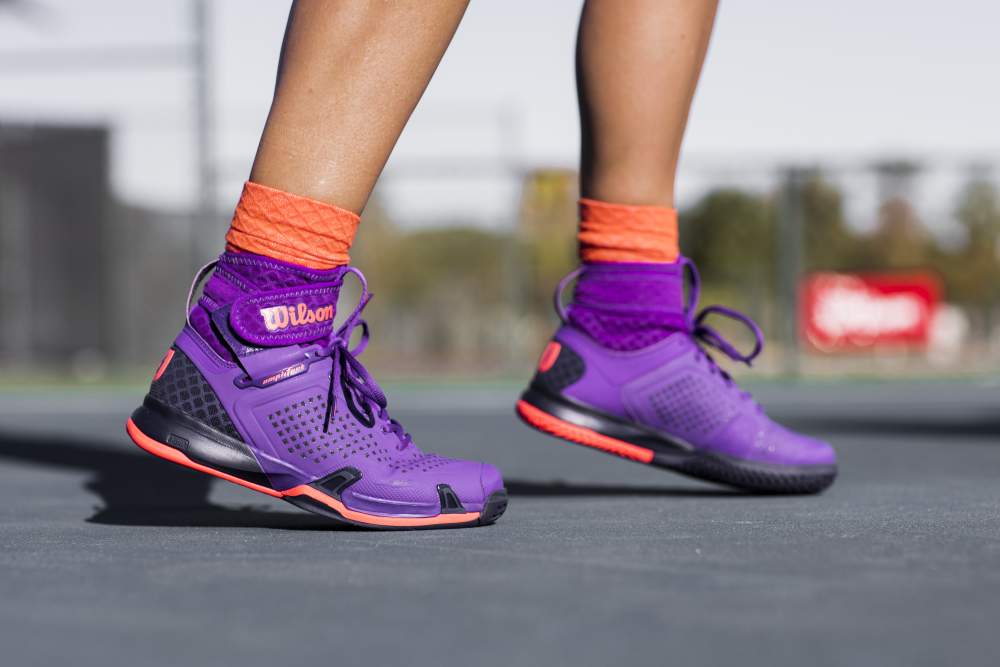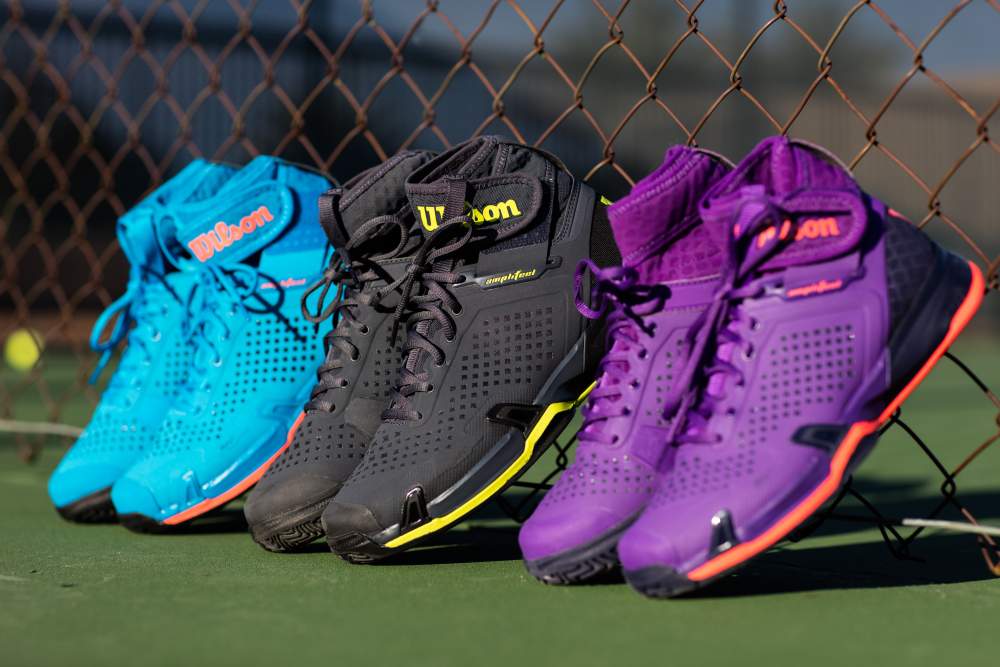 And to match the Blade family, Wilson presents the 
Wilson Vancouver Backpack Bag Black/Green
 and 
Wilson Vancouver 15 Pack Bag Black/Green
. The backpack holds two racquets and the 15 pack, well, 15!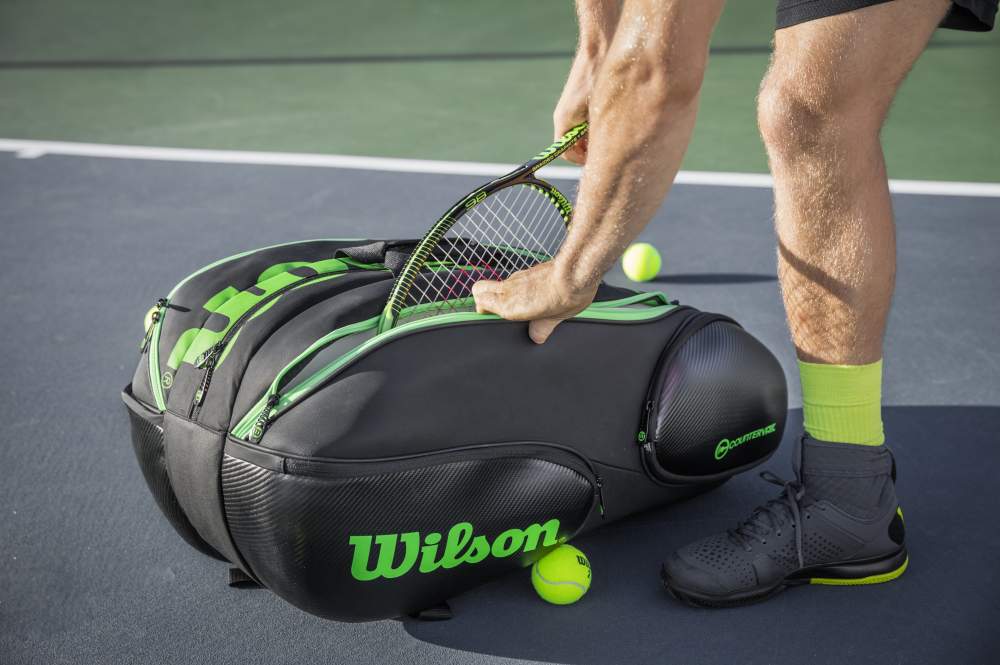 And for the Burn? Orange would only make sense. And a bright orange at that.
The 
Wilson Vancouver Backpack Orange/Gray
, 
Wilson Vancouver 9 pack Orange/Gray
 and 
Wilson Vancouver 15 Pack Bag Orange/Gray 
complete the Burn family and make the perfect companion to your own racquet collection.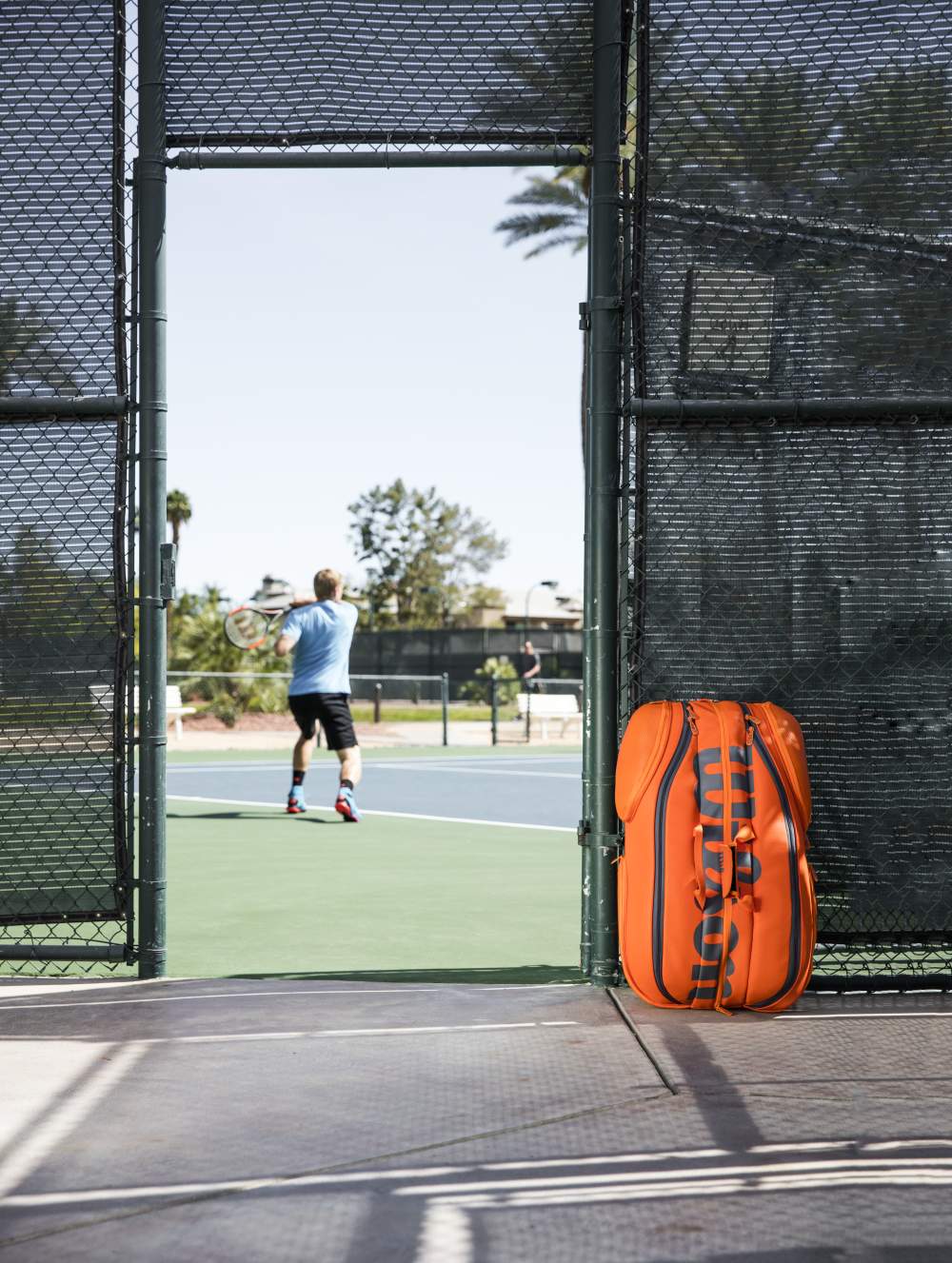 Switching gears a little bit, let's talk Federer. The RF97 and Pro Staff line are 100% designed by Roger Federer himself, inspiring all of 2017's performance racquet aesthetics. Wilson wanted players, young, old, experienced, inexperienced, to feel like Federer when they prepped for and stepped out on the court.
So in addition to the Federer-designed racquets, Wilson created the Federer DNA Backpack and Bag line in Wilson red and Federer Pro Staff black.
The premium 
Wilson Federer DNA Backpack Black 
 is designed with a sleek and sophisticated color with red details for a serious on court look. This highly portable bag features a large main compartment to carry your shoes and favorite gear as you travel to and from the tennis court. With this special Roger Federer autograph bag, you can carry at least two of your favorite frames to practice and tournaments.


Large Roger Federer signature and Wilson wordmark featured at the front and on each side.


Zippered sections on the side are ideal for storing smaller accessories.


Padded and adjustable backpack straps enhance comfort.


Store and organize smaller gear in the internal zippered pockets.


The design also comes in a 12-pack: 
Wilson Federer DNA 12-Pack Red
 and
Black
. And a 
Wilson Federer Team 6-Pack 2017
.
And if you're planning on being at the court all day, the 
Wilson Federer SUPER DNA 12-Pack Black 
 comes with an attached solar panel battery charger, the Nomad 7 Plus Solar Panel, which has the innovative technology to charge USB devices directly from the sun. Detachable kickstand for modularity and power-flow indicator ensure the best solar charging experience. Easy-to-read LED indicator displays strength of solar conditions, so you can receive immediate feedback on panel-to-sun placement to improve solar charging experience.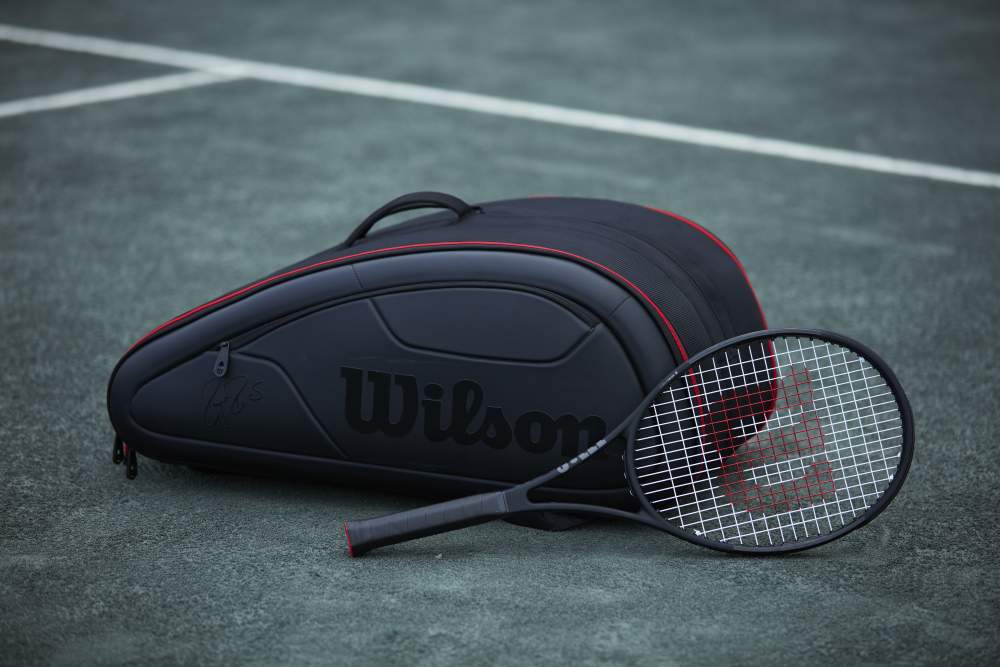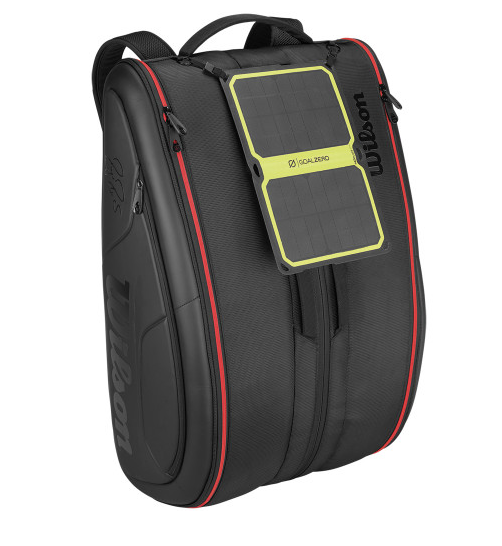 And to bring back the iconic Wilson red, the 2017 
Wilson Match Juniors Triple Bag Red 
joins the
Wilson Tour V 15 Pack Bag
,
Wilson Tour V Large Backpack
,
Wilson Tour V 9 Pack Bag
and
Wilson Tour V 6 Pack Bag
.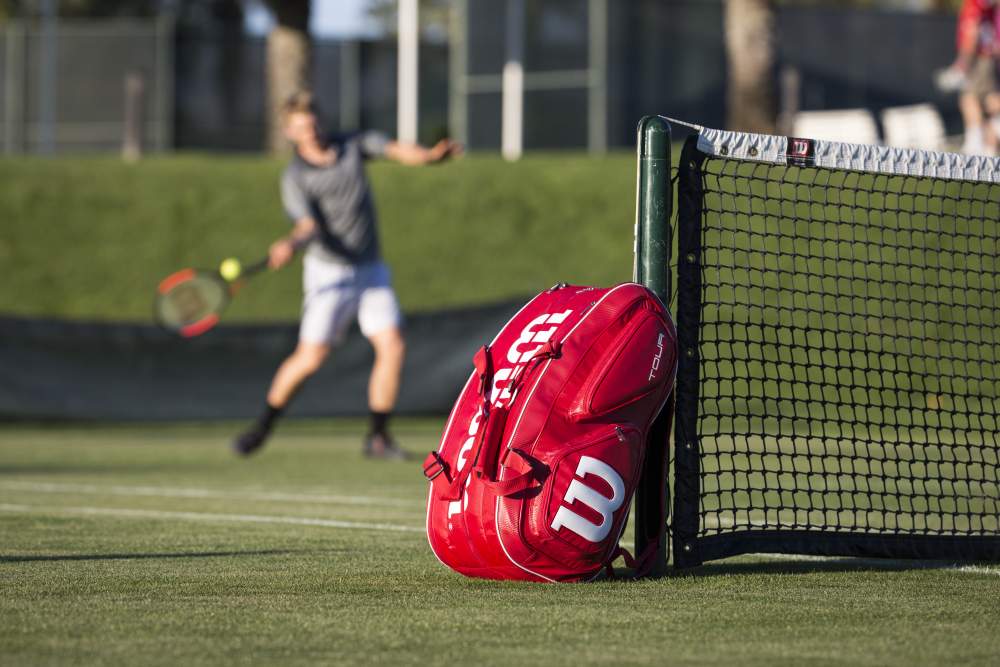 What about the US Open!?
Well Wilson couldn't enter the new year without designing a bag for the 2017 US Open could they?
The US Open collection includes the 
Wilson US Open Triple Bag 2017
 and 
Wilson US Open Backpack Bag 2017
.
And that's Wilson 2017 for you. Find your playing style. Get your racket, shoes and bag. And win your match.