Not so good at keeping your shoes clean? Walking in the street quite often? Maybe forgetting about taking your favorite shoes out only to run into mud, rain, and dirt?

Sneakerheads and regular shoe wearers alike, we all deserve clean shoes. Luckily, there's a new cure out there for those of us with dirty shoes.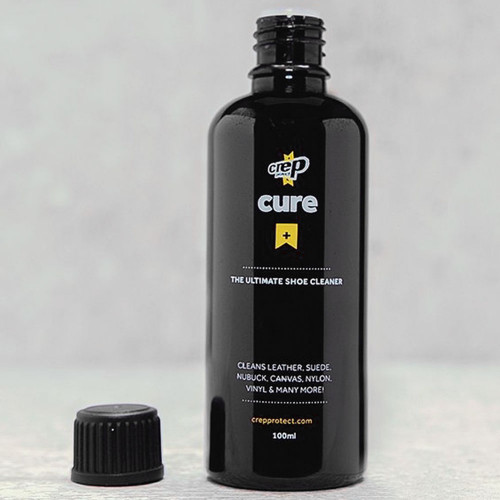 So What Is the Cure?
No, it's not the English rock band formed in Crawley, West Sussex in 1976...

or is it...

The Cure solution--designed and created by the company Crep Protect---consists of their unique blend: 98% natural products, including coconut extracts, jojoba, and water.

It's safe to use on any material, allowing you to give your shoes a thorough deep cleaning.
What People Are Saying
I bought that exact product myself, I used it on a pair of solid black Etnies "Kingpins" that were COVERED in mud, I thought they would never be the same, I used this exact @crepprotect kit and they came up like new!! 😎💪
--@leigh.r.gaffney_official

My all-white ultra boost got bad after a night out and I used this, and on my mother's life it was the best thing I've ever used for cleaning shoes, they looked brand new
--@_burridge

my triple white yeezys where properly like brown, had to cure them then let them sit for 24 hours and do it again, did it about 3 times and it came off
--@harveyyork37

Crep is not like the other brands it's more affordable and one of the BEST sneaker cleaners I've ever used especially when I used it with hot water makes my shoe cocaine white
--@slumpedtdom

I've cleaned my triple white japan's back to factory...and I got them dirty as hell
--@nqlan

This kit is a miracle!!!!!! Cleaned shit from hear New York streets off my favorite kix 👌🏾👌🏾👌🏾
--@sosmell



Cleaned using @crepprotect Cure 👟✨👀💯Tag somebody who must see this!💯⠀ 📸: @juliakohlman⠀ #crepprotect



In the Kit...
The Crep Protect Cleaning Kit is "like a full spa day for your kicks," says Crep.

The kit comes with The Cure solution, a cleaning brush made of short hog hair bristles and a microfiber cloth.

Fear the hog hair brush not, for the bristles are soft enough to clean even the more delicate materials. When the solution and brush are used together, you can get in deep and really give your kicks a good clean, knowing the materials will be fine.

"This is the tender love and care you can give your shoes once in a while to restore them to that fresh out of the box look and feel they had the day you first bought them. We wouldn't suggest you clean your shoes with the full Kit every day, but once you notice they need some sprucing up, then the Cleaning Kit is the answer to your problem."