Diadora's popularity as a tennis brand really surged back in the days when Gustavo Kuerten was at his peak.  The brand faded away a bit after injuries began to derail Guga's career, but they're back with two top-notch footwear offerings—the
Speed Pro WI5 IV AG and the Speed Star K IV AG, both available exclusively at Holabird Sports
.
I put the new
Diadora Speed Star K IV AG
through its paces out on the court and found it to be a very solid performer.  The Speed Star played very well without any break-in period.  Some shoes tend to be a little bit stiff if they're not broken in, but the Speed Star felt pretty good right out of the box.  My only concern was a little bit of rubbing around my ankle bone, but it was a very minor issue and stopped bothering me after an hour or so of play.
In terms of design, the Speed Star's upper seems to follow a much more traditional pattern than the Diadora Speed Pro.  Unlike the Speed Pro—which had a fully integrated tongue and offset lacing—the Speed Star's upper has a pretty conventional design.  Even so, the Speed Star kept my foot totally locked in place and there was no slippage during play.  There aren't any mesh vents on the upper so the Speed Star lacks a little bit in terms of breathability, but it wasn't really too big of a deal for me.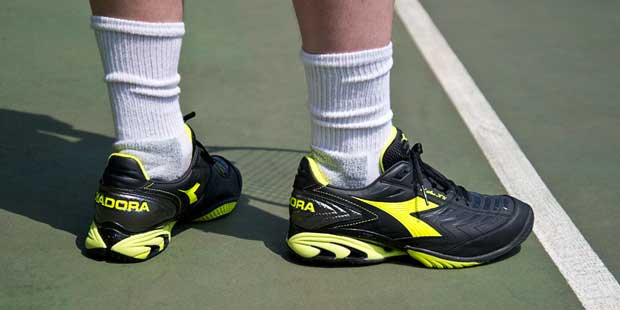 The Speed Star is noticeably lightweight—12.7 ounces in a size 9—and rides low to the ground.  By definition and design that means that there's a bit less cushioning underfoot.  Sometimes that results in a shoe that just feels hard and uncomfortable, but that's not the case with the Speed Star.  Don't get me wrong, if you go right from a really plush shoe into the Speed Star, you'll notice a difference, but the Speed Star is still a comfortable shoe.
One of the real upsides to a shoe with a nice, low platform is the stable feeling you get from being close to the ground.  In general, the lower the shoe is, the tougher it is to turn an ankle.  The Speed Star felt plenty stable—even for my flat feet—and I was able to move efficiently and comfortably in all directions.  Traction was no problem either; the outsole gripped the court effectively without sticking.
Overall, the Speed Star is a pretty solid shoe and I really enjoyed it.  Personally, I prefer a bit more substance underfoot, even if that means the shoe has to be heavier and higher off the ground.  Even so, the Speed Star offers plenty of stability and ample cushioning, making it a great option, especially if you like a low-to-the-ground, fast-feeling shoe.
Shop
Diadora Speed Star K IV AG tennis shoes