Although the Run/Walk Alert and a simple Interval are similar, they are not the same. There are plenty of customers asking for a watch that does intervals when what they actually want is one that does the Run/Walk Alert.
What is the difference and why should you care? Here are some of the differences and why you would use one over the other.
Run/Walk Alert:
An Alert is either on or off.  Once on, a user would not need to turn this on before every run.
There is no need to set how many repetitions you want to do for the Run/Walk (It will be on the entire activity)
The Run and Walk portion can be set up only with a Time value (not distance).
A Run/Walk Alert will not take a split (lap) each time a run or walk segment starts or ends.
Auto Lap will still work (so you can still get your mile splits).
Interval (Simple):
It is easiest to think of an Interval as a Workout.
A Warm Up and Cool Down can be set up.
An Interval and Recovery can be set up with a maximum of 99 repetitions.
An Interval can be set up with a Time or Distance value.
A split (lap) will be taken for each interval and recovery and stored in the history.
An interval will need to be started each time the user wants to perform that workout.
A simple Interval has to have the same time or distance for each Interval

and

the same time or distance for each Recovery.

EX: 10 x .50 with 60 seconds rest
Doing an Interval turns off all Alerts (although these can be set in an Advanced Workout).
*Note

:

An advanced workout, which can be set up on many of the watches as well, can have even more settings for the workout.

If a user wants to run for 5 minutes and walk for 1 minute for a marathon, what would be the difference between using the Run/Walk Alert and an Interval?
A simple Interval can only have 99 repetitions so the user would have to run under 6 hours to finish before the 99 intervals are completed.
Using an Interval, there would be 198 splits of 5 minute/1 minute (99 x 5-minute run splits and 99 x 1-minute walk splits).
Using the Run/Walk Alert would mean that the user can still get their mile splits and not have to worry about finishing before the Alert stopped.
*The bottom line is that if a user is doing a Run/Walk, the Run/Walk Alert is the best option for them. The following watches have the Run/Walk Alert:
Garmin Forerunner 10
Garmin Forerunner 220
Garmin Forerunner 610
Garmin Forerunner 620
Garmin Forerunner 910xt
Here is an example of a simple interval workout that can be created either on the watch or on Garmin Connect: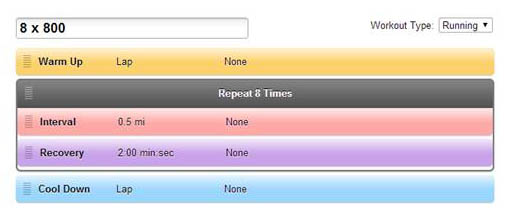 Here is an example of an advanced workout: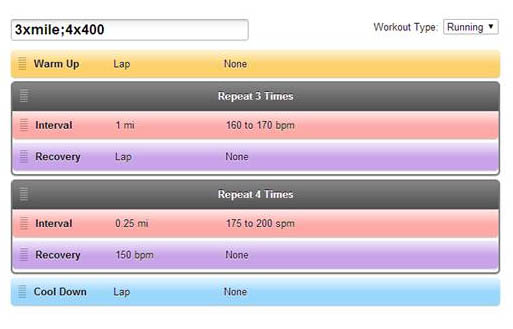 In the above workout, the Warm Up is set to last until the user hits the Lap button.
The 3 repeat miles are set to alert the user if their heart rate falls outside of the range of 160-170 bpm and the recovery is until the user hits the Lap button.
The 4 repeat quarter miles are set to alert the user if their running cadence falls outside the range of 175-200 steps per minute (spm).
The second set of intervals has the recovery last until the user's heart rate goes below 150 bpm.
Have questions about any Garmin item? Leave them in the comments below and we will answer them as soon as we can! Need a new Garmin Forerunner? We got 'em!