Disclaimer: the recipes you are about to see were created and tasted by Holabird staff. The verdict? They are delicious and we ate them all before cooling. 
Whenever we're craving sweets, we're always secretly thinking...
"How can I make this junk food somehow better for me?"
You see the delicious tubs of cookie dough and boxed mixed desserts, and wheel past them in the grocery store; cart full of greens, low-carb tortillas, and salmon cakes.
Sigh
, we let escape. 
If only. 
Well,
what if
there were a way to change this. A way to say "I CAN!" to the sweets. A box mix that proved to be a
little less 
guilty than the others. A box mix-
Ok, I'll get to the point; there is a way.
Skratch Labs, headquartered in Boulder, Colorado, and made up of a team of active family and friends, made that a reality for you! Their mission is simple – to develop and sell food and drink products based on real world science and practice that taste great, that are made from real ingredients, and that optimize performance for both sport and life. And these cookies and tasty bars are no different.
The
Skratch Labs cookie mix
contains 
Wheat Flour
, 
Brown Cane Sugar
, 
Cane Sugar
, 
Oats
, 
Leavening 
(Sodium Acid Pyrophosphate, Baking Soda), 
Vanilla Extract
, 
Cinnamon
. That's it.
These treats, if you're going to eat as a dessert, make us feel better about the ingredients we're putting into our bodies. Plus, we get to add the fixins: dark chocolate chips, peanut butter, etc. But what they're also meant for is ENERGY!
"...compared to prepackaged energy bars, a freshly prepared cookie from scratch has a similar nutritional profile, contains more moisture, has fewer and simpler ingredients, and tastes better...

Keeping the ingredient list minimal and avoiding synthetic agents minimizes short-term malabsorption and any long-term harm we may be inadvertently exposing ourselves to."
So what are the nutrition facts, you ask?
Amount Per Serving (22g) (as prepared but without mix-in): 
Calories
 120, Calories from Fat 50, 
Total Fat
 0g (8% DV), Saturated Fat 0g (18% DV), Trans Fat 0g, Cholesterol 0mg (8% DV), 
Sodium
 180mg (8% DV), 
Total Carbohydrate
 18g (6% DV), Fiber 0g (0% DV), Sugars 8g, 
Protein
 1g, Vitamin A (4% DV), Vitamin C (0% DV), Calcium (0% DV), Iron (2% DV). Percent Daily Values (DV) are based on a 2,000 calorie diet.  
"RAIS" THE BAR
Peanut butter and raisin energy bar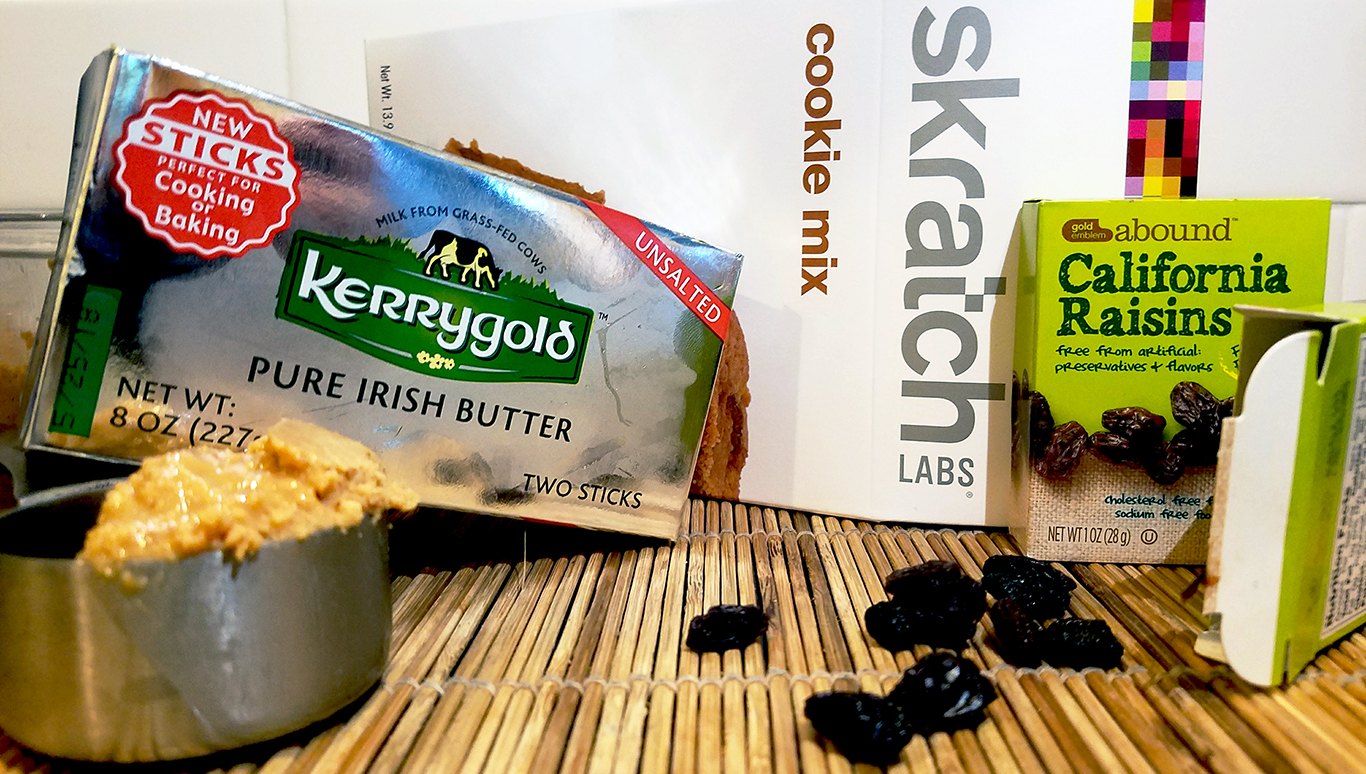 Ingredients: 


1 box of

Skratch Labs Cookie Mix



1 stick of butter


1 egg


1/2 cup of peanut butter (or 3/4 cup if you're a REAL fan)


2 boxes of raisins (20 oz)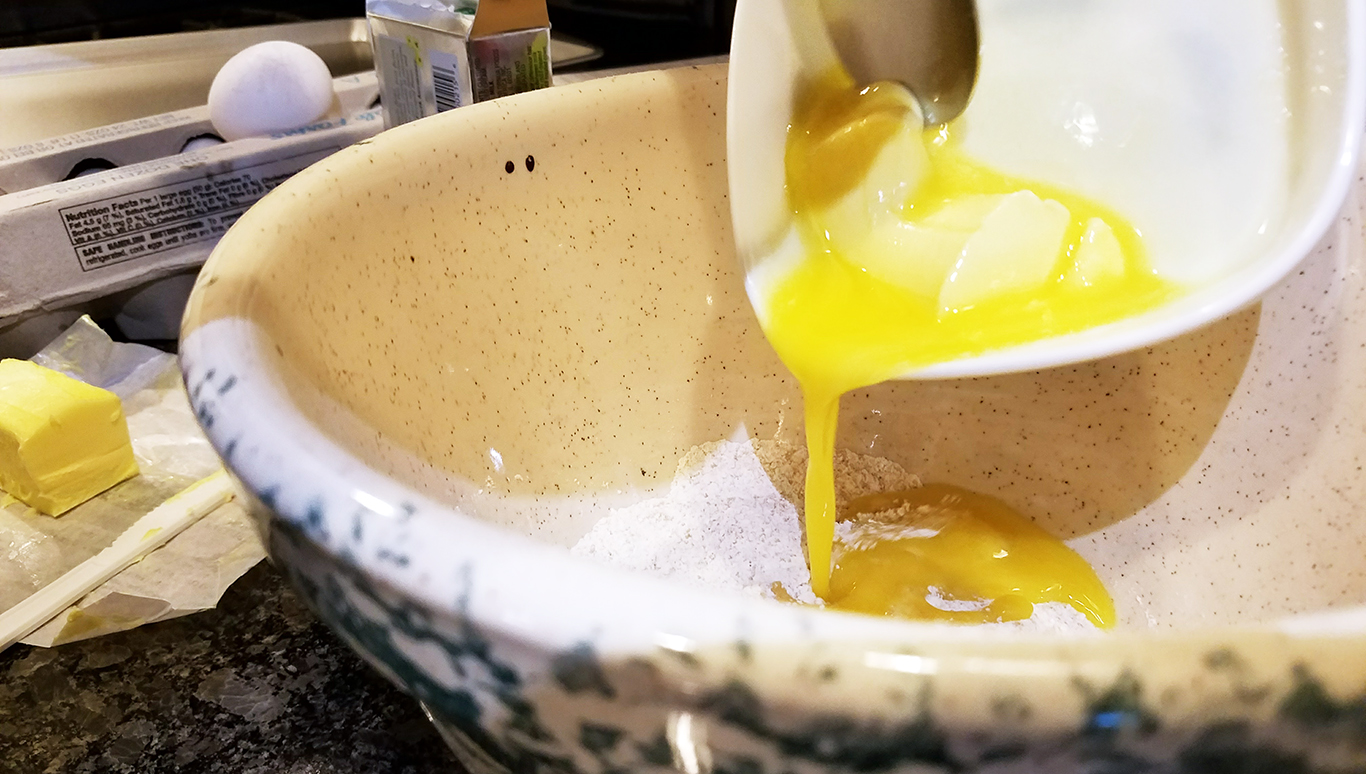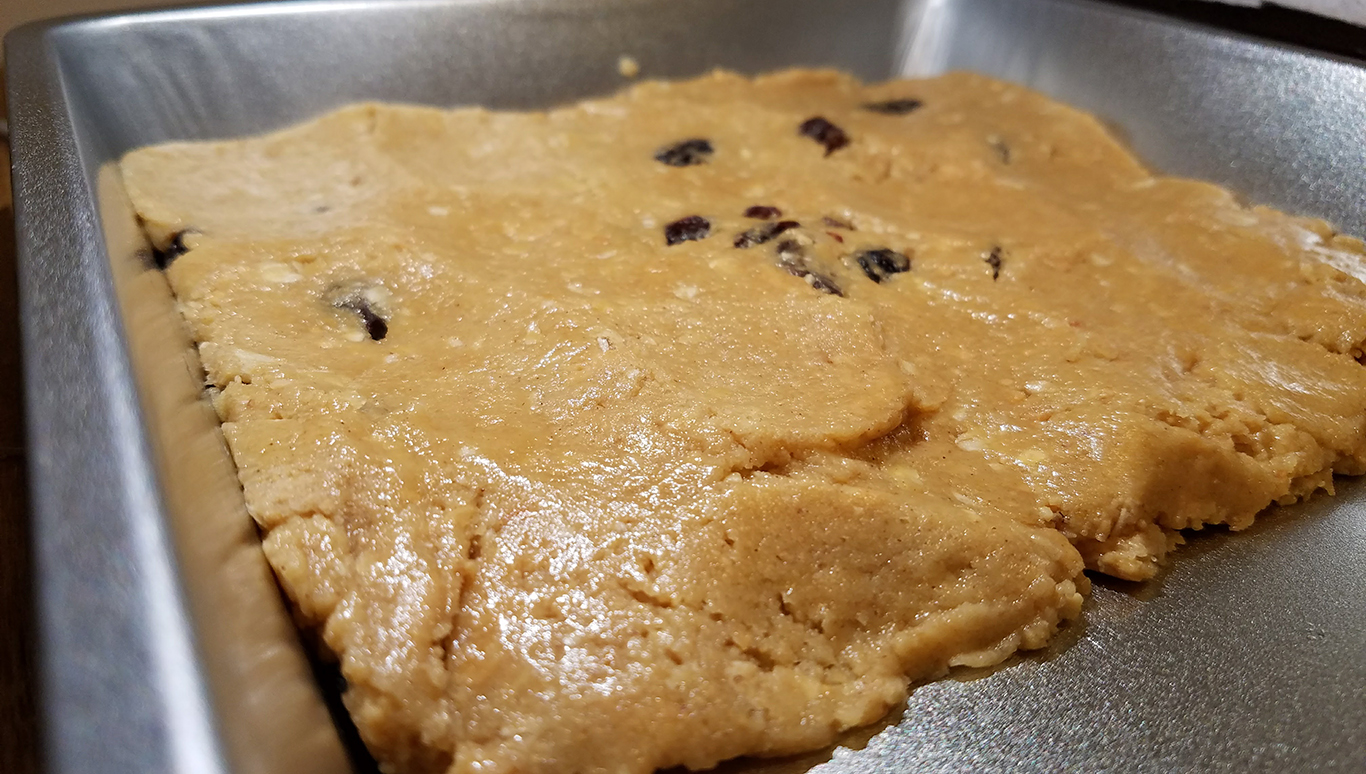 This is our take on a classic PB&J. We substituted the jelly for healthy raisins instead.
When was the last time you held a box of raisins? I had a blast of nostalgia when Cathy and I were baking these goodies.
This bar is a total must-bake for the peanut butter lovers out there. You can definitely taste the peanut butter over the vanilla and cinnamon of the Skratch mix, and the raisins add a nice textured surprise and added sweetness.  
"Pumpkin You Up"
Pumpkin Pecan Energy Bar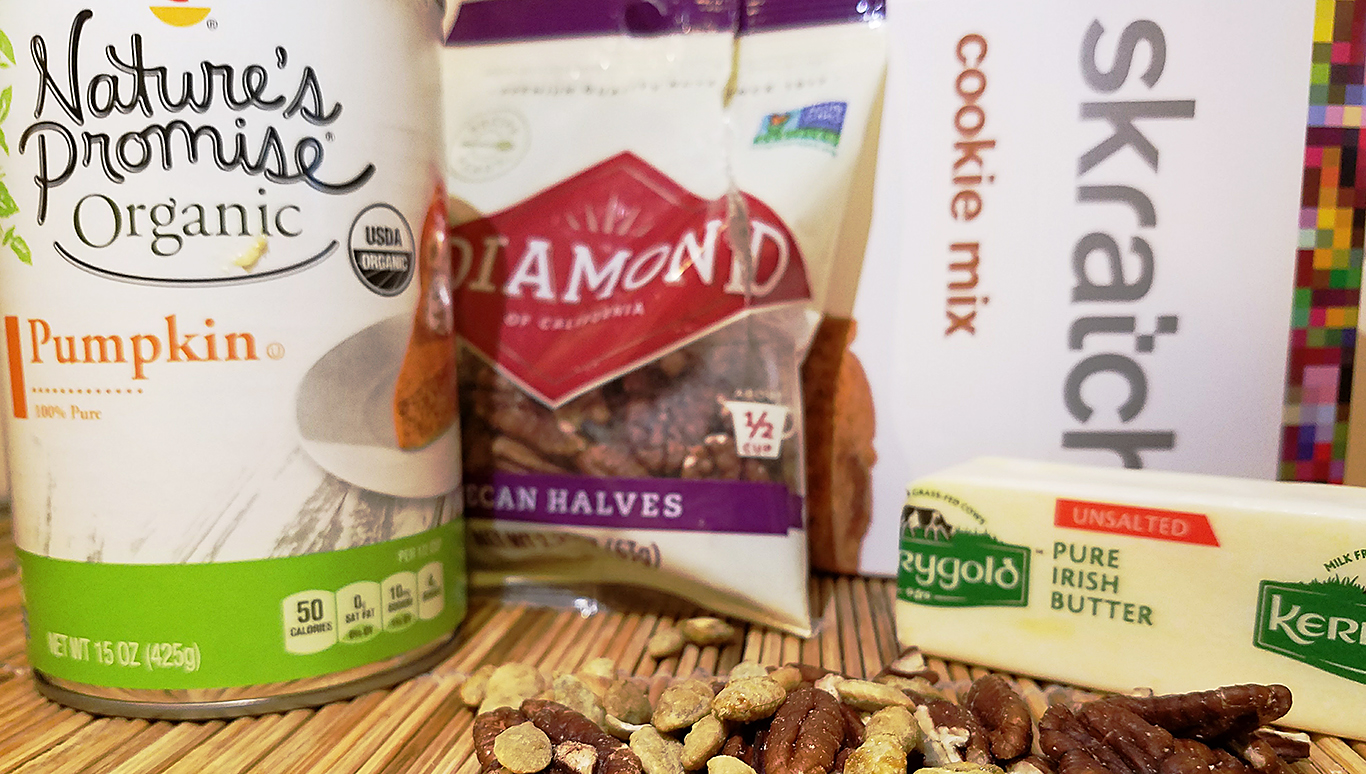 Ingredients: 


1 box of

Skratch Labs Cookie Mix



1 stick of butter


1 egg


3/4 cup of pumpkin puree


1/2 salted pumpkin seeds


1/2 chopped pecans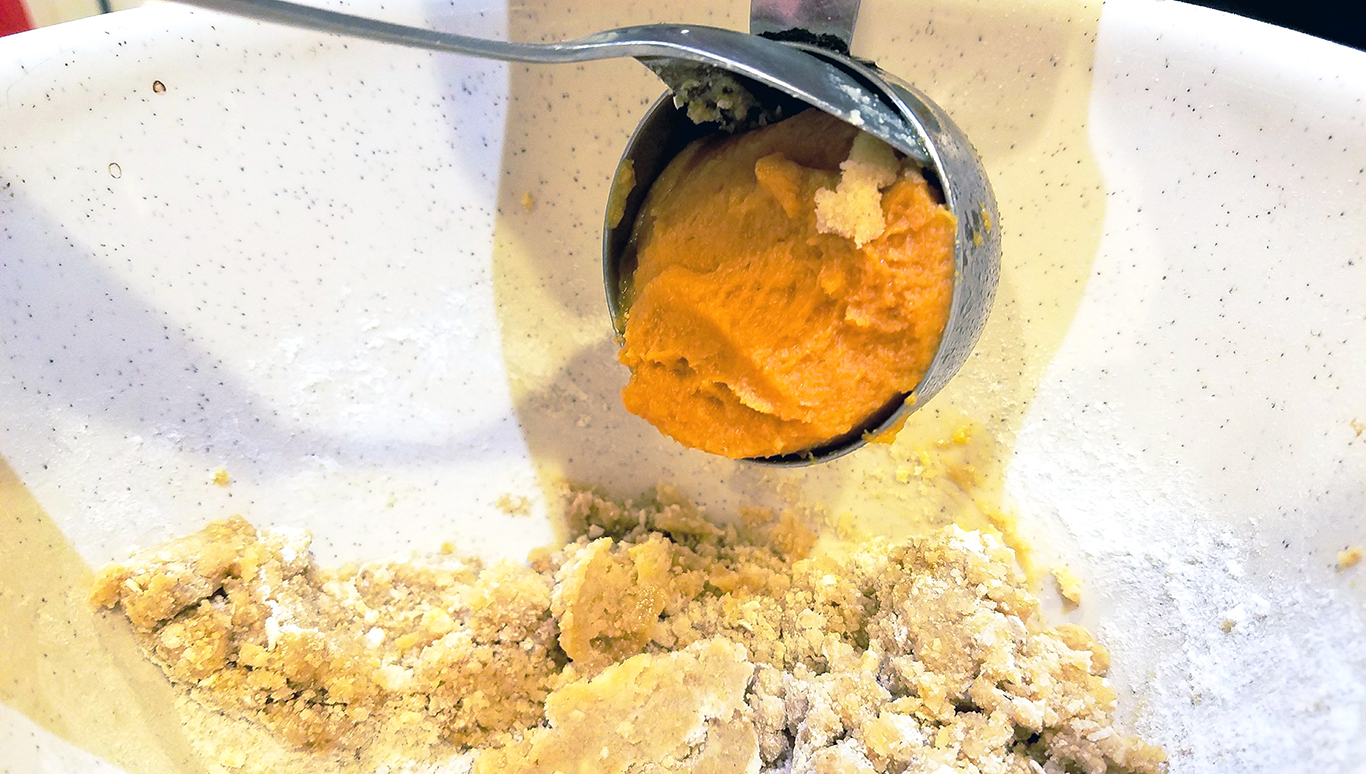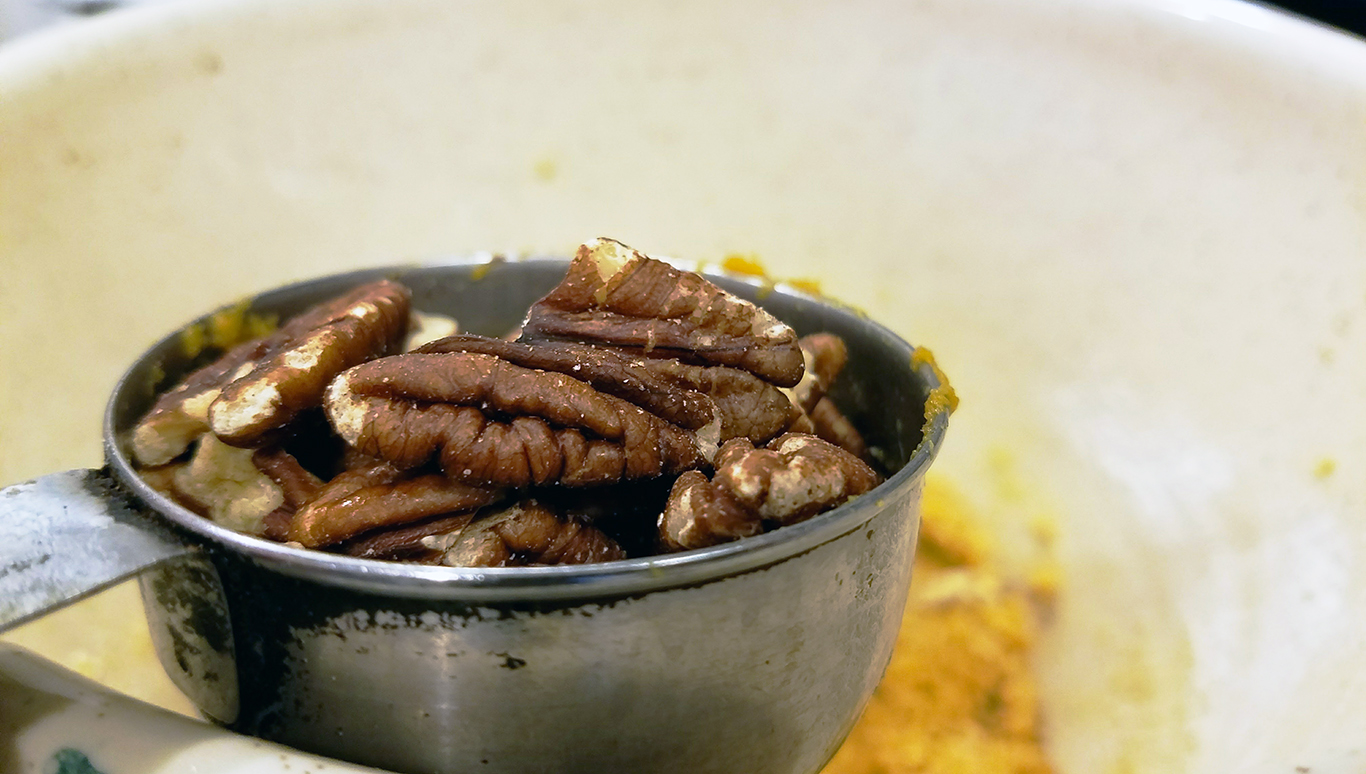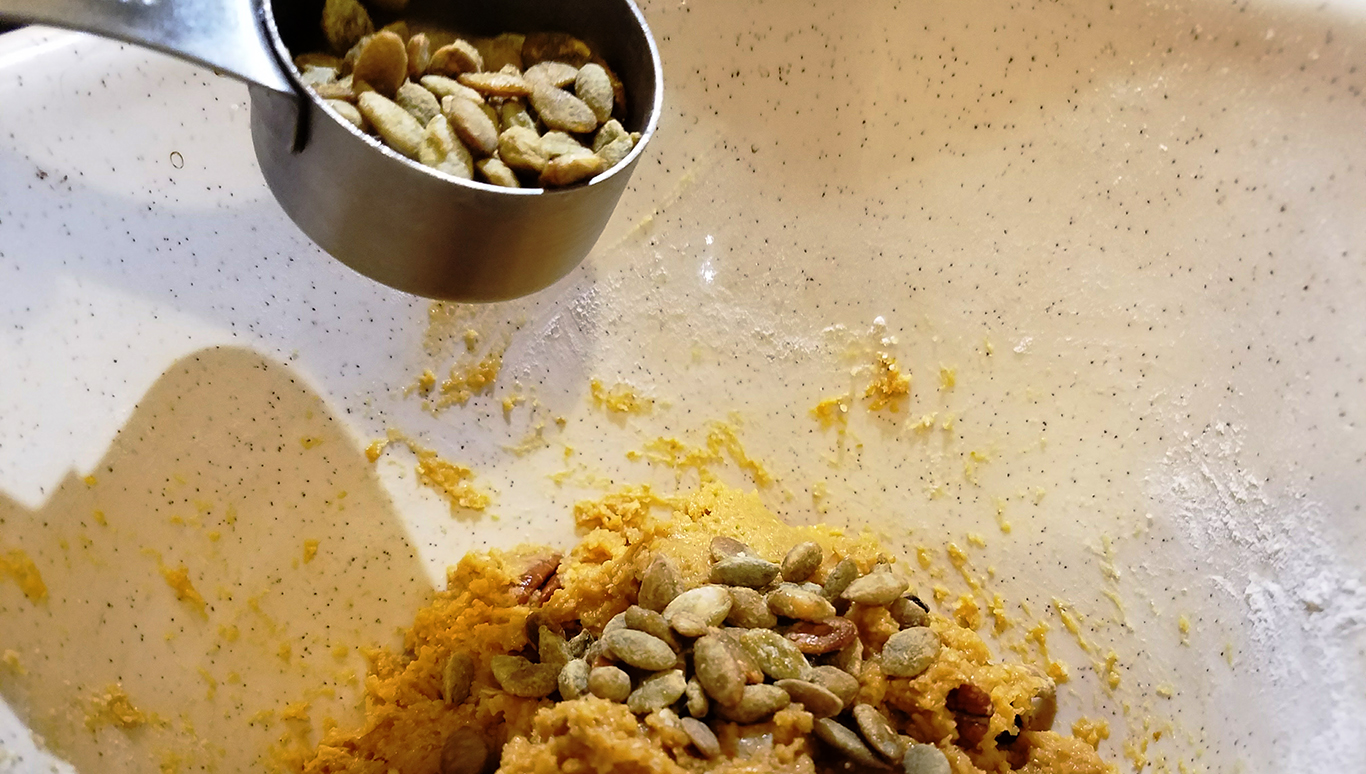 We lost it with this one. I swear I even teared up a bit. Earthy, buttery and with the deliciousness of the pecans, this bar is the perfect combination of salty and sweet with no overpowering flavors. It makes a great breakfast bar to jump start your day or next activity with a grin on your face and a happy tummy. It's also great for taking on hikes, packing in your lunch box or as the wind down to a long day as dessert (with a glass of milk for you dairy enthusiasts). AND it's perfect for fall! (: What's not to love?!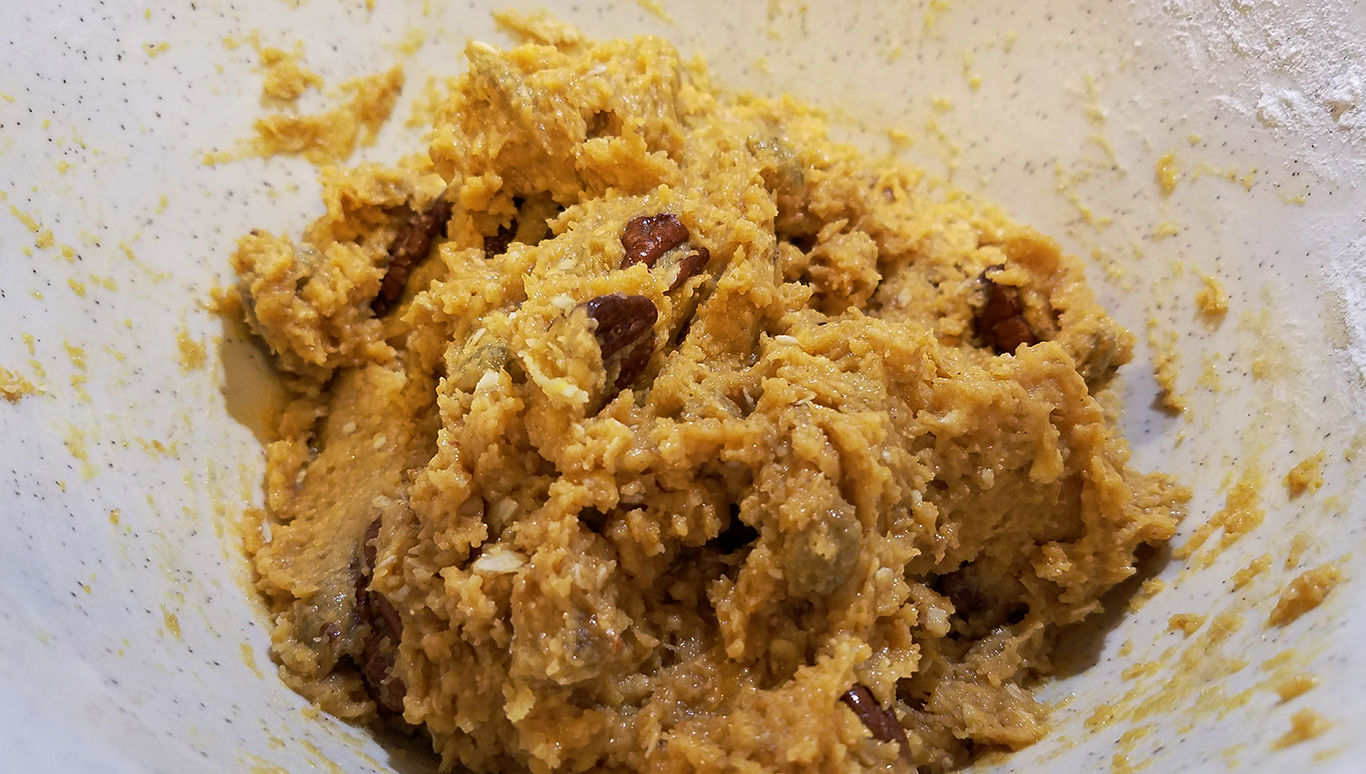 "Almond Joy Sans the Almonds"
Dark Chocolate, Coconut Cookie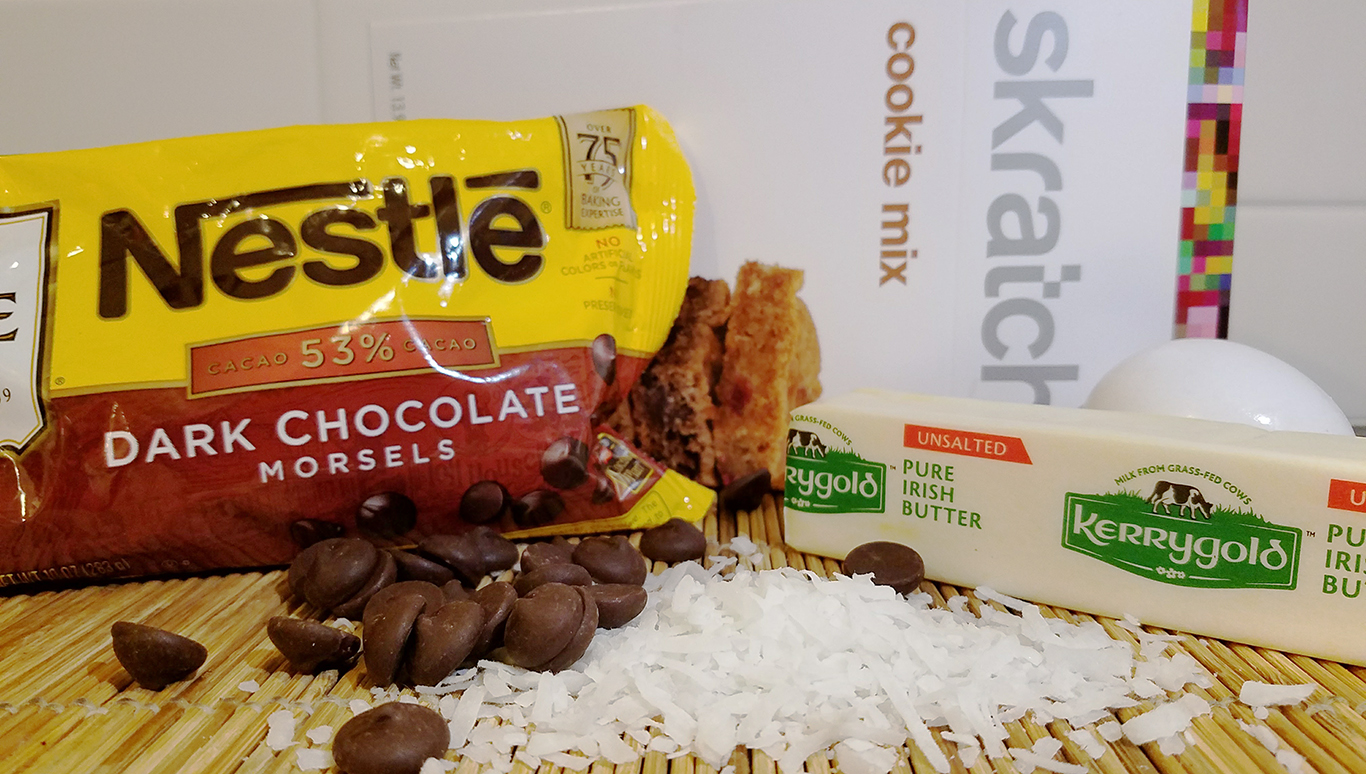 Ingredients: 


1 box of

Skratch Labs Cookie Mix



1 stick of butter


1 egg


10 oz of chocolate chips of choice (a normal-sized


1 cup flaked coconut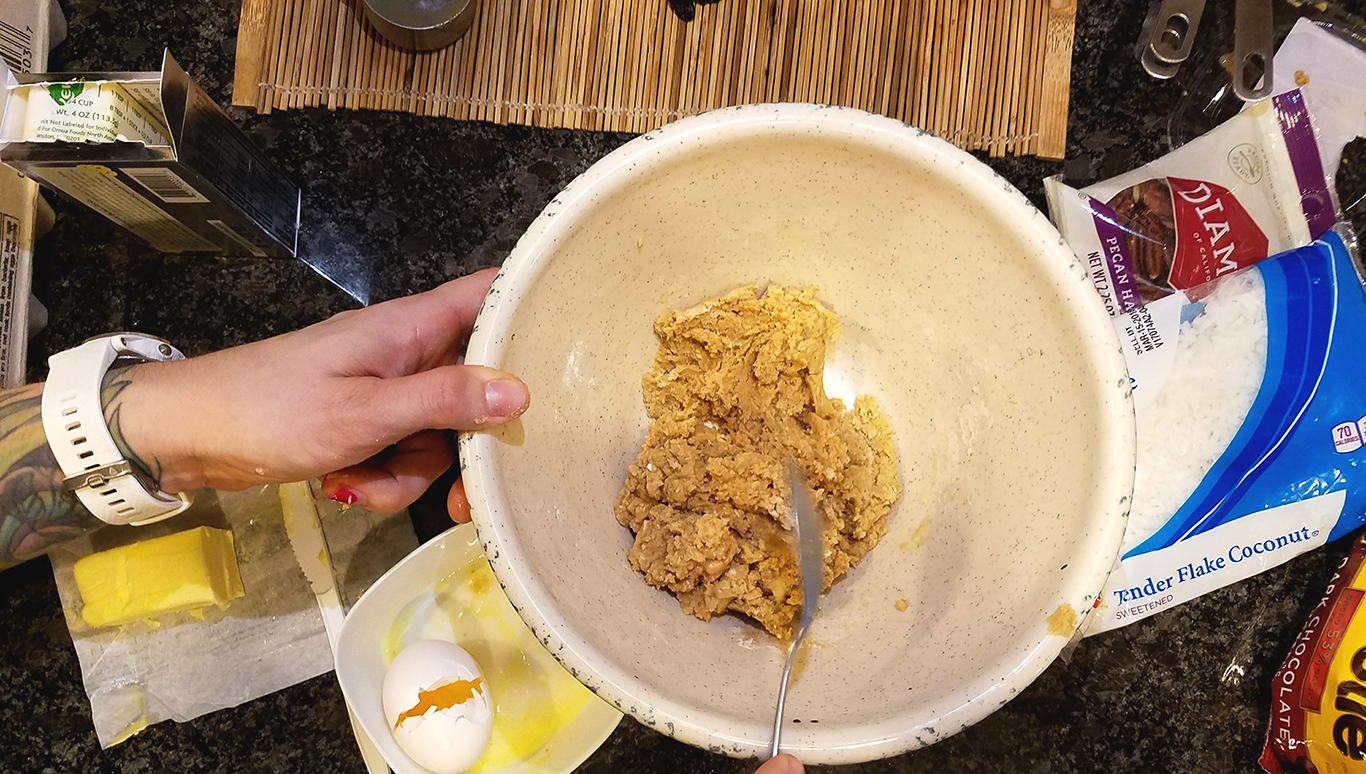 Who doesn't love cookies?
Nihilists?
That's about all I can think of!
"It made me feel like I was eating an almond joy candy bar without the guilt," said Korynn, our in-house photographer.
"I thought it was not overly coconuty and the chocolate chips were a welcomed addition," Dustin, videographer and photographer says as he nods his head forward and back in an 'alriiiiiight' fashion.
These cookies have simple ingredients, and just two fixins', but pack a powerful mouth punch. We consider this recipe a "treat yoself" recipe.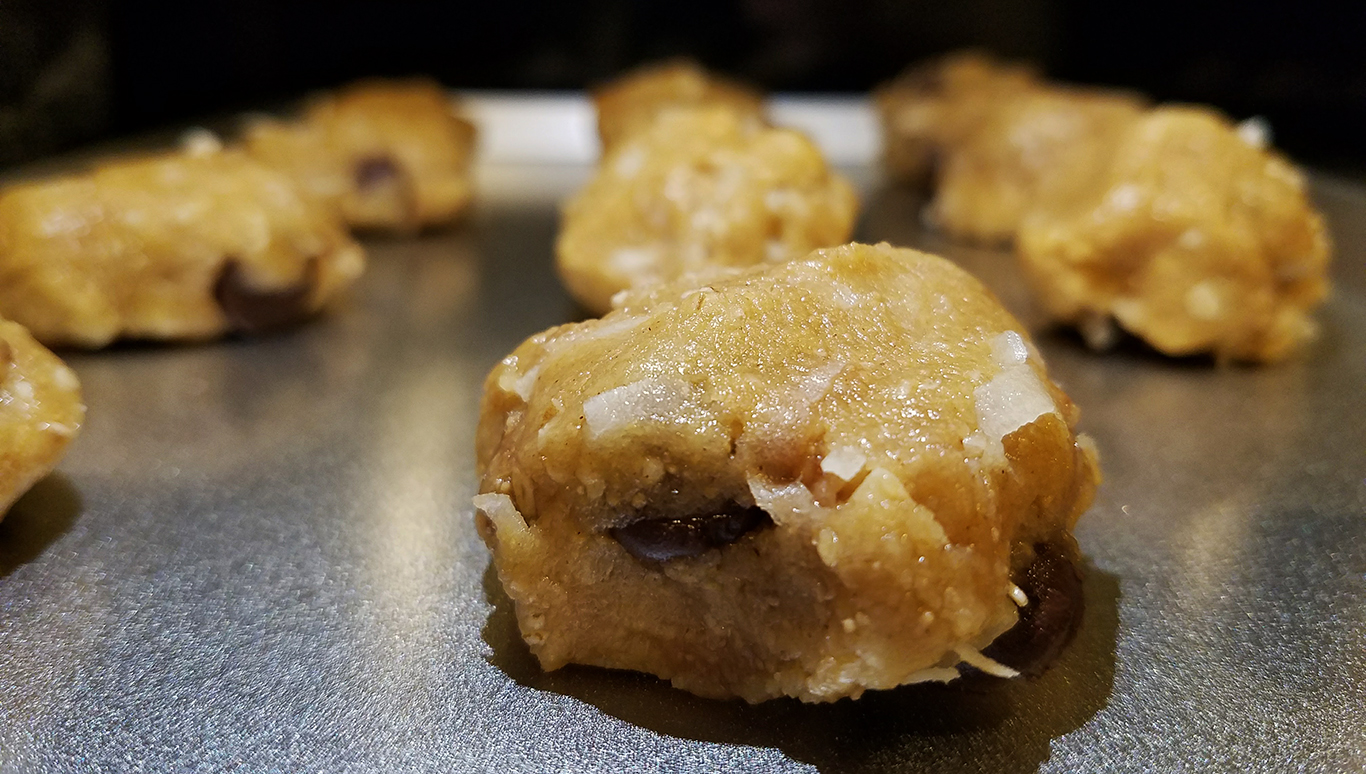 Time to make your own recipes "from Skratch!"
Whether you're making bars and cookies for an evening snack or to power your day, the Skratch Labs cookie mix is the best alternative to traditional box mix and prepackaged energy bars. Added bonus? Your house will smell delicious.
At only $8.50 a box, it's a no-brainer.