As athletes (I've never called myself an athlete), let's call us "activity lovers."

As activity lovers, whatever your sport or favorite past time, whether that's running, yoga, CrossFit, tennis, etc. We may feel like we want to flow our love of activity into our love of one of the best holidays of the year: HALLOWEEN! Agree to disagree, but dressing up is always fun. Right?

HALL-O YEAH!

We looked through our inventory to create some characters you might consider being this year and came up with four characters for our two most loved sports here at Holabird Sports: running and tennis.

Batman and Wonder Woman inspired outfits for the heroes of the road. Batty is pretty easy to do, but our picks are perfect for the runner whose out in the October chill. As the frost sets on the blades of the morning grass, you'll break from the shadows of your front door and hit the road so fast it'll seem like you're flying. Our Batman-inspired outfit includes
Brooks Spartan Pants
and
Under Armour's ColdGear Reactor Run Long Sleeve Top

, 
you just have to find your mask! As for Wundy, we used the
Lotto Kaylee PRT Skort
(but we only have one left in XL! Get it quick!) For the same look, and better if you're running. Try the
New Balance Accelerate Hot Shorts
while you still can! The top is the
adidas Pharrell Williams NY bra
, which we think is just PERFECT. It's also
only $34.95
, so "hellooooooOooooo awesome new sports bra."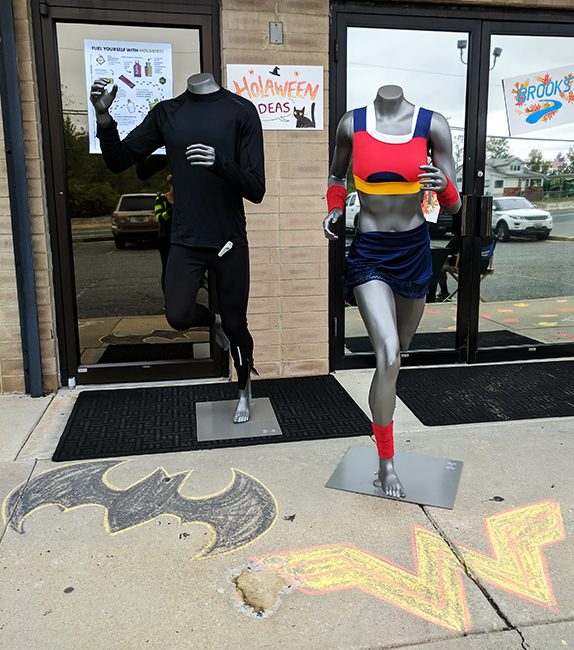 Be current: Battle of the Sexes 
If you haven't heard, Emma Stone and Steve Carell are dueling in the film
Battle of the Sexes 
as the iconic duel-o Billy Jean King and Bobby Riggs. The movie tells the tale of the true story of the 1973 tennis match between World number one Billie Jean King and ex-champ and serial hustler, Bobby Riggs. As lovers of tennis, we thought we'd pay tribute through costume! Using the
adidas Pharrell Williams tennis line
, which was inspired by decades-old match wear, we came up with the greatest partner costume for tennis enthusiasts of 2017! You'll need the wigs and the huge glasses, but we have the
looks
.
-shop the adidas Pharrell Williams collection to find your blast to the past outfit for Halloween -