When I think of
sweatbands
, my mind throws me into a whirling pool of rainbow water and spits me out into the '80s. Olivia Newton-John's "Physical" is playing, and there are hundreds of glowingly perfect 20-somethings doing bicep curls covered in neon colors and legwarmers.
I'm sure you have the same vision. But maybe yours is closer to home.
You're taken back to sitting cross-legged on your living room floor leaning against the striped couch that's long been tossed into the trash or donated. Your mother or father regrettably takes out a photo album and shows their younger version, a marvel in flamingo pink, and you roll on the floor laughing after exclaiming: "omg this isn't real!"
We know the look. Forehead and wrists wielding the sweat wrangling fabric. You may not even be doing exercise. They just look 
that 
cool to wear around.
Actually, in the '80s, to bring that decade back up... that's when the whole "athleisure" movement started. It was cool to start wearing workout gear when you weren't actually working out or doing physical exercise. Sweatbands and wristbands (and legwarmers) were like necklaces or scarves!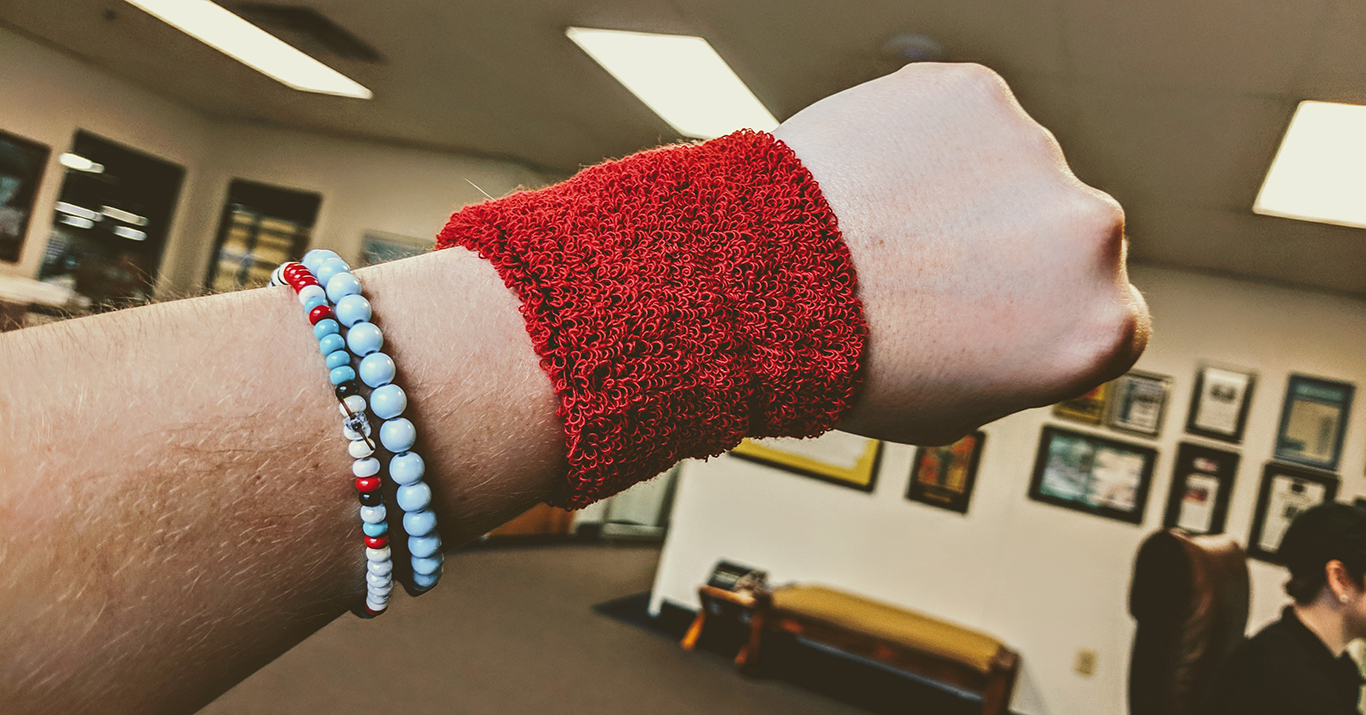 So when were they made? And I think I know why, but... why? 
The sweatband was created more than 60 years ago, by a British tennis player named Fred Perry.
Perry was the first British player to have won all four Grand Slam events.
In between the years of 1934 to 1936 when he won Wimbledon for three consecutive years, Fred wore medical gauze around the wrist of his right hand to stop the sweat from flowing to the handle of his racquet and to wipe the sweat from his brows.
GASP!
The creation story.
Good ol' fashionable Fred was approached almost ten years after in the late '40s by an Austrian footballer named Tibby Wegner. He brought to the table an antiperspirant for the wrists perfect for tennis players; the sweaty wrist eliminator! Perry's first prototype was made from toweling, and then after a few tweaks, with a new lightweight design, Perry and Wegner went into production and started giving them to top players for free and convincing them to wear them during tournaments.
What do you think happened after?

SWEATBAND BONANZA! 
The headbands and wristbands caught on for tennis players. Now we see Roger Federer, Rafael Nadal, Garbine Muguruza, Genie Bouchard, and more, showing off their bands, branded by sponsors. What Mr. Perry knew would happen, and how he thought the bands should be used other than their intended purpose: Adorning logos! Brand awareness. Good job, Fred.

In the end, there's much more than meets the eye with sweatbands, eh?

I had always thought they were fashion accessories; I didn't know they were actually used to keep sweat out of your eyes or were the perfect sweat slayers for racquet handles.

Now that I know, the world is a better, less sweaty place. I hope you feel the same.

You can also find all other sweatbands on our website.

Bring the '80's to the 2010s sans legwarmers. Unless you really want to Jane Fonda your gym up.