This blog was originally going to focus on how to get your children to play outside, encouraging them to ditch their electronic devices and TV shows for the outdoors in honor of May: the National Physical Fitness and Sports Month. And while I agree, children should be running, jumping and discovering in nature, I must admit, us adults need some T-L-C in the form of the G-O-D (the great outdoors), too... acronyms...
I mean, after all, we know that there is strong evidence of exercise lowering the risk of: early death, heart disease, stroke, type 2 diabetes, high blood pressure, adverse blood lipid profile, metabolic syndrome and colon and breast cancers, and improving cardiorespiratory and muscular fitness, preventing falls, reducing depression and improving cognitive function (older adults).
But what we may not be privy to, is a type of exercise that involves exploration and discovery!
"Wait, what?"
 What is the idea I'm proposing we take part in, 20 plus-ers?
Geocaching.
I hadn't heard of it until today in the midst of my "how to get kids to go outside and play" Google search.
And now I'm hooked.
Geocaching
is a real-world, outdoor treasure hunting game using GPS-enabled devices. Participants navigate to a specific set of GPS coordinates and then attempt to find the geocache (container) hidden at that location.
At its simplest level, geocaching requires these 8 steps:


Register for a free Basic Membership.


Visit the "Hide & Seek a Cache" page.


Enter your postal code and click "search."


Choose any geocache from the list and click on its name.


Enter the coordinates of the geocache into your GPS Device.


Use your GPS device to assist you in finding the hidden geocache.


Sign the logbook and return the geocache to its original location.


Take and leave something (if the cache has "trades" aka GOODIES!)


There are currently over a dozen "cache types" in geocaching, with each cache type being a different variation of the game. The most traditional cache is a container at the given coordinates. The size may vary, but at a minimum, all of these geocaches will have a logbook, so you can say
"Hey! I've been here! I found it!"
Larger containers may contain items for trade and/or trackables like geocoins or travel bugs (these items are essentially little hitchhikers carried from cache to cache (or person to person) in the real world and can be followed online). If you're interested in all types of caches, see the full list of
Geocache Types
.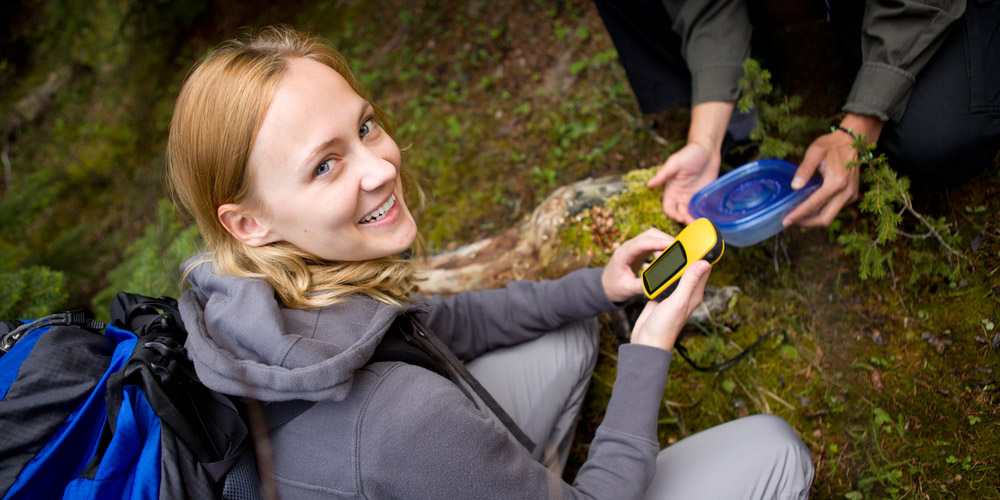 If you're a trail runner or an avid hiker, this activity is the perfect one to engage in during these next warm, summer months. All year round, too.
There are thousands of geocaches all over the United States and beyond, so you'll never be without a new cache to find.
If you're brave or feeling adventurous, hide your own cache in your favorite spot near you! But make sure you have the right equipment before taking off into nature.
[one_half last="no"][xroadz-shop-button href="http://www.holabirdsports.com/running/shoes/trail.html" title="Shop trail"][/one_half][one_half last="yes"][xroadz-shop-button href="http://www.holabirdsports.com/catalogsearch/result/?q=hiking" title="Shop hiking"][/one_half]