Holabird Sports got the chance to talk to Jason Hartman, the top American at this year's Boston Marathon fourth-place overall. If you would like to hear this interesting interview in its entirety, you can listen to the audio file (approximately 15 minutes) underneath the transcript. Or, feel free to read the highlights. 
Q: The Boston Marathon Monday was a pretty difficult day, what are your thoughts on what happened last Monday?
A:
I can only talk about myself… it was a really heightened excitement [from placing 4
th
] and then finding out two hours later that this [the bombings] happened was the complete other end of the spectrum. You don't expect things like that to happen at an event like the Boston Marathon. It's disappointing and kind of unnerving because you don't know what's going to happen next. I was at two ends of the spectrum emotionally.
Q: Our thoughts from everyone at Holabird Sports go out to the victims and their families and we wish them a speedy recovery. Do you think the landscape of major marathons in the United States will change permanently with race security, race layout etc. due to events that occurred last Monday?
A:
Yeah, I think you always have to look at things with precaution, and an experience like that… I think there will be heightened security [in future marathons]. In that aspect, I think it will change the landscape but on the other end I think, as far as the running community goes, I hope it's an opportunity for us to unite. I feel strongly that our community of runners is a great alumni because I think there's a certain level of understanding that each person goes through. So I hope this experience doesn't deter people from entering any future road races or marathons just because they're worried about their own safety. I do think that the logistical components will change but I think it'll actually unite our running community a lot more.
Q: Runners can band together even through the most unfortunate of circumstances, that is a great point. But really there were some bright points before the bombing happened, and certainly your performance was one of them. Last year at Boston you drilled your name into the head's of marathon fans across the nation by finishing as the top American and fourth-place overall, just like this year. Tell us about your training and racing this past year, how did that performance change you as a runner?
A:
I was kind of in the dumps after the Olympic Trials and I needed something to look forward to. I just wanted to pursue [racing] with hundred percent effort and with no regrets in 2012. I just wanted to step to the line without any question about the things that I've done prior to that. So that's really what's changed in my preparation as I go into marathons now—just stepping to the line with one hundred percent confidence.  There are no guarantees that it'll work out, but stepping to the line with no regrets has really helped me in my thought process and as far as confidence goes too.
Q: In Boston, you stayed consistent at a sub 5-minute mile pace in the beginning—now the first half of the course can be a tad bit easier sometimes than the back half. You clocked just under 65 min. at the half marathon. The lead pack had distanced themselves from you a little bit by mile 18, at that point you were about 10th place or so. I think that was the furthest back you dropped. What motivated you to finish so strongly and was a late surge part of your prerace strategy, having had some experience with that last year?
A:
Well, I feel strongly that Boston is a race that, if you don't run smart early, you pay for it late. That's probably true for every marathon, but I think it comes into play even more because of where the hills are and how you're feeling at those points. I really just try to run under control early and then when the opportunity presents itself to compete at the later stages, I have the gas in the tank because I didn't make strong surges early on. I try to capitalize on other people's mistakes where they fluctuate pace, wasted energy, things like that. I personally can't do that; I can't fluctuate paces that well: Dropping a 5-minute mile to a 4:30 mile. That's not really leading me to my best performance so I really just try to run my own race and then assess situations as they come and try to focus on what I'm doing.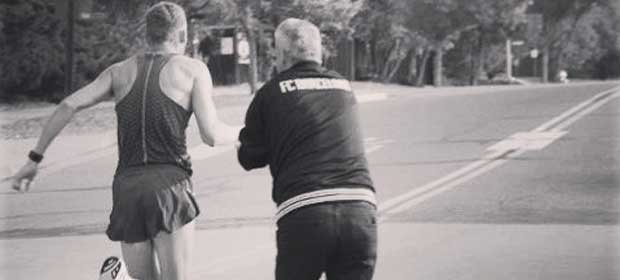 Q: Once again, you ran time of two hours 12 min. and 12 seconds. Perhaps it harkens back to 2012 being a breakout year. Are you pleased with your time and performance and do you think you can try to match or better your 2:11 PR?
A:
Yeah, I think these performances have indicated I can go a lot faster. Guys that I'm competing against and beating have run a lot faster than I have. I mean they're putting on their warm-up shorts by the time I'm crossing the finish line. As far as PRs go I truly think I can run faster, it's just having the opportunity. I ran a 2:11 [marathon] in 78 degrees in Chicago. You've got to have the opportunity to and the stars have to align for you. But I do think there's more in the tank for me.
Q: After these two big years where do you think you stand amongst the current top dogs in America marathons--guys like Ryan Hall, Dathan Ritzenhein, Meb Keflezighi, and Abdi [Abdirahman] be it with your current performances and what you have in store for you in the future?
A:
I think I've elevated myself to someone that is no longer a dark horse so to speak. I feel like maybe I'll never run 2:06 or break 2:07, you know, but I feel like I can run, if given the right opportunity and stars aligning and all that, significantly faster than my PR. Now, does that mean I'll break 2:08 or anything like that? I don't know. But I do think I'm stepping into the prime of my career and this is a situation which kind of allows me to be, taken care of, I guess…if that's the right word. I feel strongly that I have even a better shot at trying to make the Olympic team  [in 2016] than I did going into I did going into 2008 or 2007.
 Q: Anything you'd like to tell marathoners--be they first timers or maybe the next person who has Olympic Trials aspirations? Is there one thing that you've learned in your career and your time as a runner that you'd like to share with other runners?
A:
I think one is being smart, making good decisions--educated decisions--on what you can do and what you can't do. That's probably something that I've developed over time. I'm much more honest with myself than I was before. And that focus on trying to be patient but also consistent over a period of time. I think many young athletes get the idea that they have to chase every single chance. But you get to a point where you break down mentally and physically. Your body can't continue to be at that level. The two areas I would focus on with any runner is try to be patient and honest and then, two, being consistent.
 Listen to this great interview in its entirety (approximately 15 minutes):
[jwplayer mediaid="1351"]