We have our running shoes, date night kicks, wedding heels, flip-flops, slip-ons, weightlifting shoes mayhaps, but do we have 'casual' footwear for everyday life?
Maybe your answer is
"of course I do!" 
And that's fantastic. Because we have even
MORE
for your shoe closet.
But if you're like me, the idea of casual footwear for your "lifestyle," is... confusing.
I don't just wear my running shoes as casual shoes? I can pair more than just flats, flip-flops or five dollar slip-on shoes with my jeans? 
Yes, yes you can. And we've fallen in love with some of these brands and their casual, lifestyle, also known as athleisure, footwear over the last few months.
The shoes above?
Shea (green pants) is wearing the women's chalk white/pearl grey
adidas alphabounce
- the sock-like fit and extremely cushiony foam give this shoe a "yes" for all-day comfort.
And Dustin, what some of us call "the cool dad" of the group, snazzes it up with his
adidas Stan Smiths
. Comfy and classic. A throwback to 1973 with updated technology, breathability, fit and feel, this shoe is sure to match jeans, slacks, cords or kilts lol whatever you're into.
With so many to choose from, we know you'll find a lifestyle shoe to fit your needs.  
Avoid white shoes? No! we give these a TEN(nis)

Unless you're constantly attending mud parties, cool, white tennies are the perfect addition to your ensemble.
And Tretorn Nylite Canvas tennis shoes aren't your typical tennis shoe. Just kidding, they definitely are, but that's what makes them so great!
"These shoes remind me of high school. I loved them then and I love them now," says one of our customers Shann from Muncy, PA.
High school? Why would I hop into a time machine just to see myself attempting to put a move on Ryan from third period?
Because, unlike Ryan, Stacey or Shannon, whoever was your muse, these Tretorn shoes aren't just an infatuation. This is timeless style.
In fact, I think you just became a member of the cool table. Indefinitely.
- shop mens -                    - shop womens-                   only $59.95
More talk about crushes- APLs and jeans fall in love at first wear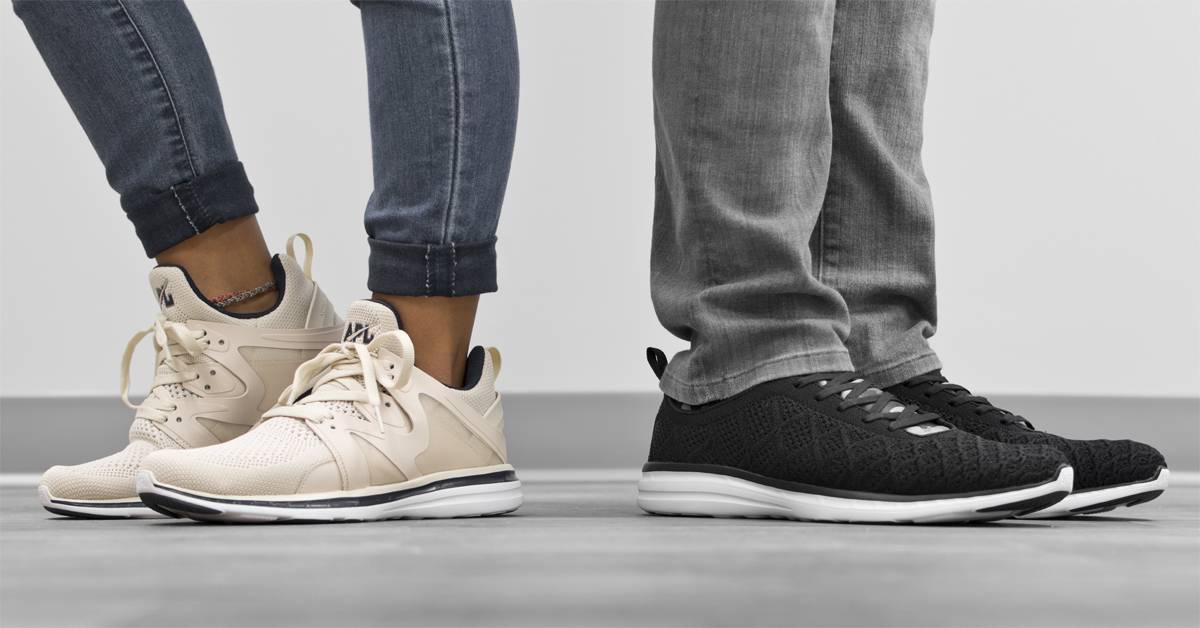 Athletic Propulsion Labs has a knack for making something look both fit and casual. Yes, you can work out in their shoes, but they also don't solely fall under that category. The mentioned - "athleisure" - a word used to denote clothing and shoes that look athletic, but are typically just a lifestyle shoe, is the epitome of "see it, believe it, live it."
Your lifestyle (or casual) shoes are athletic. They look like running or workout shoes. You look down at your feet and think:
I'm fit. 
Or start to perceive yourself as a 
fitter 
you
.
Others see your shoes and think
"he or she is fit."
You start getting questions like "What gym do you got to?" "Have you ever taken cycling?" And before you know it, you're enrolled in classes with new friends who enjoy fitness.
Just a simple shift in your lifestyle footwear and you're changed for the better. Now that's positive thinking.
trends are a good time... the 90s were a great time

Reebok classics post up a big #TBT with their Premium Overbranded pack. Reebok uses the retro style and '90s logo for that throw back new-age appeal. Their time-tested comfort make these sneakers an everyday shoe.
They see my "cruz"in', they hatin'

Last but not least, the New Balance Fresh Foam Cruz v1.
It's no secret that New Balance makes super comfortable walking shoes, usually with their wide-footed (THANK YOU) customers in mind, but what's new for this company is its stride into the trendy, millennial market.
Is it just me or are these super cute, trendy, fashionable, wear them with anything, omg give me a pair shoes? Right?
I like to think of this shoe as New Balance's ultra boost. Yeah, yeah, I know, not the same and HALF the price (cheers!), but what we're going for here is a casual, fit style. These Fresh Foam Cruz v1 kicks tick all the boxes for comfort, style and curb appeal.