Top of the workout to ya! 
Thanks to Reebok, there's one way to get lucky this St. Patrick's Day.
Introducing the new Reebok CrossFit Nano 7 in its St. Patrick's Day iteration! At Holabird we only sell this special edition shoe in men's, but according to our product expert and avid crossfitter, Cathy Kerns, the toe box is just right for a female foot in a smaller men's size.
"There's room in it and it's definitely more structured than the previous version, the Nano 6. The most endearing feature of the shoe is the structure in the heel of the shoe, because it's stable and you feel like you can really lift in this shoe."
There is a women's shoe, but Cathy says the men's version felt roomier and more flexible. Since we only sold it in men's at the time, it was sort of the unisex version, and Cathy tried it on and loved it!
"The stability you feel from this shoe is akin to a lifting shoe. With proper mechanics, you could probably squat pretty heavily in these just fine. If you're just learning, you may not. But I'm really impressed with it."
Notice the shamrock on the side? 
When you take a closer look at three leaves of that four-leaf clover, you'll notice that the CrossFit mantra (constantly varied, functional movement and high intensity) is abbreviated to "CV," "FM," and "HI," in each one of the three top leaves.

The NanoWeave technology on the upper provides breathability and comfort, while that anatomical toe box with its low-cut design offers freedom of movement and quicker, timed transitions. The anti-friction collar and tongue lining reduces moisture and heat buildup. When you're sweaty, your shoes won't make you sweatier.  
Reebok's PowerLaunch in the midsole improves power, fit and stability, and it comes with a removable Ortholite® insole.
Noticing the outsole, you'll see that it's covered
360-degrees with a TPU heel wrap for a locked-in feel, and its crystallized rubber outsole flexes naturally for balance and stability.
What's that on the inside, you say?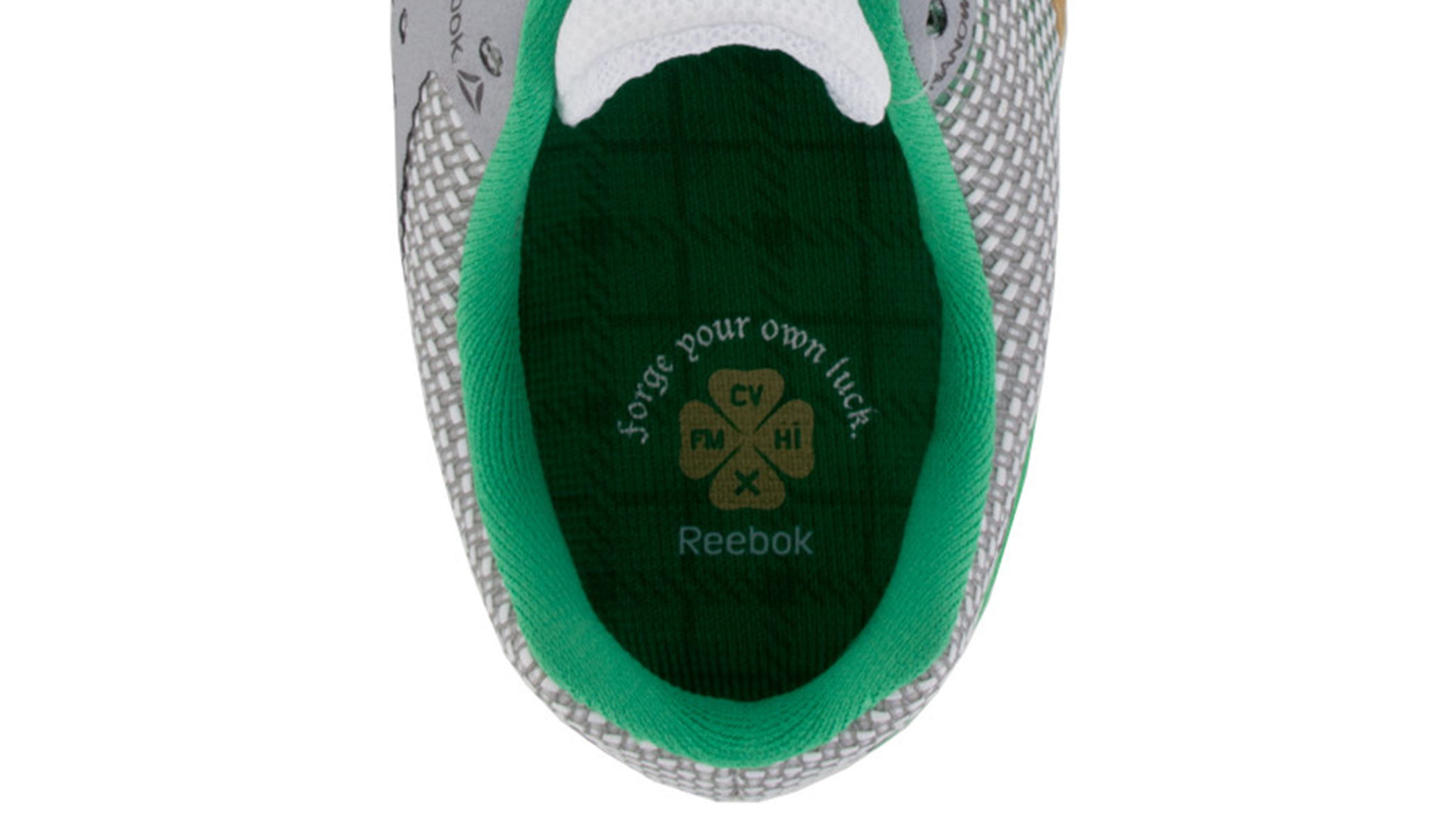 Reebok reminds you to "forge your own luck."
Don't wait passively on the sidelines. Make things happen.