You probably know Superfeet as a premium insole company, turning your feet's "ughs" into "ahhs" by placing one of their products inside of your walking, running, training or trail shoes.
They are in fact the revolutionary leader of the insole industry originally acting as a sports division of one of the world's leading podiatry labs, Northwest Podiatric Laboratory, so you can trust them to know their stuff.
And now, Superfeet shows the world its first footwear line for men and women. The focus is still on the insole of the shoe, but they just built it "from the inside out."
"All of our existing insoles are designed to retrofit other shoes — adding shape to footwear that doesn't have it. This new footwear line allows us start with the shape and build the entire shoe around the insole," Matt Gooch, Superfeet product development and education manager, explained.
As you can see in the diagram below. It all begins with the insole (1), then joins with the midsole (2) which is also connected to its outsole (3) and finally the premium leathers and mesh are added to give you both fashion and comfort (4).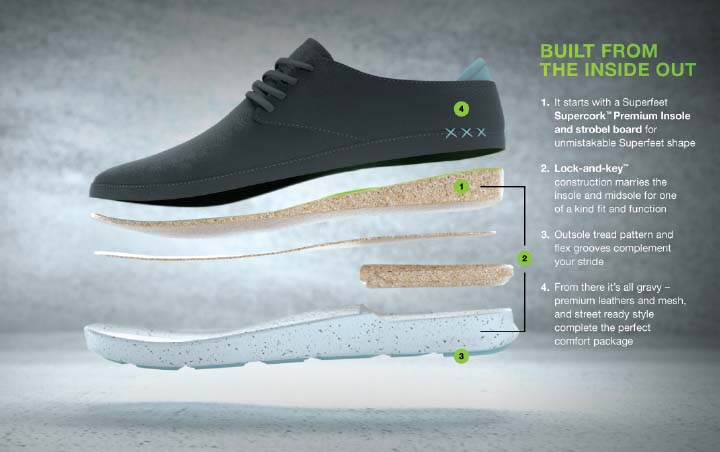 Let's Start with the Insole: What's So Special? 
Superfeet Footwear begins where most shoes end: the insole. Whether Comfort Casual or Crafted Sport (their two categories of models), each shoe is designed to support the Superfeet insole.
Because of this, each shoe starts with a Supercork™ insole (yes, literally made of cork- with EVA, too) and strobel board.
Why Cork?
Cork is a natural material that conforms to the foot with wear and has many other benefits, including:



Flexibility




Resilience




Odor-resistance




Insulation



The original Superfeet insoles were actually custom cork insoles for ski boots. Forty years later, they're bringing it back. And look how happy it makes these two... *awww*  
The Superfeet insole and midsole are connected to a durable yet lightweight outsole that's designed to support daily adventures. Its outsole tread pattern and flex grooves compliment your stride.
And because Superfeet's product development and education manager strongly believes that "fashion doesn't have to hurt," and Superfeet shares that belief, their shoes are finished with upper materials that both feel and look great on feet.
Crafted Sport or Comfort Casual?
The Crafted Sport more tailored through the rear portion and slimmer through the forefoot giving an athletic style fit. These would be the Stuart, Addy and Linden models.
In the Comfort Casual category, Superfeet built their shoes with a wider last for a roomier, more accommodating fit for all-day adventures that have never felt so good. The model we carry is the Novato in Comfort Casual.
[xroadz-shop-button href="http://www.holabirdsports.com/catalogsearch/result/?q=superfeet&utm_source=Hola%20Blog&utm_medium=blog&utm_campaign=SuperfeetShoes" title="SHOP SUPERFEET SHOES"]