For Fall 2017, Saucony updated its TRI-FLEX outsole design for six of its shoes: Ride 10 and Ride 10 GTX, Redeemer ISO2, Zealot ISO3, Echelon 6 and Omni 16.
What does an updated TRI-FLEX mean though? 
Well, the TRI-FLEX groove itself increases force dispersion over a greater surface area while also delivering optimal flexibility and traction. Saucony improved the groove of the outsole in the above-mentioned Fall 2017 models, something that has been in place since Spring 2016 actually.
The updates? More ground coverage (thicker) for more protection and durability. "The original TRI-FLEX patterns were a little too thin and seemed to wear down quickly; however, the benefits of the specific design stays the same," says Saucony Shadow Representative Michael Knestout.
The TRI-FLEX pattern is now shaped similar to a triangle. You get more protection and stability with two points at the base of the triangle and when you go to toe off (in a forward motion) the one point of the triangle is more efficient for flexing and a quicker turnover. The TRI-FLEX Groove pattern plays to Saucony's heritage of "Geometry Matters," keeping things in line with one another with shapes and even numbers, such as their 8mm offsets and our 4mm offsets. The old models used more of a butterfly wing design.
Also, TRI-FLEX works with the new Everun cushioning, giving optimal flexibility and cushioning at the same time. The TRI-FLEX is only located in the forefoot in the Road shoes (but is in heel and forefoot in Xodus ISO) to allow the foot to flex and push off evenly. That is why the flex grooves go across the full length of the outsole. Now there are some variations to this from the neutral and stability models. Less connectivity between the TRI-FLEX grooves in the neutral shoes gives the neutral runner more freedom and efficiency in the toe off. In the stability models, the TRI-FLEX grooves are connected more to give more stability and firmness. A stability runner still needs toe flexibility but not as much as a neutral runner.
So now let's see the 6 shoes with the new update!
UPDATED SHOES
The Ride 10 and Ride 10 GTX: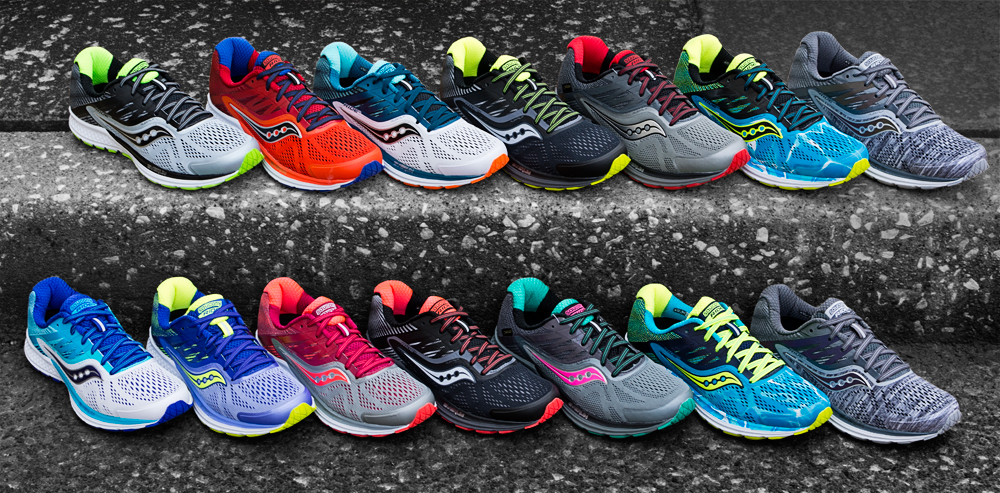 A Saucony favorite now in its 10th edition now comes in the Endless Summer and Heathered Chroma packs as well as its Reflex Series coming in September.
The Reflex Series is designed with fully reflective midsoles and 360-degrees of reflectivity throughout, so you can take your runs out into the night.
Redeemer ISO2 and Echelon 6:

These two foundation series shoes with Saucony Foundation sockliners for supreme cushioning have new colors! Along with the updated TRI-FLEX outsole.
The Redeemer ISO2 with its 8mm drop offers uncompromised support and sensational cushioning.
The Echelon 6, the high-volume neutral trainer, has a wide platform and expansive upper to accommodate a range of foot types.
Zealot ISO3: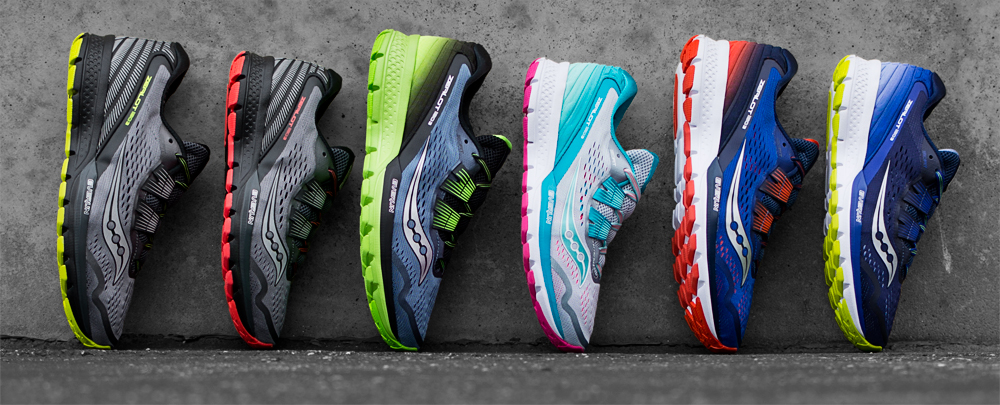 The neutral cushioned Zealot ISO 3 delivers Saucony's very best running innovations into a streamlined, energized package. Its 4 new colors arrived in June and its REFLEX Series for men and women (two colors) comes to light in September 2017.
Omni 16

:

For those who love the stability of the Omni, the 16th iteration of this support shoe released in 4 new colors in June:
---
NEW COLORS
Kinvara 8

The Saucony Kinvara 8 running shoes are the most exciting version to date. Now with a full-length EVERUN cushioning topsole and a truly minimal upper design, runners achieve the fast and free feel all throughout their run. This supremely responsive and flexible shoe promotes excellent turnover for speed demons looking to beat that next PR.
Kinvara 8 Runshield:

The Runshield series provides weather protection and durability, so you can take your runs through the gamut. Its FLEXSHELL-protected upper is highly water-resistant, lightweight and flexible; you'll be protected wherever the run takes you. Emerging in September, the Kinvara 8 Runshield comes in Mens black/red and Womens black/pink. It's $10 more than Kinvara 8, if you're someone who needs that extra protection.
FREEDOM ISO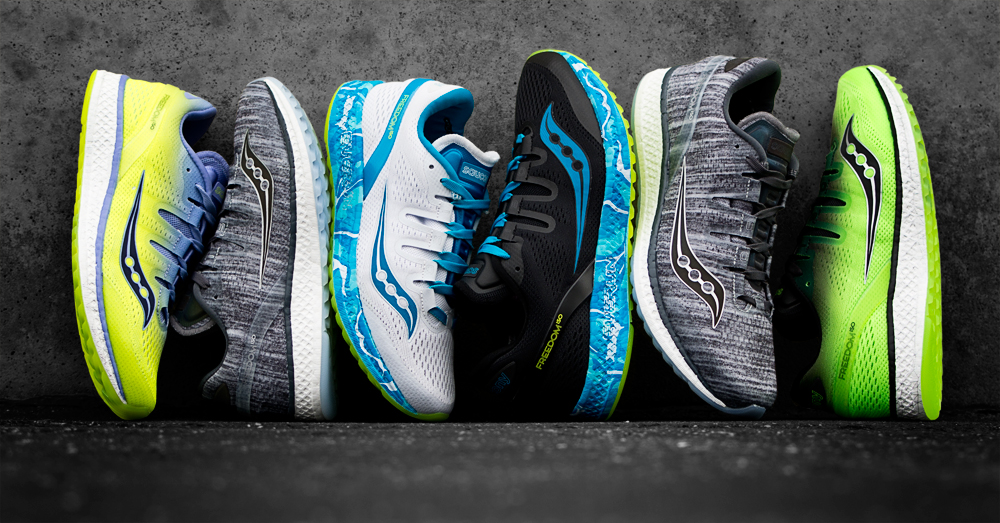 Neutral shoes with new looks! An engineered, flexible and ultra-lightweight upper gives runners a totally adaptive fit and feel. Neutral runners will feel the natural freedom of movement enhanced with immense energy return. The Freedom ISO reveals its Endless Summer and Heathered Chroma packs in addition to two new colorways, Slime/Black for men and Purple/Citron in women's.
TRAIL SHOES
XODUS  ISO 2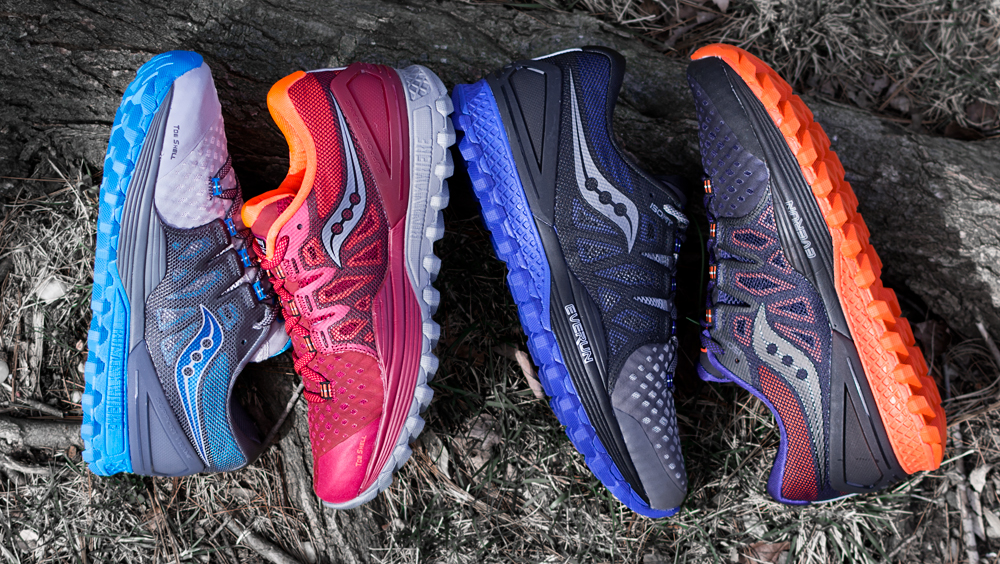 The XODUS ISO2 is built for the toughest terrains.  Its predecessor earned the Runner's World Editor's Choice Award, so we can expect more of that award-winning construction with a few enhancements. The PWRTRAC outsole will continue to offer sufficient traction across a variety of trail surfaces, and on the upper, slight changes to its ISOFIT wrap will improve durability. Minor aesthetic changes will give the XODUS ISO 2 a revamped look for your long runs across the trail. And they are now released!
PEREGRINE 7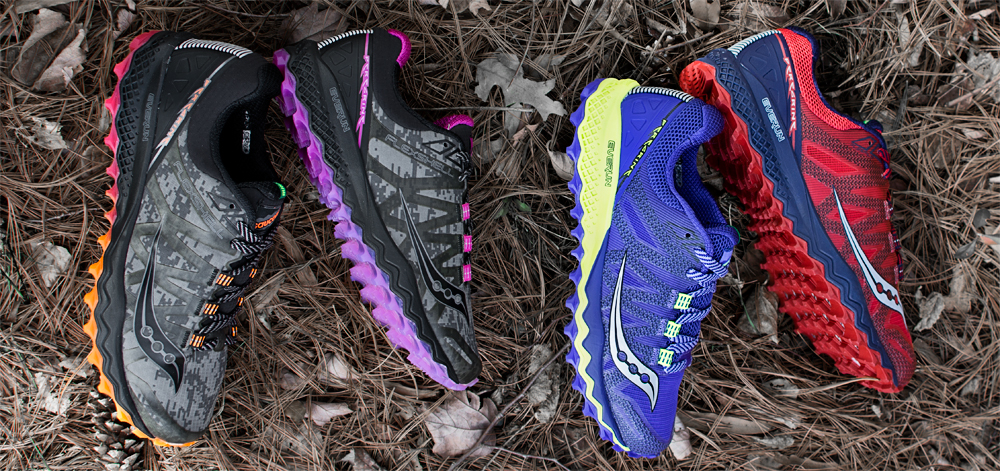 Introducing a new form of grit in the Peregrine 7. Like runner like shoe, this ride doesn't fear the off-road, taking serious grip of every terrain with a PWRTRAC outsole. The TPU exoskeleton secures the foot with added protection from the elements, while EVERUN cushions every footstrike with resilience and energy.
The Peregrine 7 Runshield releases in September 2017.
KOA TR and KOA ST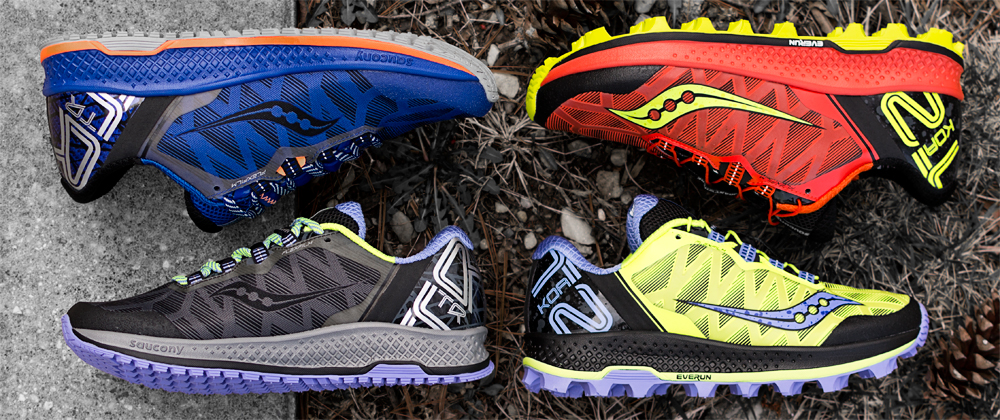 ALL NEW for 2017! These neutral trail running shoes both offer something different for their runner types. The KOA TR is the perfect hybrid for your runs allowing you to go from road to trail easily and effectively. Its lower lug heights give a great underfoot feeling on hard surfaces but have enough "teeth" and grip to keep you sure-footed on uneven terrain.
The KOA ST is perfect for tough conditions. Its aggressive PWRTRAC outsole pattern with 8mm lugs keeps you on your feet and moving quickly across soft, muddy terrains. The upper sheds mud and moisture and its toggle lacing system lets you quickly adjust your fit throughout the run.
RACING
TYPE A8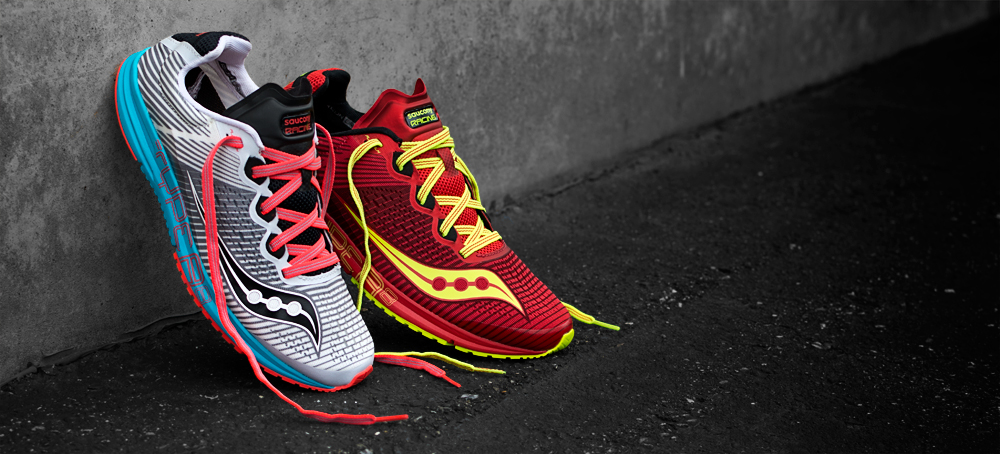 The
Type A
 has a lower profile perfect for higher intensity runs, while a firm midsole allows for a faster turnover as you chase your next best time. Its the ultimate road flat designed to be lightweight and responsive, ideal for distances anywhere from 5K to the half-marathon.
Stay tuned on new releases and information by signing up to receive our newsletter!