If you have wide feet then you are probably aware how hard it can be to find high-performance, comfortable tennis shoes that also fit well. While New Balance is known for making shoes with truly wider width, they haven't always been the biggest name in tennis shoes; adidas and Babolat meet the rigorous demands of hardcore tennis players while still offering a variety of wider sizes with generous toe boxes and more space. The shoes below are available in sizes D to 4E.
New Balance 1006: $86.95 - $104.95
If you're someone whose top priority in a shoe is maximum comfort, the New Balance 1006 tennis shoes (pictured above) will help carry you through your match in comfort, with superior stability and spring. With a REVlite midsole to help keep you light on your feet and a breathable mesh upper, the 1006 is designed for those long, demanding matches. Receive a Gift Certificate for any future Holabird Sports purchase when you snag a pair of these.  This shoe also qualifies for a limited warranty from New Balance. Available in D, EE, and 4E (extra wide).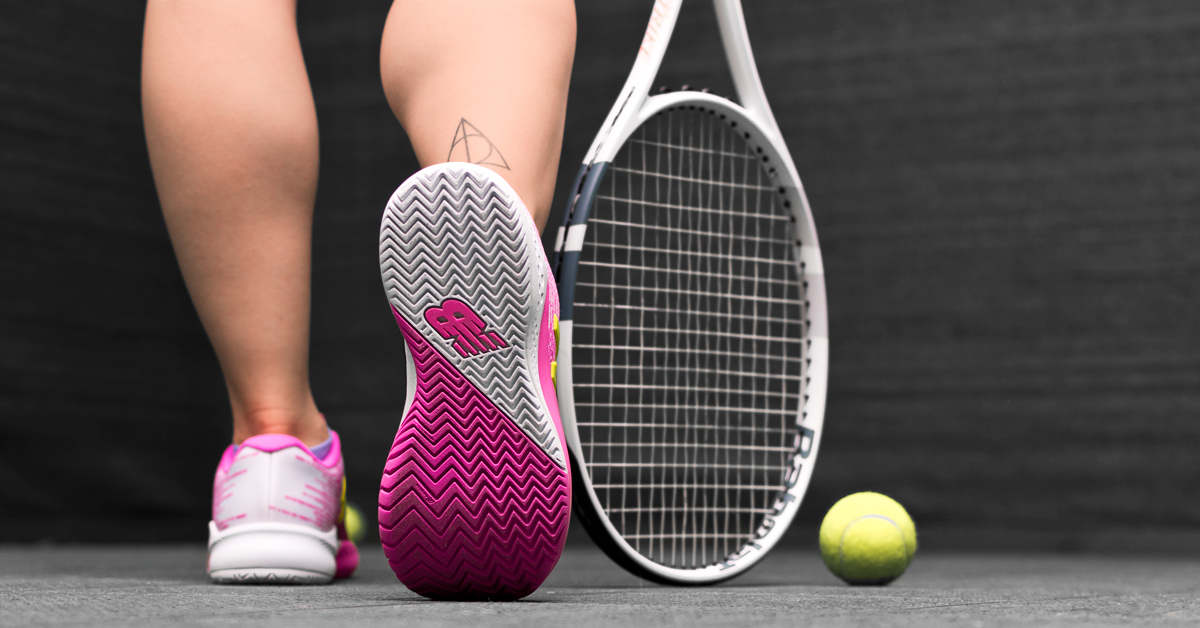 New Balance 696v3: $49.95 - $59.95
The revamped New Balance 696v3 tennis shoes help you nail every forehand, backhand and groundstroke with their updated herringbone outsole pattern for maximum performance on hard courts, perforation details in the forefoot that allow more breathability to keep you comfortable and a REVlite midsole for lightweight cushioning so you stay relaxed even as the competition heats up. Get these in D and EE.

New Balance 996v3: $94.95 - $119.95
Dominate the court with New Balance's first ever knit, nylon-infused upper; an innovative, form-fitting fabric design that is heat-fused for strength and durability to help support you during intense match play. Stack that with PROBANK stability technology that guides your foot during lateral cutting movements and a REVlite midsole for lightweight cushioning. The New Balance 996v3 tennis shoes come with a limited warranty from New Balance. You also receive a Gift Certificate for any future Holabird Sports purchase when you purchase. Available in D and EE.

adidas Barricade Classic Wide: $84.95
The adidas Barricade Classic Wide tennis shoes are only available in men's extra wide (4E) but will help get you to the net and back with ease. Designed with a wider fit and added stability, the durable outsole provides a secure grip to support aggressive play as ADIPRENE® cushions the foot on impact.

New Balance 786v2: $39.95 - 72.95
New Balance has set themselves apart by offering a variety of wide and narrow sizes for hard to fit feet. The New Balance 786v2 is available in D (medium) and 4E (extra wide) widths. The 786V2 is known for its fit and flexibility. A new FantomFit upper creates a better fit with more freedom of movement, so you can be in control of the direction of your game. It has an almost pure Herringbone tread pattern, so you can be confident in your lateral movements without worries of sliding.

New Balance 806: $104.95
The New Balance 806 is perfect for all-court players who need an extra wide shoe available in D, EE, and 4E. Players who need some motion control rave about the stability provided by the ROLLBAR® while everyone who hates replacing shoes too often will appreciate the long-wear drag tip that gives these shoes such high marks in durability. Finally, great cushioning will keep your feet comfortable, no matter how wide a shoe you wear. The New Balance 806 comes with a Holabird Sports Gift Certificate, which you can use on any future purchase.