We've been getting a lot of questions regarding the 400m to 800m run for high school track athletes, so we thought we'd take a moment to offer up a shoe solution for running those events!
It boils down to: Is the 400-800 event the only event the young athlete is running?
If that's the case, the only MD (for middle distance, LD for long distance) specific spike we carry is the HOKA One One Rocket MD: a responsive rocket with a 4-pin spike plate for middle distance track races designed for races from the 400m to the Mile.
If your runner is also running longer distance events, it's better to buy a long-distance spike. If they are running more sprints, and the 400-800 middle distance event, then they could buy a sprint spike. Sprint spike shoes have forefoot plates and are not the best for MD and definitely not for LD events.
Our spike shoe product expert says, "these young athletes would best be served, if running mostly sprint events, to buy a pair of sprint only spikes. If they may also run a 400-800 event, then MD or LD should suit their purpose."
How a middle-distance spike can help you:
For those running a multi-lap race and making at least two turns (yes, I'm directing this to the half-milers and milers that have a spot on the 4x400m relay) middle-distance spikes will have an appropriate blend of flexibility, torsion (ability to turn and flex), and rigidity. They will be less rigid than sprint spikes, so they should feel less stiff.
The Hoka One One Rocket MD are uber-cushioned, big soled, comfy running shoes… not minimalist slippers with spikes on them. In fact, Nicole Tully, mid-distance specialist and professional athlete, runs in Hoka One One's Rocket MDs.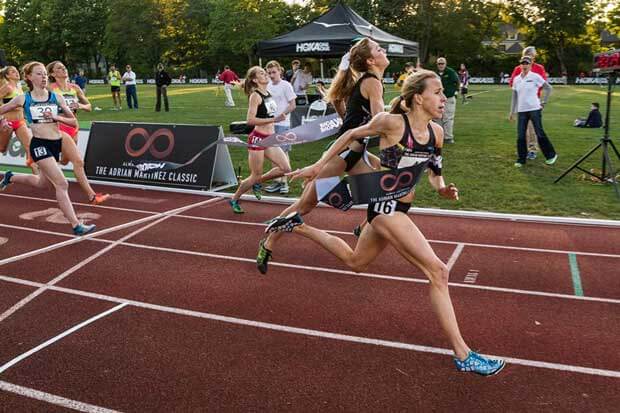 Photo courtesy of Hoka One One blog
The Spikes: 
Take a look at the middle distance spike plate. Compare it to the plates you see on both sprint varieties. You may notice that the forefoot is not completely covered in plastic. You may also observe that the shoe looks a tad softer underneath the arch. Unlike sprint spikes, mid-distance performance shoes have a very thin layer of ultralight EVA foam to provide a small dose of cushioning. After all, you're spending more time running your event, so you need to be a little comfier.
Manufacturers create inlets of the EVA foam in the spike plate to allow some flexibility and torsion–a necessity for the proper toe-off in each stride. With a semi-aggressive spike plate and a razor-thin midsole, you have a perfect shoe for control in the early stages of the race as well as some pop for your finishing kick. You'll be glad you're in the proper footwear when you're driving home in the final 150 meters. Just be sure to shake your competitors' hands after you win.
Most importantly, these bad boys are light. Technology has vastly improved in the past few years, leading many to marvel at the featherweight nature of middle-distance and long-distance spikes. Some shoes are as light as three ounces; you may even forget you have them in your bag. The Hoka One One's are 4.5 ounces, based on a US size 9 and may vary depending on size.
Ultimately, a middle-distance spike is firm enough to keep you on your toes when you need to be, but flexible enough to go the distance. So if you're planning on being a mid-distance runner, the Hoka One One Rocket MDs are the shoes for you.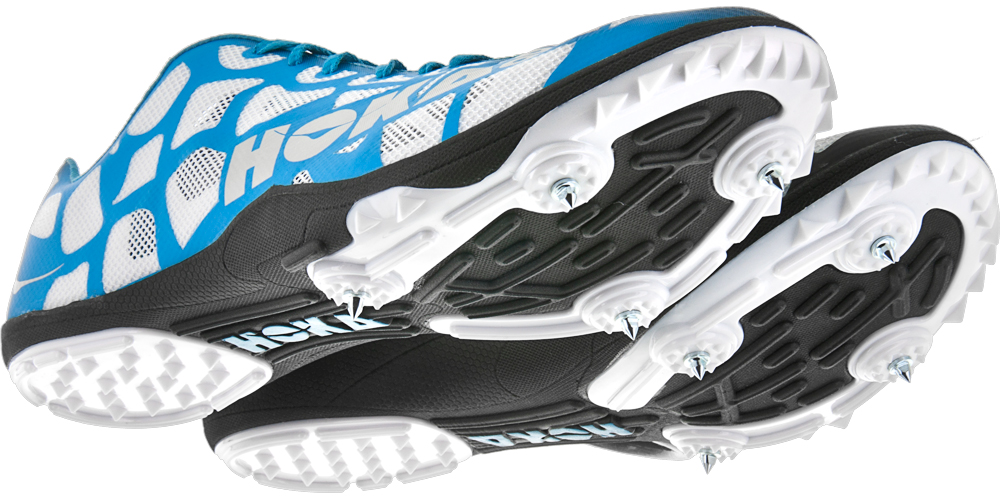 Shop our other track spikes.