Logo look familiar to you?
HYDRO FLASK! Yes! The company responsible for some of the best double-walled, stainless-steel hydration containers on the market from 10 to 64 ounces in their hydration collection. Keeps cold drinks cold and hot drinks hot hour after hour, wherever you're headed.
But now they're trying something different, or should I say...
succeeding
 at something new for them:
COOLERS!
The
Hydro Flask Unbound Series
of soft coolers is here in pack and tote varieties, and it's just as cool as we imagined.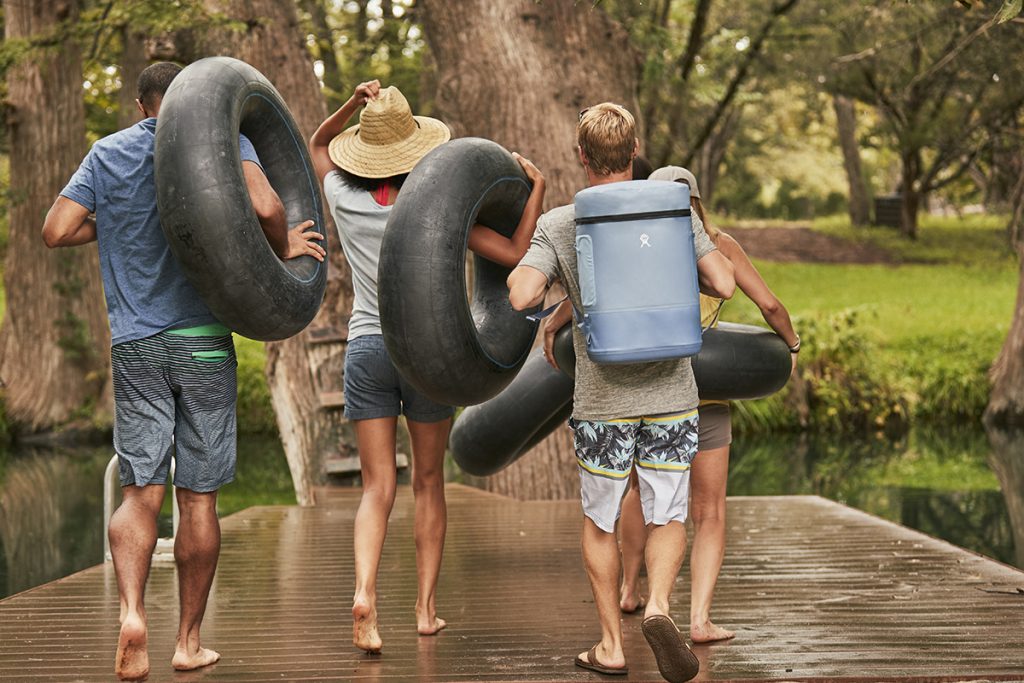 The easy-to-open, contoured, comfortable, and leak-proof
25-Liter Pack
and
24-Liter Tote
have already been awarded a winning spot in 
Outside Magazine's 
Gear of the Show
from this summer's Outdoor Retailer trade show in Salt Lake City.
"We put a variety of soft coolers and cooler packs through the wringer this summer. We're reaching the point where the market is saturated, and getting one cooler to stand out from the crowd is increasingly difficult. Hydro Flask, it appears, did just that," says 
Outside.
It did do just that?
How?
A number of reasons, says Hydro Flask Representative Mike Ebner.
"Hydro Flask has always been about lifestyle. They want to make products that are easy to use, look good being used (lol) and ones that you enjoy and WILL use. Its top priority is the user."
He goes on to say: "they put a lot of thought into how these coolers will work for people... they wanted to make something that people would WANT to take with them and that would WORK."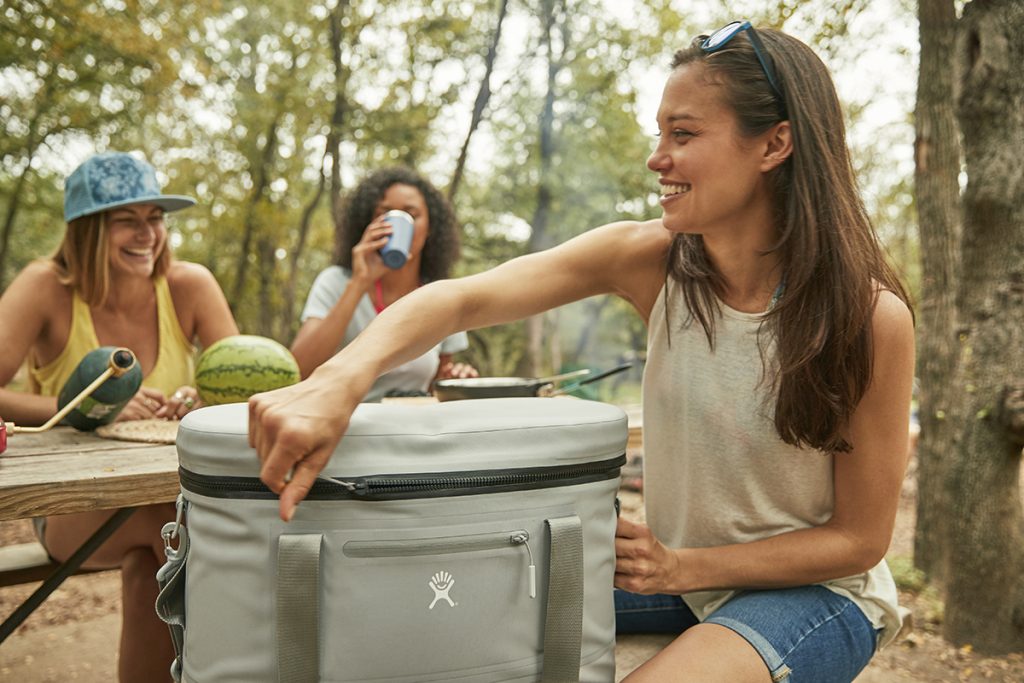 So tell me the specs. I want to know the deets.
25-liter capacity (24 cans + ice or 25 pounds of ice) for the pack
24 liters of food and drinks for the tote
Seamless strap design allows easy carry (backpack, over the shoulder, or by hand)
Leakproof zipper features smaller teeth for easy-open action
Dry storage options for personal items (koozies, bottle openers, keys, etc.)
Extremely durable waterproof shell, made with 420D nylon
820D scratch-resistant base
Contoured, press-molded base for unsupported self-standing
TempShield Soft insulation (keeps items cold up to 48 hours)
Advanced Thermal Mapping with Ultralon Buoyancy Foam means smarter insulation and more comfort
Internal waterproof liner is anti-microbial, mildew-resistant, BPA-free, and easy to clean
External fasteners to carry a bottle of accessories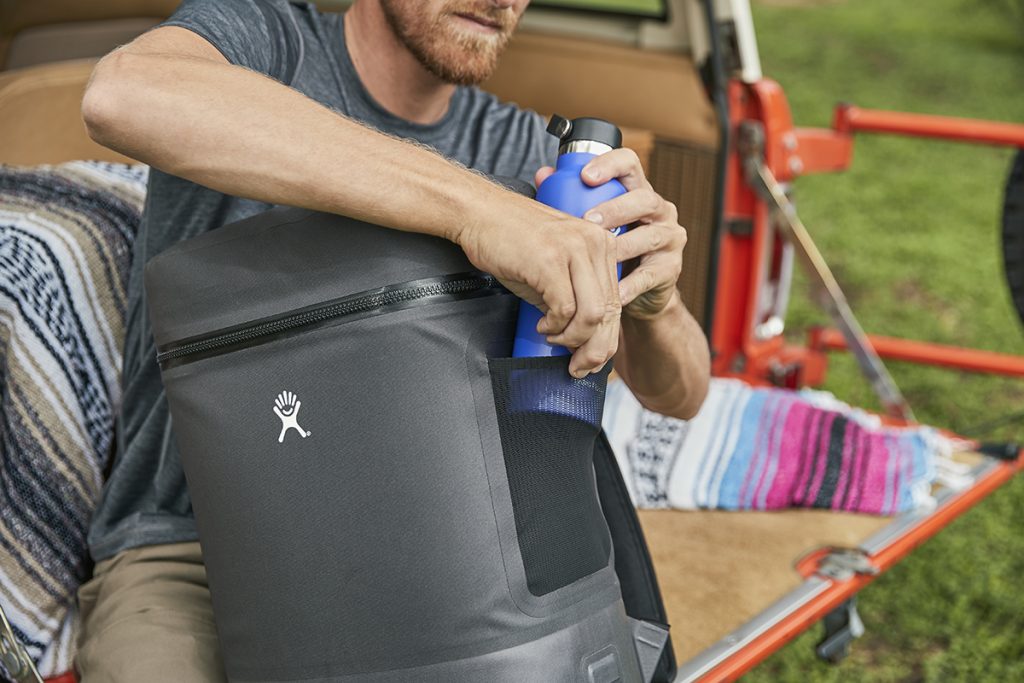 Explain some of that, please...
Extremely durable waterproof shell, made with 420D nylon 
What do those letters and numbers mean? Why is that important? I asked Hydro Flask's product development team: "420 Denier Nylon is an industry standard water-resistant fabric that has been used on technical packs for years. Known as the "Elephant hide" of fabrics, it is tougher than leather but has a unique look. Denier speaks to the mass of the fabric, not the size of the yard.
All these qualities, plus the fact that it has the right visual aesthetic led us to choosing it as the main body fabric." Well, okay then! Good choice, Hydro Flask.
820D scratch-resistant base 
Soft, rounded, and scratch-resistant with double-sided extrusion for free-standing capabilities when not worn.
TempShield Soft insulation (keeps items cold up to 48 hours) 
The TempShield technology is in every product Hydro Flask makes. It's their double-wall, vacuum-insulated technology that guards the temperature of your drinks and other goodies. Look for it in their bottles, too.
Advanced Thermal Mapping with Ultralon Buoyancy Foam
This tech means smarter insulation, less bulk, less weight, and more comfort. It helps eliminate temperature transfer with 20mm thickness on the bottom and top and 10mm on the front and back.
"The mapping of insulation... since most 'chill' is lost through the bottom, we put plenty of insulation on the base end. We left out some out along the walls, so it's less bulky, not sticking out on either side, for example, and so that it still fits your body profile. It's light enough, and has the right tech, so you don't mind carrying it distances," says Ebner.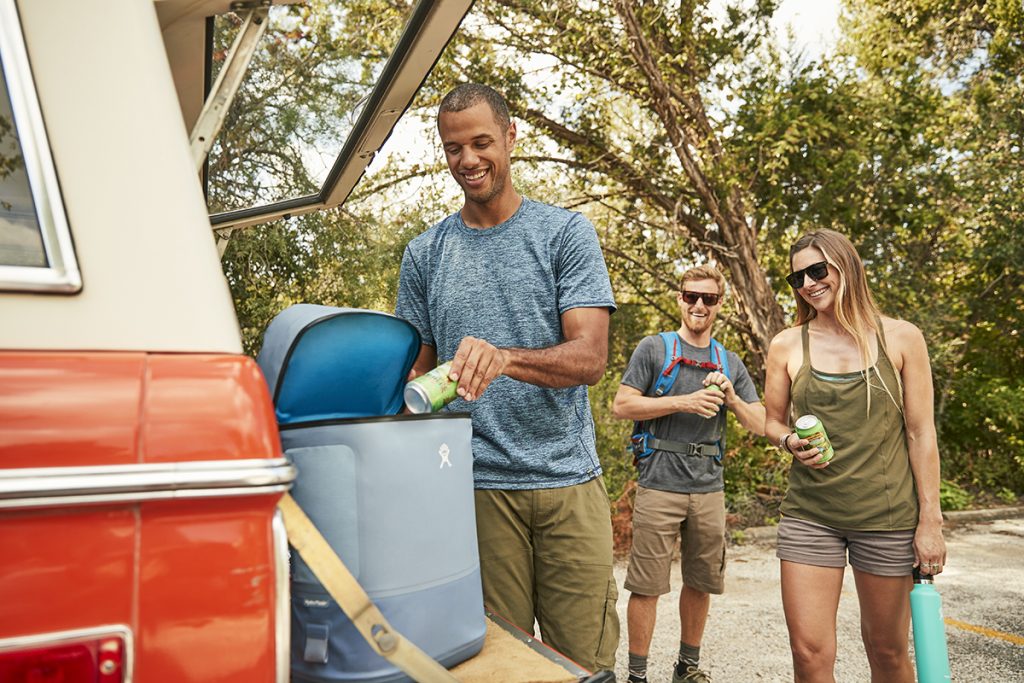 Whether you're out camping with friends, walking on a college campus, dragging it to the beach, or going about your everyday life, the
Hydro Flask Unbound Series
will work for you.
Hydro Flask wanted to design something that someone would want to take with them, something that's personal to an individual: 
YOU
.
It's important that their products fit your unique personality- a reason why they have so many different styles and colors of beverage carrying options.
"These coolers hit the sweet spot in terms of size, at 25 liters—big enough for at least a couple six-packs. And the waterproof 420-denier nylon resembles a fashion piece more than a technical tool. The Ultralon Buoyancy foam is flexible and won't compress after a lot of use. Plus, the Unbound can stand on its own, and the zipper wraps almost all the way around the lid, maximizing opening space... the handsome build and user-friendly details make it worth a look when it comes out," says 
Outside
.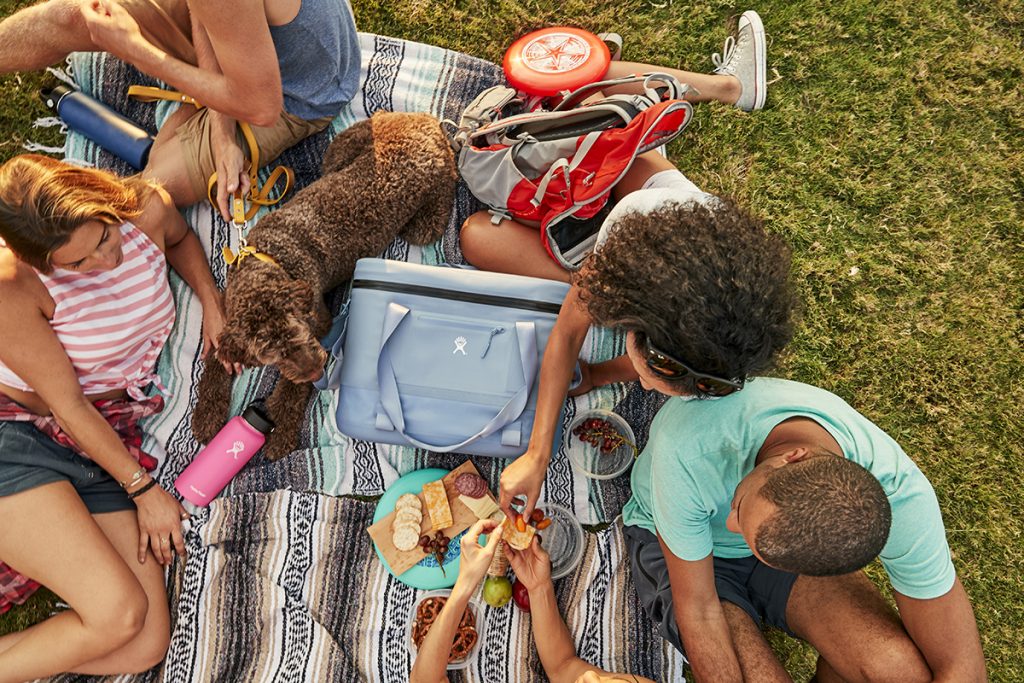 What colors are offered?
The Unbound series has a variety, matching your lifestyle. Right now you can expect to find black, blue, gray, and yellow. Functional colors. With style.