Yesterday, Charlie, one of our product experts from our Baltimore showroom, stepped into my office and presented me with an outdated shoe box with a decades-old adidas logo.
"It took some time to dig through my belongings," he said. "But I thought you might appreciate this."
Charlie and I are runners; we could talk about running all day. We enjoy chatting with customers about their training and experiences while fitting them for shoes. At the outset of this year's World Track and Field Championships, we laid out our predictions of which athletes would stand atop the medal podium. More often than not, though, we find ourselves exchanging stories about the glory days--the days we spent putting our blood, sweat, and tears into a 400m rubber, oval track at the University of Maryland. Or in Charlie's case, it was a 400m cinder oval.
Like me, Charlie was a distance runner and a Terp. So, with a quiet respect, I always listen intently to his stories of running competitively in the '60s and how the sport has changed over the years.
But, before today, he never had the opportunity to show me pictures or artifacts from an era long gone. Now, he was handing me a shoe box that, by the looks of it, was older than me.
I carefully removed the lid and saw the aged, off-white leather, the easily-recognizable three-stripe logo, and a faded print inscription that read, "adidas Melbourne."
"That's real Kangaroo leather," Charlie noted.
These were Charlie's track spikes from college. Admittedly, I am a running nerd and a shoe geek. So, I'm sure my reaction was priceless when I fully comprehended what I was holding. With a chuckle, Charlie watched me curiously inspect the materials in the shoe and helped identify the make and model.
"That's the adidas Melbourne," he said proudly. "Coach Jim Kehoe (the University of Maryland's head track coach at the time) gave me those in 1965."
To remove all doubt, he added, "I haven't worn them in a while."
The spikes were much lighter than I expected, especially for shoes from the mid 1960s. However, the shoe's kangaroo leather, non-removable spikes, and stucco-esque reinforcement plate were indicative of very dated shoe technologies.
The following day, I brought my ultra-light Nike Victory middle-distance spikes so that Charlie and I could compare and contrast the go-to racing shoes from our respective heydays. When I tossed the Victories to Charlie, he responded, "Whoa, these are light! It feels like there is nothing there."
"It's better than kangaroo leather," I said with a smile.
"Think twice," Charlie warned me. "I've seen the adidas Melbourne sell on eBay for about $300."
Not that Charlie would ever sell his spikes…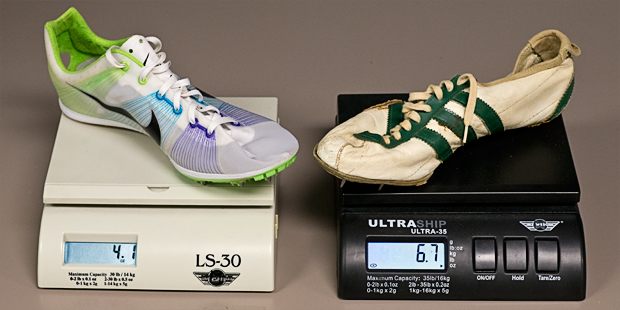 Here are some fun facts that show how track and field and track spikes (and more) have evolved over the years:  
| | | |
| --- | --- | --- |
| | Charlie's adidas Melbourne | Greg's Nike Victory |
| First year worn | 1965 | 2010 |
| Last year worn | 1966 | 2012 |
| Shoe materials | Kangaroo Leather | Single-layer mono mesh and Nike Flywire |
| Shoe Weight | 6.7 ounces (size 9) | 4.1 ounces (size 11) |
| Shoe Cost | Approx. $25.00 | $110.00 |
| Best races in these spikes | 14:34 5,000m at the ACC Championships | 4:06 indoor mile1:50 outdoor 800m |
| Type of spikes | Originally 1", non-removable spikes | 1/4" pyramid spikes |
| Running Inspiration | Emil Zatopek | Bernard Lagat |
| 5K World Record at the time | Kip Keino, 13:24.2 (11/30/1965) | Kenenisa Bekele, 12:37.35 |
| Boston Marathon Champ | Morio Shigematsu(2:16:33, 1965) | Geoffrety Mutai(2:03:02, 2011) |
| Avg. Cost of Univ. Tuition | $1,105 | $21,657 |
| Avg. Cost of gas per gallon | 31 cents | $3.65 (as of 9/2/11) |
| Who was President? | Lyndon B. Johnson | Barack Obama |