Created in the early 80s by Jim Throneburg to be the best in foot protection, Thorlos socks have become, as he puts it, "the caretakers of the world's feet."

And that's a feat.

As a third-generation family owned and operated company like ourselves, Thorlos is very near and dear to our hearts. We buy Thorlos because we love their mission, science and USA-made products. Everyone at Thorlos is committed to craftsmanship, and with that craftsmanship comes quality, value and the benefit of better feeling feet.

So why love Thorlos socks? 
I could provide you with thousands upon thousands of reviews from customers, or I could give you the facts. I'm actually going to give you a little bit of both though. have clinically-tested padding. Each pair of Thorlos is made with the wearer in mind. Whether you're a runner or a tennis player, Thorlos designed its socks for you.
The key findings from their clinically-tested padding? 


Significant reduction in the frequency of occurrence of blisters


Significantly smaller blister size, if blisters do occur


Reduced foot pain by 51% compared to participants' own socks


25.6% pressure reduction compared with participants' own socks


For people with healthy feet, Thorlos significantly reduced pressures in the ball of the foot


When you pay $13-16 for a pair, you want to get a lot out of your socks. Thorlos knows that. In order for you to consider it a bargain, they have to be the bees knees! And they have to
last
. That's the goal of Thorlos: to set themselves apart by giving you so much more than you expect in terms of protection, comfort and foot health.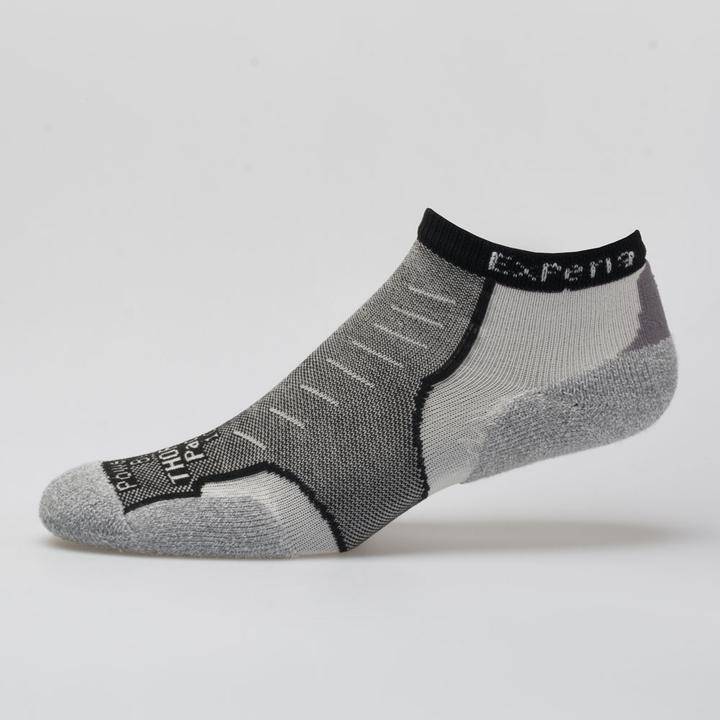 For runners, the heel-toe action of running puts tremendous shearing and impact forces on the ball and heel of the foot. You'll find the clinically-tested padding in those areas of the socks for protection against the common injuries suffered by many runners in the Experia socks.® eliminates all but the essential Thorlos® patented thin cushion padding, which is sculpted and contoured to match the natural foot's ball and heel strike pattern resulting in impact protection without extra weight and an aerodynamic fit that hugs the foot. The socks' lightweight Achilles tendon pad protects against rubbing and chafing while also functioning as a heel lock, so these socks make great friends with the high performance runners, cyclists, hikers and fitness walkers.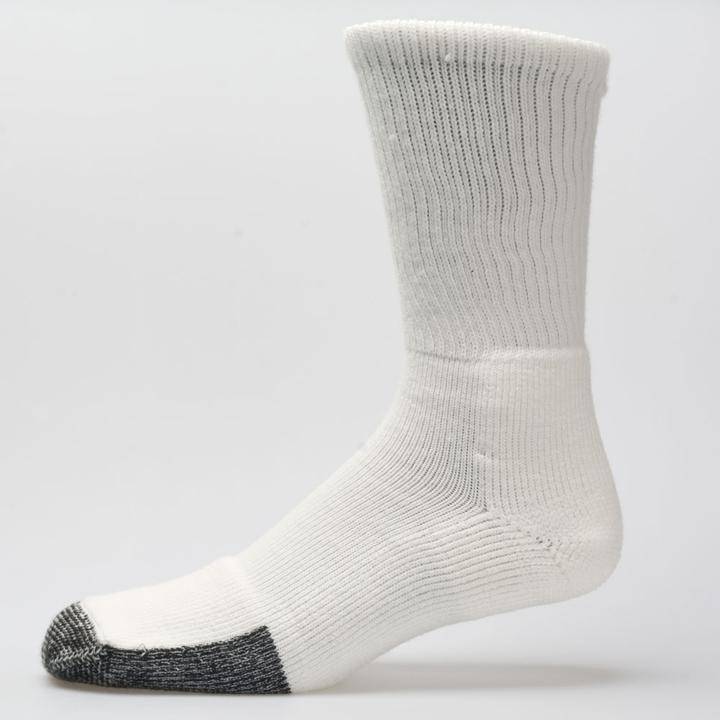 In tennis, you need extra protection for the tops of your toes; otherwise you will be a candidate for the painful condition known as "tennis toe." So Thorlos has extra padding over the top and ends of your toes for protection and comfort. It's patented and engineered with high density padding to cushion the foot from impact and abrasion caused by quick starts and stops. The is Thorlos' most popular tennis sock. Its unique cushioning protects the foot from shock without being too bulky. These crew socks are also excellent for clay court play as they'll prevent bits of clay from getting into your sock and rubbing your foot during the match.
The Padding Density Varies...
For these reasons, depending on the part of the foot that needs protecting, the padding density will vary. Where the shear and impact forces are extreme—usually in the ball and heel—the padding will be more dense to buffer against those forces, reducing the causes of foot aches and pain. The padding is also particularly dense where your foot experiences peak friction or shearing forces. The terry fabric in Thorlos socks works as a system to dissipate the forces that would otherwise occur, often resulting in blisters, pain and pressures. Over the years, new and long-time loyal customers have shared why their experiences with have been the best: fit, comfort, protection and longevity. And that's why Holabird Sports continues to support Thorlos, because they support our customers and continue to take care of the world's feet.