Under Armour released the
Speedform RC
to give runners a sense of what "fast feels like." Built for lightweight performance, Under Armour poured their apparel know-how into the creation of this shoe. The result is an anatomical design with a very fast feel.
The Speedform RC Feel
The Speedform is available only in unisex sizing. Some runners have questions about the width of the shoe but this wasn't an issue for me. Many racing flats are sold in unisex sizes, and the Speedform fits much like a racing flat. However, if you're on the cusp between two sizes, you may want to opt for the larger size when trying out the Speedform.
It weighs in at 6.0 ounces for a men's size 9, so by design, it has a performance feel. Better yet, it has great responsiveness without being overly-firm. It's bouncy. Under Armour uses its patented Micro G midsole technology to offer formidable resiliency in such a lightweight shoe.
There is no need to reserve this shoe for fast runs, workouts, and races. Unlike racing flats with slender midsoles, the Speedform harnesses enough energy return and responsiveness to make it viable for an average training run. If you do prefer to use it solely for racing, it will serve you well up to the half marathon distance. Beyond that, you may be pushing boundaries unless you are a very efficient runner. For the runner who prefers a minimal experience, the shoe is light enough and sits on a platform with a 6mm heel-to-toe drop.
The Speedform RC Upper
The upper is the best part about the
Speedform
.
Under Armour partnered with a top lingerie manufacturer to produce key features. Implementing a theme of "clothing your foot," Under Armour designed an upper that is extremely comfortable and is as seamless as seamless gets. Complete with toe grooves in the forefoot, the upper has the appearance of a tech T-shirt draped over one's foot.
The shoe supports the heel with a 100% seamless heel cup--an unprecedented concept in the running shoe world. The material is different than the traditional mesh uppers. It's a flexible, yet thicker, material that is perforated in key areas to optimize breathability. And, like much of Under Armour's apparel, it's sweat-wicking.
It's the best-fitting upper I've felt in any shoe I've tried in a long time. Due to the texture and the lack of seams, it hardly creases during the gait cycle—preventing blisters on the top of the foot and holding your foot like a glove. Under Armour says the Speedform can be worn without socks but I found the embedded sockliner to be somewhat abrasive underfoot.
Speedform RC Outsole & Durablity
Using "Light Speed Grip" on the outsole, Under Armour cut down on the weight without sacrificing performance. Coupled with strategically-placed plastic, the shoe has fantastic grip--especially in wet conditions. I could tell the shoe was doing it's job when I heard squeaking beneath my feet on rainy days, particularly around sharp turns.
There is a downside: The Speedform may not last 400 - 500 miles. Nonetheless, the exceptionally comfortable ride and lightweight experience make the shoe worth it. Consider it a complimentary trainer that you can also wear for races and tempo runs. However, if you're a mileage hog, wear these carefully and sparingly.
The footbed is wide enough to accommodate almost all insoles; however, certain insoles may prop your heel above the heel cup though.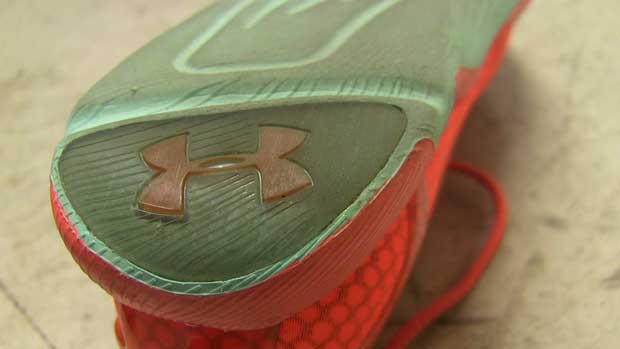 The Speedform RC Bottom Line
I've worn this shoe for more than 50 miles and have no issues to date. It is a great option for fast-paced runs or for days when you're feeling sluggish and need a lighter shoe. It's a shoe that helps slow days feel less slow.
It's well-cushioned for a 6-ounce model, and still provides the responsiveness you'd expect from a racing flat. Once again, there's no need to keep this in your closet until race day. Filter them into some training runs. Remember, you'll want to keep track of your mileage: The Speedform will not have the same lifespan as traditional trainers.
The Under Armour Speedform RC is a lightweight, performance shoe; perfect for runners looking for a featherlight ride.
Buy the
Under Armour Speedform RC