What do running shoes and bras have in common?
Actually, more than you might think and the engineers at Under Armour have bridged the gap when they found a way to incorporate the fit of a bra into a running shoe.
Run Specialty Sales Rep Britany Williams admitted that apparel has been the industry that put the Under Armour brand on the map. "Apparel is our baby," she said. That led to the question, "Why don't we build a t-shirt for your foot?"
And in a bra factory in China, the Under Armour SpeedForm running shoe was born.
According to Britany, Under Armour was fueled by the desire to "be disruptive." So they approached Playtex because of their involvement in spacesuit innovation and intimate understanding of fit. Under Armour was interested in completely starting over in the footwear market by introducing a shoe that caters to technical runners that "really understand shoes," Britany said.
"This is a bra on your foot," she said.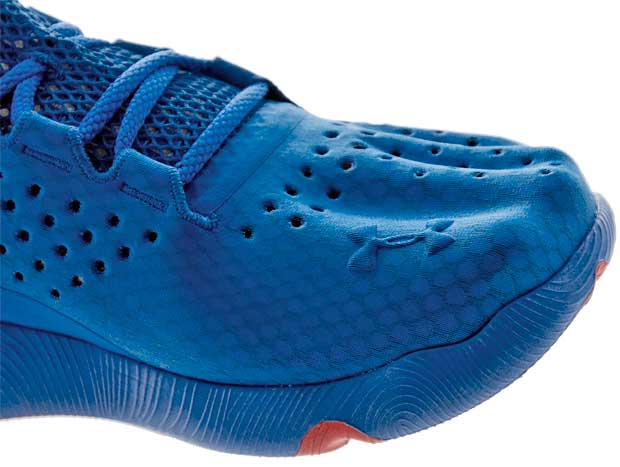 From concept to building the
SpeedForm
took about 3 years to complete. Built totally by machine, the production radically minimizes the risk of human error. It also eliminates any stitching on the inside of the one-piece upper. A seamless heel cup really influences and enhances the fit of the shoe. "If you can stabilize the heel, you don't really need much else," Britany said.
The grooves that you see on the forefoot of the upper are mainly for aesthetics to drive home to idea of these shoes being sleek and fitted. "If you drape a t-shirt over your feet, this is what it would look like," Britany said. The upper is constructed with apparel textiles.
Just like in many of Under Armour's other popular running shoes, the SpeedForm features the cushioned Micro G® midsole that enhances flexibility to help feet move more naturally. Light Speed Grip on the outsole provides incredible traction with ¼ of the material of other shoes. They are constructed with a 6mm heel-to-toe drop.
The
Under Amour SpeedForm unisex running shoe
comes in orange, green, blue, and red and is being sold with limited availability for the next year. Pick your favorite color
Speedform at Holabird Sports
.