You've just finished a long run, grueling race or difficult match and simply put, your feet need some
TLC
.
You
could
keep walking around in your running/tennis shoes, 
or 
you could slip into something a little more comfortable and breathable: a recovery slide!
Recovery slides are designed to revive your feet. After putting them through a marathon or multiple sets, you might find yourself fantasizing about ripping your shoes off and throwing them across the finish line. A victory throw, but also an exclamation of hatred for those now sweaty, confined foot wraps.
Good recovery sandals are breathable (downright airy), lightweight (of course), well cushioned, and supportive. The goal is to unburden those tootsies pronto, get them dry, relieve them of impact, and cradle the arch.
How are these any different from flip-flops?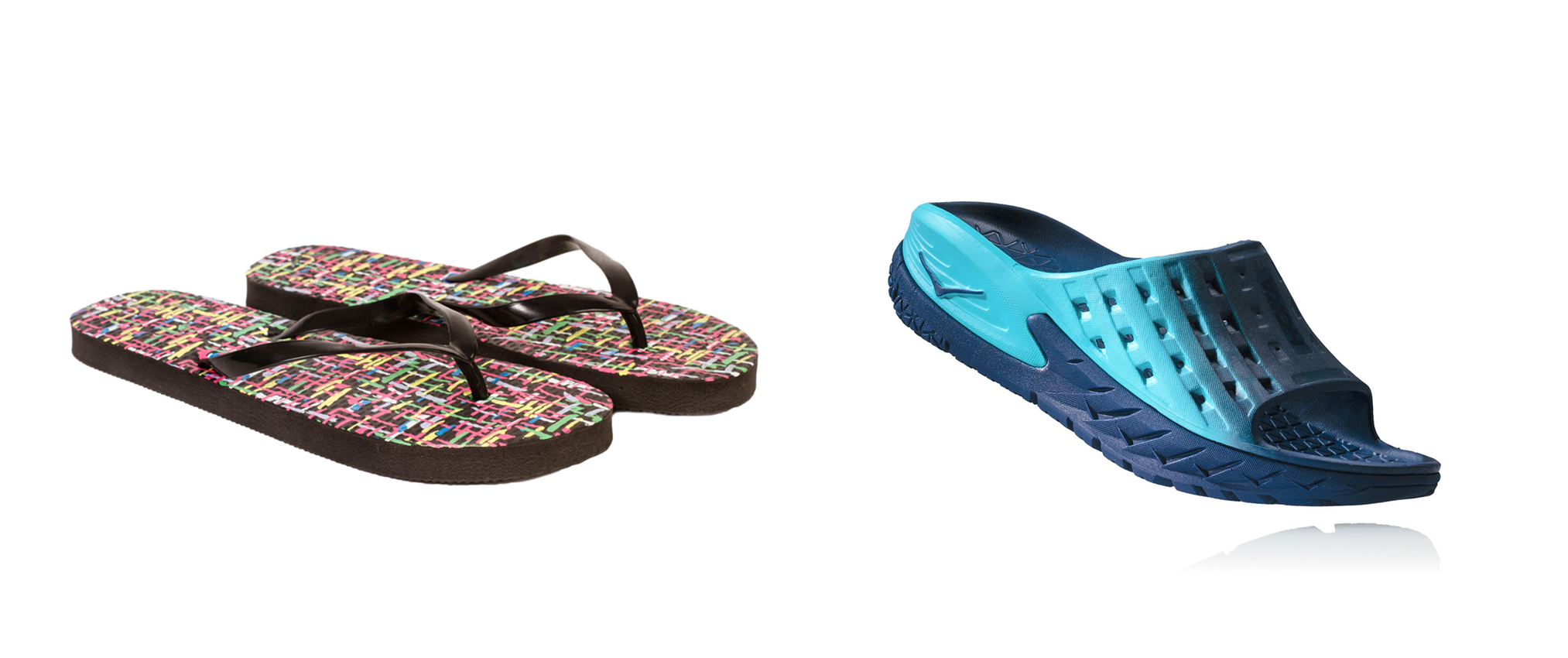 Well for starters, most flip-flops have absolutely no support (there are exceptions, like Oofos flip-flops), and they can easily cause blisters! (If you get the types that go between the first and second toe).

And there's more. Podiatrists blame flip-flops for blisters, bacteria, viral infections, bad posture, shooting pains, bunion exacerbation (and formation!), hammertoe issues, athlete's foot, and lack of arch support.

Phew.

In a 2008 study, researchers at Auburn University found that flip-flops actually change the way wearers walk, sometimes permanently. And those changes can wreak havoc on the rest of the body, with distinct and noticeable effects on everything from the wearer's posture to their gait.
So what recovery slides do we recommend post-race? 
The Hoka One One Ora Recovery Slide has a soft top layer of EVA for immediate step in comfort. Like all Hoka One One shoes, their meta-rocker technology is still present in this sandal. This midsole geometry is specifically designed with a low heel-toe differential and a sculpted outsole to create a unique fulcrum effect, like a rocking chair, to encourage a guided gait cycle. No flip, no flop, just comfort and support. Your tired feet just got rescued.

And with its dual-layer construction and strategic groove placement, you won't have to worry about stepping on a piece of glass at the after party.