Roger Federer created a stir in 2013 when word got out that he was testing a new, more powerful racquet with a larger headsize. After years—and a record 17 Grand Slam titles—playing with different versions of the Wilson Pro Staff 90, Roger decided it was time to make a change following his 2nd round exit at Wimbledon.
After a few tournaments of testing, Roger put the new racquet on the back burner and went back to his old racquet while he finished out his 2013 campaign. But the experiment wasn't over; during the off-season, Federer had some tweaks made to the frame and resumed testing at his training base in Dubai. Roger eventually opened the 2014 season at Brisbane once again wielding the mysterious, blacked-out prototype.
During the whole testing process, details on the prototype frame were scarce. Federer fans were left to speculate on the final specs, cosmetics, and eventual release date of the prototype frame. Then, midway through August 2014, Wilson finally ended the suspense with the official announcement of Roger's new frame—the
Wilson Pro Staff 97 RF Autograph
.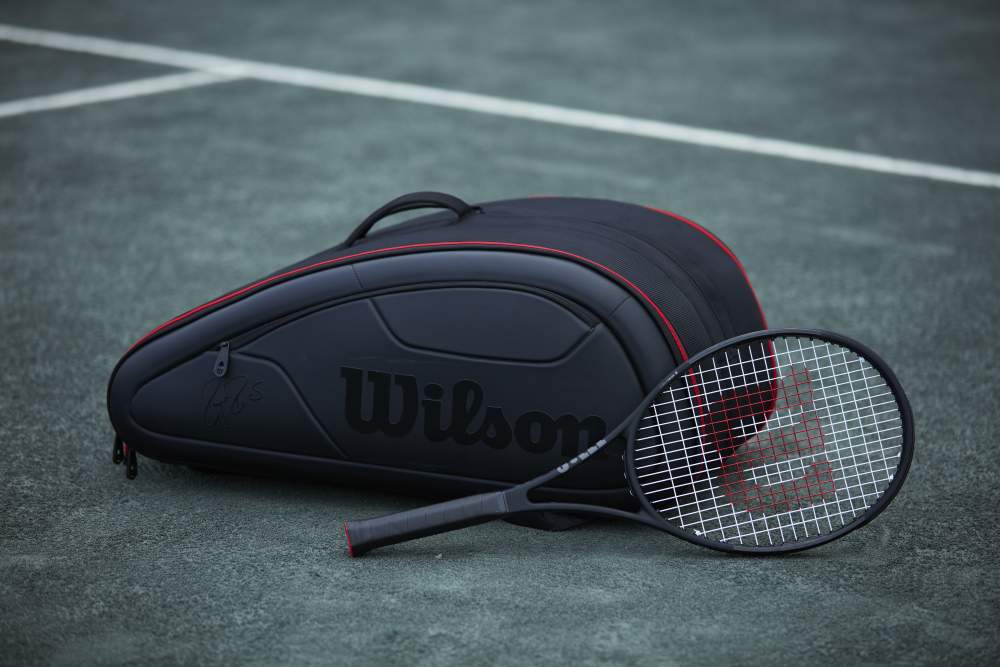 [xroadz-shop-button href="/wilson-pro-staff-rf-97-autograph.html" title="SHOP WILSON PRO STAFF RF 97 AUTOGRAPH"]
The RF Autograph has a 97 square inch head and a 21.5mm beam—both of which are significant jumps up from the 90 square inch head and 17mm beam of Roger's last frame—and weighs in at 12.0 ounces unstrung. The frame is headlight (about eight points unstrung) and has a 16x19 string pattern.
I took it the
RF 97 Autograph
out for a few hitting sessions to see how well I could handle a racquet made to the specifications of a 17-time Grand Slam champion. After a few minutes of hitting, I quickly formed a pretty favorable initial impression of the RF Autograph. I usually prefer heavy, low-powered racquets—I currently use a Prince EXO3 Rebel 95—so the RF Autograph was right up my alley, even if I'll never use it quite as well as Roger.
The baseline game is my bread-and-butter, so for me it's important that a racquet really perform well from the ground and I thought the RF Autograph delivered pretty well. I really enjoyed the racquet's feel and its weight created plenty of stability and plow-through. I was able to redirect hard-hit balls and even return them with interest thanks to the frame's solidity and heft. The open string pattern offered up fairly easy access to spin—though players will still undoubtedly get more RPMs with one of the popular super-open string patterns—and I thought the stringbed felt pretty forgiving even when it was strung up with a stiff string.
As always, though, everything comes with a tradeoff, and there's a reason you don't see too many frames in the twelve-plus-ounces-unstrung range. While the RF Autograph's substantial weight allows you to crush plenty of groundstrokes, it can be a double-edged sword. When I was forced to hit out of position or didn't have time to really engage my legs and torso, I found it tough to generate enough swing speed to hit my best shots. During my longer hitting session with the RF Autograph, I also thought the weight of the frame became a little cumbersome; by the end of my practice I felt more like I was swinging a club than a tennis racquet.
Fans that have been watching Roger play with his new frame throughout 2014 have probably noticed that he's been moving to the net a lot. While the new racquet is probably not a driving factor in Roger's aggressiveness, I was still excited to see what the RF Autograph was like at the net.
Once again, it didn't disappoint and offered rock-solid performance. I felt confident putting away high volleys and had plenty of feel when digging out low balls or dropping touch volleys over the net. The frame's hefty weight still has its pros and cons at the net—it felt solid and stable when blocking back hard-hit passing shots, but I found the maneuverability to be a little less than optimal. Obviously, Roger has no such concerns and has used the racquet to great effect while coming forward, so who am I to argue?
Serves were easy to place and I was able to reach back and hit my first serves with plenty of pace. I certainly wouldn't have minded getting some more pop on my serves, but I was able to serve effectively enough. Besides, I think that's a pretty small price considering how many other things the RF Autograph does really well.
In the end, I'll say this: the
Wilson Pro Staff 97 RF Autograph
is a very, very good racquet that can ascend to greatness in the hands of a strong player. It's a racquet that's unabashedly designed for advanced, highly-skilled tennis players. In fact, I'd say that taking the court with the RF Autograph is sort of like being handed the keys to a Ferrari and being set loose on a track—some people may be able to drive it, but it'll take a really skilled driver to squeeze every last drop of performance from the car.
Still, I think the RF Autograph is one heck of a racquet that advanced players really should check out. Very skilled players will probably get the most from the frame, but plenty of players should be able to enjoy the racquet's solid all-around performance. The biggest knock on the RF Autograph is probably its weight, which can get unwieldy at times, but the frame otherwise plays like a dream.
[xroadz-shop-button href="/wilson-pro-staff-rf-97-autograph.html" title="GET YOUR OWN WILSON PRO STAFF RF 97 AUTOGRAPH"]
[gallery columns="4" link="none" ids="4772,4771,4770,4769,4768,4767,4766,4765"]