Holabird Sports and Wilson tennis have teamed up to bring you Wilson Weekends! Every weekend we'll put at least one new Wilson tennis item on sale.
For our inaugural Wilson Weekend, we are offering the
Wilson Juice BLX tennis racquet
at $20 off and the
Wilson Rush Pro & Pro Clay tennis shoes
for $20 off.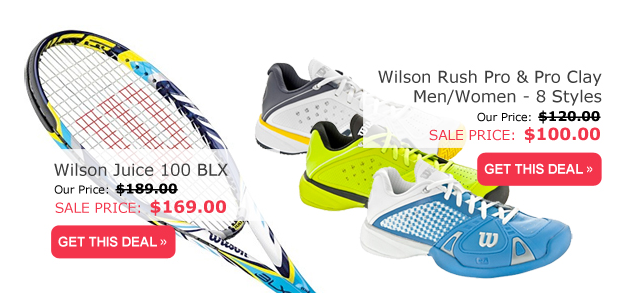 Wilson Juice 100 BLX Tennis Racquet
Used by tennis great Victoria Azarenka, the Wilson Juice 100 BLX, is a great middleweight racquet. Its lightness helps generate racquet-head speed for spin and offers great maneuverability, yet it's heavy enough to withstand some punishing shots. The Juice is made with basalt fibers—made from natural volcanic rock—which filter out unwanted vibrations, resulting in a cleaner, and all around better, feel. It also includes Amplifeel technology for even more comfort. All in all, the Juice 100 BLX by Wilson offers more power, a generous head size, light weight and greater comfort. It's loved by everyone from beginners to serious power baseliners.
Wilson Rush Pro & Pro Clay Tennis Shoes
Clay season is here and the Wilson Rush Pro Clay tennis shoes offer the ultimate traction for clay courts. These shoes were designed to maximize acceleration and control deceleration, with added stability for better, faster quick changes. The Wilson Rush Pro tennis shoe was also designed for aggressive players, with the maximum acceleration and controlled braking built into the design. These shoes were named "Tennis Ace" in
Women's Health
magazine's 2013 Shoe Guide. According to the
Women's Health
review, "This sneaker marries a low-heel feel with a tough outsole for added stability during fast cuts and aggressive hits."
Remember, these special
Wilson tennis sales
are 48 hours only!