In our Holabird Sports 6-Week Workout Series, six of our favorite personal trainers and fitness instructors show off 2017 fitness fashion made for barre, yoga, HIIT, boxing and in general: exercise!
And to start it off, why not start off with our very own staff member, Cathy- a CrossFit level 1 trainer, fitness product expert and crazy awesome lady.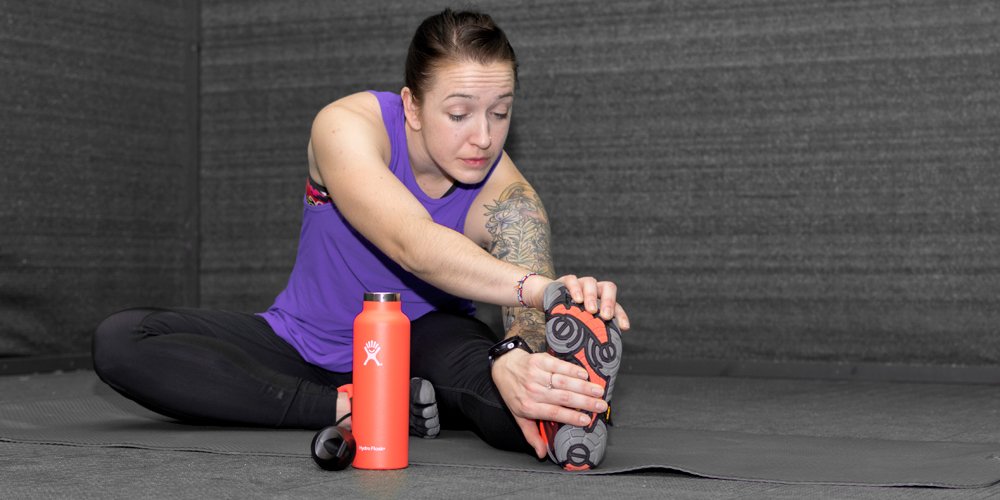 Cathy's outfit consists of the Reebok Y Graffiti Bra, Adidas Sequencials Climaheat long tights, Under Armour CoolSwitch Run Muscle Tank and Women's Vibram V-Trains. She adds the Standard Mouth Hydro Flask, Garmin Forerunner 235 and Pro-Tec Hollow Core Foam Roller to complete the ensemble.
As a CrossFitter, it's important that Cathy has the right stuff, because she is WORKING. These Vibram V-Trains are made for CrossFit; they offer her the right amount of traction during her mountain climbers for example, as they have the optimal balance of traction and durability. Its circular lug pattern for grip is perfect for  lateral movements. They're also responsive on unpredictable terrain and have special Rope Traction Lugs in the archs for rope climbing.
Interested in taking Cathy's 8-minute Tabata workout online? Tabata is a type of high intensity interval training. Click here to try it out--> 8 Minute AT HOME Tabata Workout: Burn Calories!! No Equipment Needed!! 
[xroadz-shop-button href="/promos/six-week-workout-program-outfit-number-one.html" title="GET CATHY'S OUTFIT"]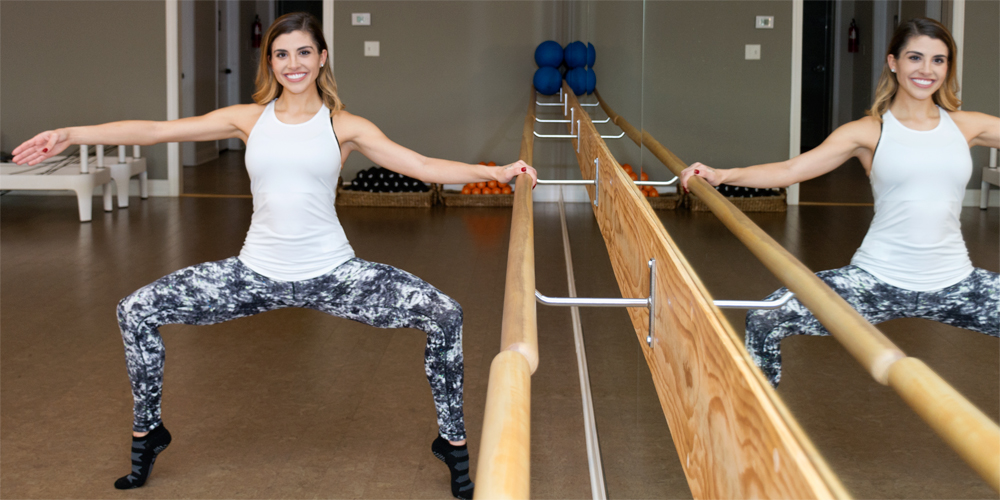 Week 2's fitness instructor, Katie Cook of Inline Fitness Barre, shows off her outfit in a grande plie.
Katie's outfit  includes the Under Armour Eclipse Low Impact Bra and Mirror Studio Tank, New Balance Premium Performance Tights and Adidas Studio No-Show socks.
The Adidas Studio No-Shows provide gripping so you're not slipping all over the studio floor during your barre, yoga, dance or fitness class. And the rest of her threads give her enough hug and breathability to be sweating but not dying by the end of her workout. Though Barre looks less intimidating in a cute photo like this, trust me, the class is DEMANDING! In a great way. You'll feel awesome by the end of it.
Try Katie's Calorie-Blasting workout on Youtube and spare 27 minutes for yourself. Click here---> Calorie Blasting Barre Workout You Can Do AT HOME 
[xroadz-shop-button href=
"/promos/six-week-workout-program-outfit-number-two.html"
title="DRESS LIKE KATIE!"]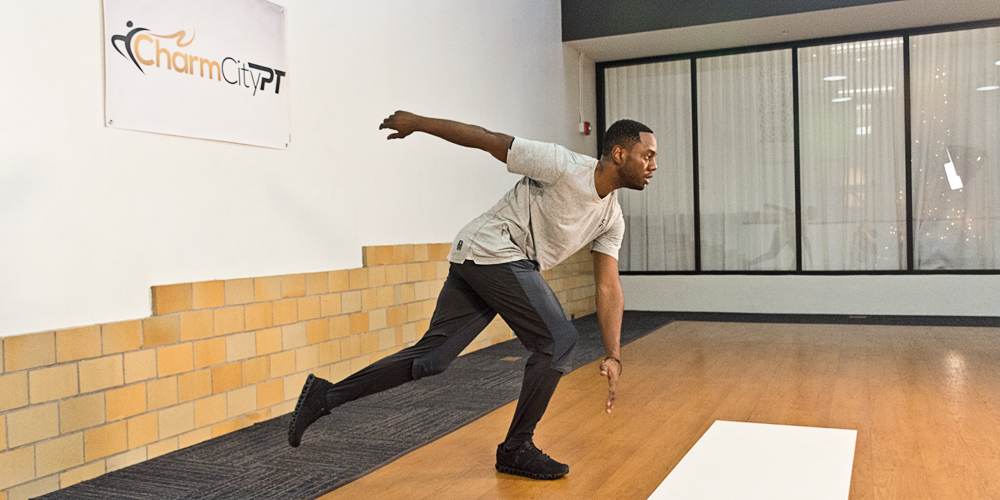 Next in the series comes Personal Trainer and group fitness instructor, Jason Williams, of Charm City PT. His agility, flexibility and core (AFC) workout needed breathable and flexible clothes, and that's exactly what his entire On clothing collection consists of.
He sports the On-Clima Shirt, On Comfort-T, On Running Pants and the On Clouds (his shoes).
As a pilates instructor and personal trainer, it's important to Jason that he be able to pull his leg to his face if he needs to! Something that gives a lot while still maintaining a bit of tightness is the perfect fit. And since all of these instructors are working out, we want these clothes to feel like they're giving them life, not taking it away! The On Collection moves with you during your workout. It's not going to weigh you down.
If you're looking for a mobility and flexibility enhancing, heart pumping workout, let Jason lead you through his AFC workout online! --> 20 minute AT HOME Workout for Getting Results! (Agility, Flexibility, Core) 
[xroadz-shop-button href="/promos/six-week-workout-program-outfit-number-three.html" title="PEEP JASON'S OUTFIT ONLINE"]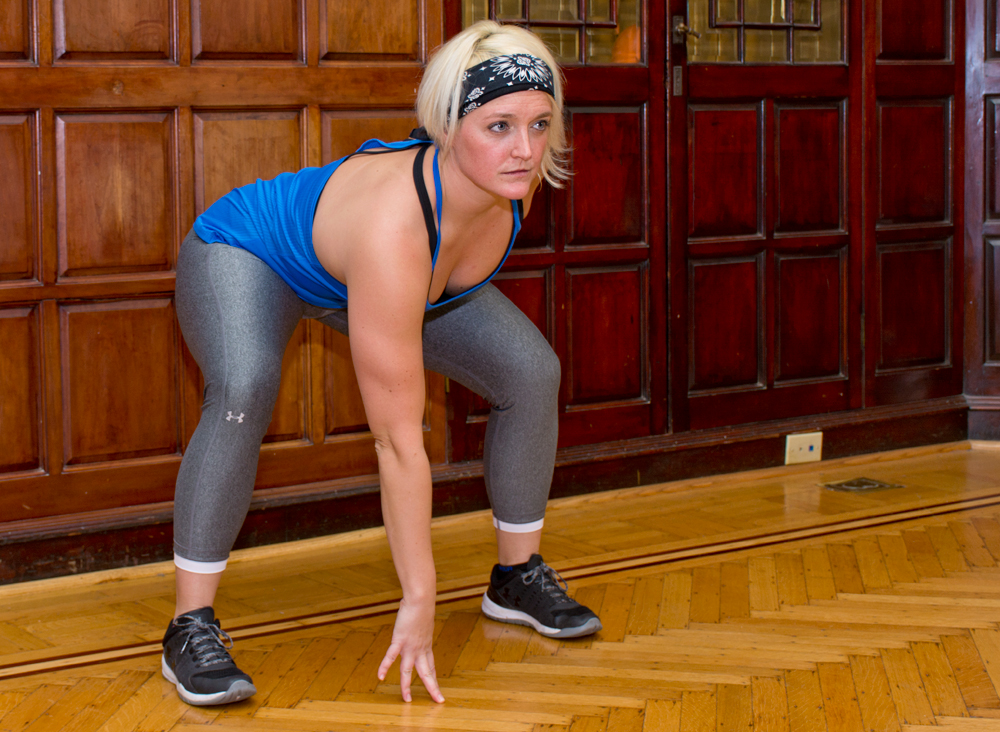 And what about Michelle? MV and Federal Hill Fitness HIIT, Pilates, Barre and TWERK TRX fitness instructor and personal trainer.
A workout that looks this intense must-have some intense gear to go along with it.
You bet.
The Under Armour HeatGear Armour Ankle Crop leggings are made for high-intensity, give-it-all-you-got workouts. The compression style ensures a locked-in fit for the gym, the studio, or out for a run, and the Moisture Transport System controls moisture and keeps you comfortable. The Under Armour FlyBy Racerback Tank she's sporting is also made for intense workouts, feeling light-as-air as not to stunt your activity.
[xroadz-shop-button href="/promos/six-week-workout-program-outfit-number-four.html" title="UNLEASH YOUR STYLE"]
For her 20-minute workout, click here --> HIIT Workout to Unleash Your Inner Beast AT HOME! 20 Minutes to a Fitter You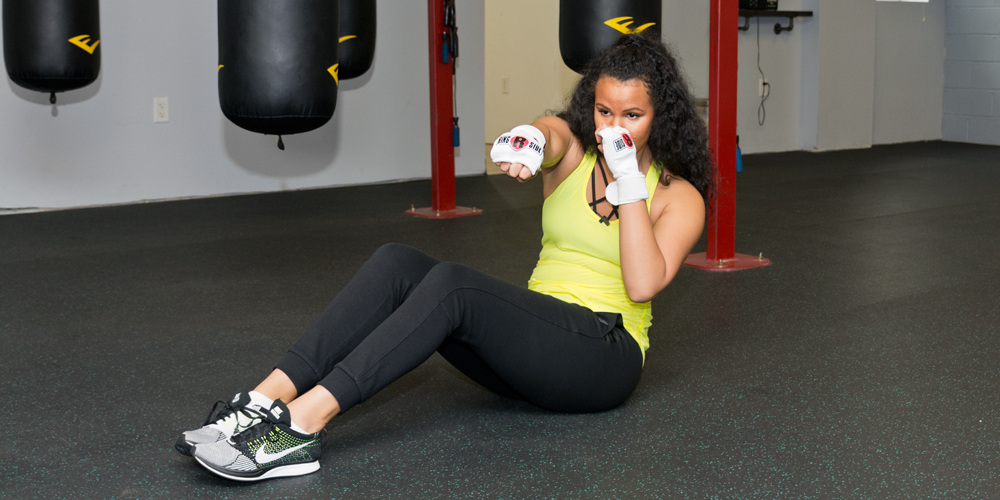 Jasmina Price of Sweet Science Boxing likes to be comfy during her boxing sessions, so she's hanging out in her ASICS 2017 Joggers and New Balance Perfect Tank.
As a boxing instructor and coach, Jasmina wants to move quickly and powerfully, but she also wants to look awesome whenst out at the ring.
[xroadz-shop-button href="promos/six-week-workout-program-outfit-number-five.html" title="GRAB JASMINA'S THREADS"]
Boxing Conditioning AT HOME Workout: Exercise Out Your Frustration!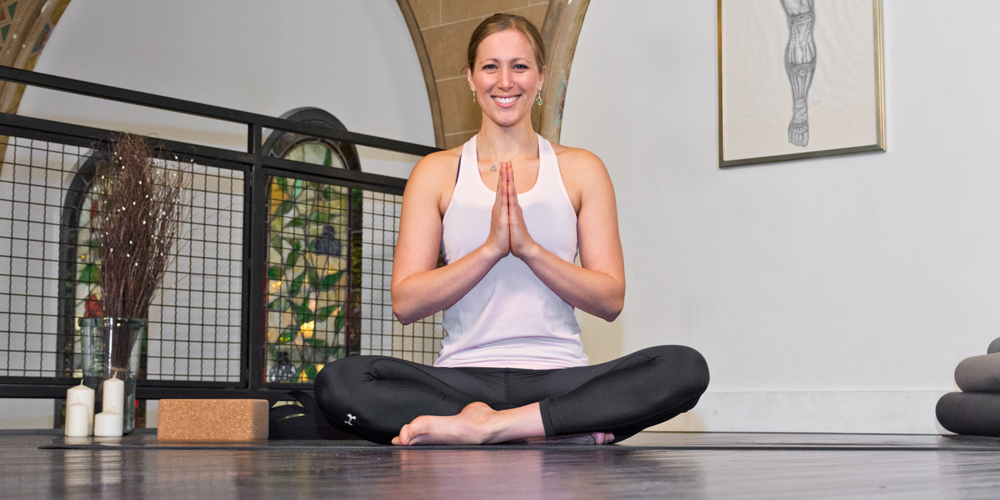 And last but not least, Lindsay Lusignea, owner and lead teacher of red lila yoga Teacher Training School.
She needs to be able to move freely, bend backwards and feel great when leading and teacher her students, and that's exactly what these Under Armour clothes provide her.
The Under Armour Threadborne Seamless Tank offers her a sleek and slim-fit perfect for everyday training in the studio with its supreme flexibility and quick-drying capabilities. And like Michelle, Lindsay is also wearing the Under Armour HeatGear Armour Ankle Crop leggings made to control moisture and keep you comfortable (perfect for hot yoga!)
And to take her restorative yoga class online, click here --> Workout Recovery for Avid Exercises