Trying something new isn't always easy, especially for a distance runner who has years of experience running in certain shoes. As a road runner and high school running coach who averages between 20 to 30 miles per week, I have always used my training shoes to run in for my races. However, over the years I have observed the importance of specific footwear for speed training and competition performance.
A few days ago, I was introduced to the idea of a racing flat for my own training. While skeptical about whether this type of shoe would work for a forefoot striking road runner like myself, I decided to give it a shot. My first trial with the
Mizuno Wave Hitogami
was during a short tempo run.
First, I would say that the overall fit of the shoe can be described as natural and stream-lined, without feeling restrictive. Ultimately, the Mizuno Wave Hitogami is meant for competition and shorter, speed-based interval training on a track or similar hard surface. The Mizuno Wave Hitogami did provide a surprisingly smooth ride from the forefoot, which made my run feel uninhibited.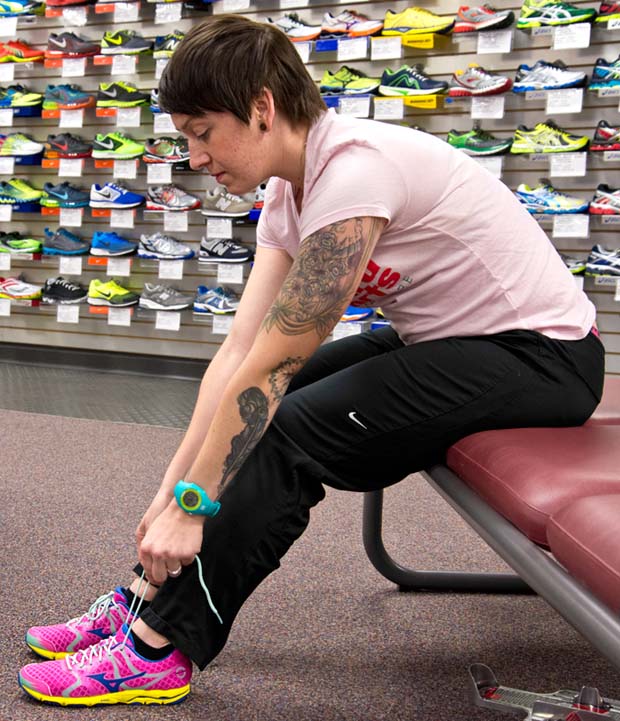 For me, the way a shoe looks is almost as important as how it feels. The pastel, geisha-inspired pattern and color scheme for the
Hitogami
is lovely, especially with the upcoming spring racing season approaching.
Overall, I love the shoe and will include it in my personal training arsenal. With that said, I would only use the Mizuno Wave Hitogami where it is meant to be used. It is purposely minimal in design to maximize speed during competition. While heavier than the Mizuno Wave Ekiden, Mizuno's more aggressive racer, the Hitogami still weighs in at a mere 6.4 ounces. Also, because the Hitogami has more substance, it would be a great entry-level racer for a competitive runner who wants style as well as the benefits of the Hitogami's lightweight composition.
In conclusion, an hour-long tempo or a trail run would not be the place to utilize these shoes. They are perhaps best for a newly competitive runner on an interval training day at the track or of course on race day, when less really is more.  
Shop
Mizuno Wave Hitogami for women
&
Mizuno Wave Hitogami for men