First look:
Straight from the box, the
Reebok Harmony Road
running shoe felt like an extension of my foot. The fit is perfect for the shape of my foot, giving me ample room to wiggle my toes while running.
I can't stand anything rubbing or pressing on my toes (cramp-inducing) and if I'm running 6 to 10 miles, cramping in the foot is "no bueno."
With hope in my shoe-loving heart and a thirst for activity, I took these puppies out for a spin on my early morning training run: 3 x 1200 meters with a 2 to 3 minute rest period between each interval. The Reebok Harmony Road certainly gave a little spring to my step while walking, but the real test was the workout; I wanted to see how they did on a run, especially a pace-focused one.
The Experience:
I felt energy return in every stride of my interval, which was helpful for my tired and sore legs. I'm a CrossFit athlete, and right now as I write this, CrossFitters around the globe (including myself) are having fun pushing their minds and bodies during the worldwide Open. Each week, we get a new, challenging workout that tests just how far our fitness has grown over the last year. With my constant activity, I need a shoe that can carry, keep up with and energize me, and guess what...
The Reebok Harmony Road did!
Its iconic tri-zone midsole with KooshRide foam felt amazing. What you can see in the photo below as a tear-drop shape of what looks like tiny, cut-up, elbow macaroni noodles is the "KooshRide" technology; the tiny yellow tubes are steam-pressed in a jumble, and all the extra space in the mix gives it room to compress, enhancing your resiliency and that energy return as you bounce off. It actually measured in the top 20% of the shoes Runner's World tests for energy return and won "Best Debut" shoe for Runner's World March 2017. Awards aside, though, those testers were right.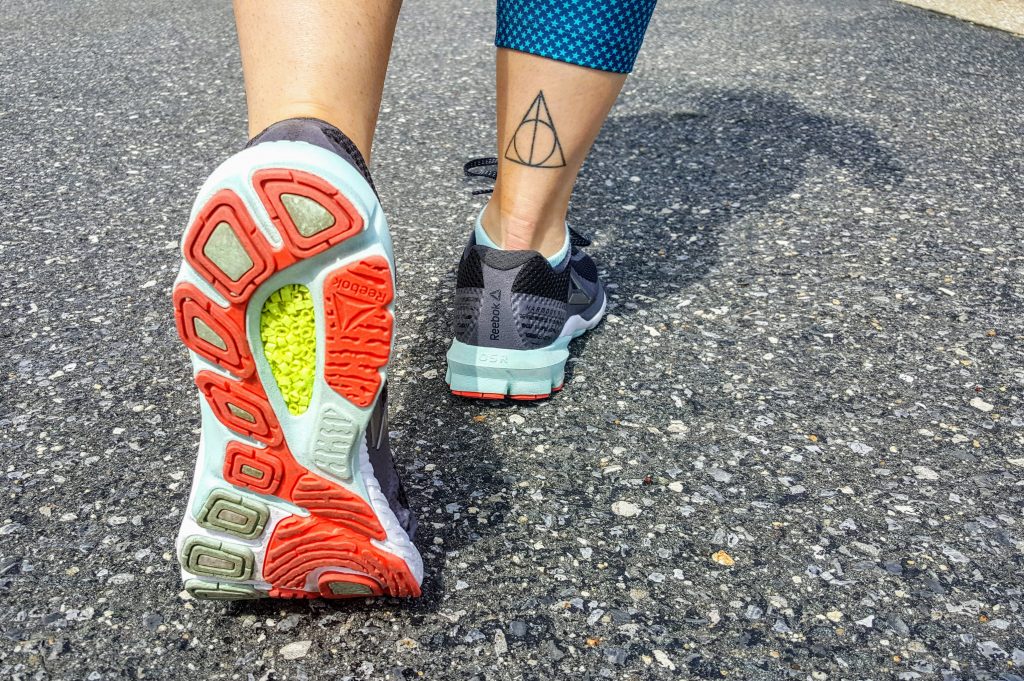 Thoughts:
Overall, this I've found that the
Reebok's Harmony Road
gives me a lively feel on the run without weighing me down. The cushioning just under my forefoot provides a springiness during transitions that keeps me energized from start to finish.
During a workout I want to be fast and powerful, with zero distractions, and the Harmony Road helps me do just that.
Shoe grade? I'd give these an A. 
A
-ccompanied by a smile and a happy jump.
Xoxo-Cathyyyy
[one_half last="no"][xroadz-shop-button href="/reebok-osr-harmony-road-womens-echo-blueawesome-bluefire-coral.html" title="Shop womens blue/yellow"][/one_half][one_half last="yes"][xroadz-shop-button href="/reebok-osr-harmony-road-mens-alloyasteroid-dustwild-orange.html" title="Shop mens grey/orange"][/one_half]