Having succeeded with the design of the original Sense Mantra, Salomon has made only minimal changes to the updated
Sense Mantra 2
.
The Sense Mantra series is a key player in Salomon's City Trail line: a collection of running shoes that transition well from trail to road and provide the runner with superior traction on obstacles that he or she may find in an urban environment (such as stairs, rocks, tree roots, and more). Hence the name "City Trail."
After having won Runner's World's award for Best Debut Trail Shoe for the first Sense Mantra last April, it was Salomon's goal to maintain it's award-winning formula. Fans of the previous model will find the fit and the feel to be identical. The only noticeable update is a slightly thinner toe cap on the forefoot to allow for more flexibility and less interference with toes and toenails.
The shoe rests upon a 6mm heel-to-toe drop, which offers a natural feel and encourages a midfoot or forefoot foot strike. Salomon's internal foot sleeve, known as EndoFit, ensures a comfortable feel in the interior. If you so choose, you can wear the
Sense Mantra 2
without socks. In the outsole, multidirectional lugs allow you to grip onto surfaces off all kinds. The low-profile nature of the lugs make the shoe road-friendly and fully capable of handling more technical terrain. Profeel Film serves as your protective layer, preventing rocks and other trail hazards from jabbing the bottom of your foot. It's not quite as protective as a rock plate, but, on the bright side, is far lighter and more flexible. The Quicklace system permits runners to quickly adjust the tightness of the shoe in an instant. You can tuck the slack of the laces into the lace pocket at the top of the tongue.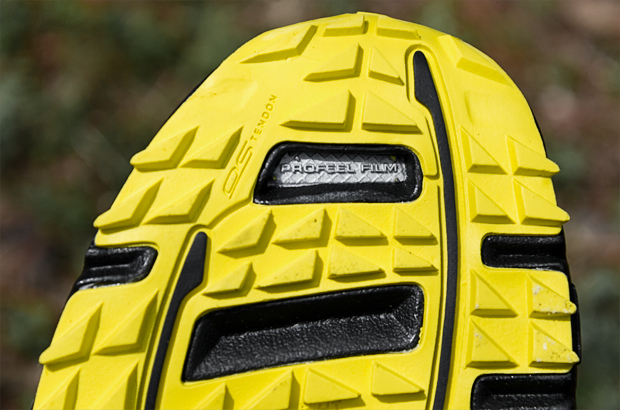 In terms of cushioning, the Sense Mantra 2 is somewhat firm compared to conventional running shoes, but is reasonably soft compared to trail models. For optimum security and wear, the shoe's upper has been built so that foreign objects do not cut, scratch, or abrade your foot. The downside is that the shoe may be stiffer than other models.
For neutral-footed runners who crave more traction for trail running, but also need a shoe that can easily be worn on asphalt and roads, the Sense Mantra 2 is a great option.
Check out the video below for more info on the Sense Mantra 2.





Category: Neutral


Weight




Men's: 9.5 ounces


Women's: 8.0 ounces





Heel Height: 16mm


Forefoot Height: 10mm


Recommended for: Urban/Trail runners who want a lighter ride and less aggressive tread






[youtube id="FRVHyO-4kVE" width="620" height="360"]
Shop the
Salomon Sense Mantra 2 for men
and the
Salomon Sense Mantra 2 for women