Saucony has carved a new niche in the spectrum of natural running by introducing one of their newest models: the
Saucony Virrata
.
Implementing a design comparable to the Kinvara, Saucony has birthed the Virrata to give runners a training shoe with a very light, yet cushioned ride. Whether you're looking for a lightweight model for improved performance on runs and workouts or a shoe that simply lets your foot move naturally, the Virrata can bring your training to a new level.
What Makes it Unique?
Seeking to help you "find your strong" more easily, the Virrata is Saucony's lightest training shoe yet. I weighed a men's size 10 in at 6.9 ounces and a women's size 8 in at 5.9 ounces--certainly a bantamweight daily trainer. For Saucony enthusiasts looking to switch things up: the Virrata is about one full ounce lighter than the men's Kinvara 3 and is about .8 ounces lighter for the ladies.
More importantly, Sacuony's latest addition to the family is a zero-drop shoe. We stripped down the shoe and recorded a measurement of 18mm for both the heel and the forefoot. For those quick to contest that the Virrata isn't a pure, zero drop... we think Sacuony's story checks out. Kinvara-wearers be advised: This model slightly differs from the 4mm drop that you're used to. The good news is that, despite the altered heel-to-toe drop, the midsole is still sturdy enough to protect you from the surface beneath you.
So, if you're looking for both a natural fit and some cushioning, look no further than the Virrata.
We've talked about the concept. Now, let's get technical.
What makes this shoe so light? Thanks to a breathable mesh in the upper and a soft interior layer, this shoe is featherweight, breathable, and fits to the form of the foot quite well. There are no overlays built into the top layer of mesh--only a plastic toe cap--producing superior flexibility and comfort. A moisture-wicking HydraMAX collar lining will keep you dry for miles--perfect for wetter days and trail running.
Saucony has utilized a high-abrasion EVA foam in the midsole, yielding a lighter and more flexible ride compared to most neutral trainers.
Much of the natural feel also stems from a special construction of the outsole. The Virrata is comprised of state-of-the-art, XT-900 carbon rubber under the heel and toe to improve durability on major-impact and high-wear zones.
Triangular lug patterns on the outsole allow for greater flexibility without producing too "minimal" of an experience. Having worn some minimalist models that have a much thinner or decoupled outsole, I was pleased to still feel some control in the bottom of both the forefoot and heel, without compromising the natural fit. The lugs also cushioned my foot well upon first impact on the pavement, serving as great first lines of defense from common injuries. The first few strides may feel…well…"different," as you may be able to discern the individual lugs beneath your foot, particularly beneath the forefoot. This normalized for me very quickly as I'm sure it will for you.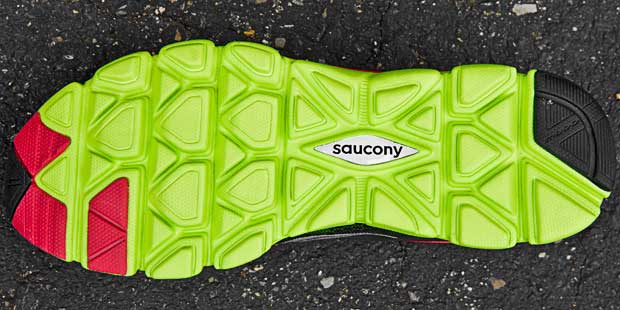 What I Think
Admittedly, I don't venture into the realm of "zero-drop" very often, and when I do, I'm cautious. Having said that, I felt very safe in the Virratas. For my running brethren who aren't quite at peace with striding full-time in natural or minimalist shoes, I'd feel very comfortable recommending these.
I was impressed with the cushioning for such a light model. I did a few laps around the Holabird Sports warehouse to warm up and couldn't stop myself from adding in a few fast strides and sprints. It truly served as great motivation to pick up the pace on my run. Sometimes I need that…
The Virratas will serve you well for daily running regimen. Or maybe that's not your style? They're still a great option for tempo runs, track and hill workouts, or even those not-so-ideal days where you'd like a lighter shoe to ease the burden of putting one foot in front of the other.
Many critics have claimed that customers should bump up a half size for the Virrata. I felt very comfortable in my 10.5s, my normal size for running shoes. So don't fret too much over sizing; just make sure you give yourself enough room in the toe box.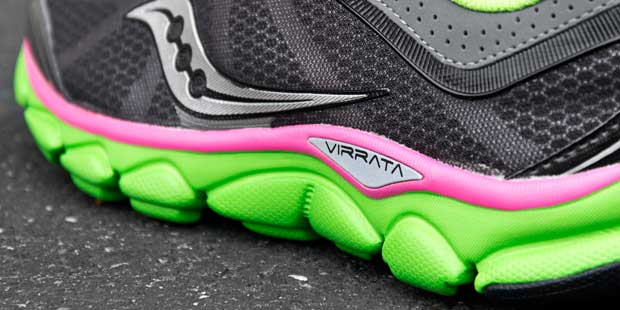 The Bottom Line
The Virratas are a great option for anyone looking to shave some weight off of their feet for the daily grind. Be it on the track, trails, or roads, the Virrata will offer you an unparalleled combination of a natural fit and ample protection from the ground. Consider it a modified, lighter, and zero-drop version of the Kinvara.


Category:


Natural: Zero-Drop


Recommended for: New and Veteran Minimalist/Natural Runners


Heel Height: 18mm


Forefoot Height: 18mm


Shop all 
Saucony Virrata running shoes
.
Check out these
women's Saucony Virrata running shoes
and these
Saucony Virrata running shoe for men
.  
Greg Jubb is a former middle-distance runner for the University of Maryland and current employee of Holabird Sports.