In part two of the Ask a PT series, we'll discuss another common running injury—shin splints. This series aims to educate runners and fitness enthusiasts about the most prevalent injuries and how to prevent them.
At Holabird Sports, we've met numerous customers who have dealt with shin splints. For over 40 years, we've helped our customers overcome their injuries, get back on the road and return to their favorite activities. Shin splints are tricky because they are caused by various factors, making the problem difficult to diagnose. That's why we've teamed up with the experts at True Sports PT to help you treat and prevent this injury. Let's get down to the details.
Shin splints, also known as medial tibial stress syndrome, are described as lower leg pain and inflammation on the front outside part of the leg (lateral) or the inside part of the leg (medial). It's common for runners, dancers, tennis and basketball players to experience this pain due to the quick and explosive movements these activities involve. Shin splints are an overuse injury that is often triggered by a sudden change in activity.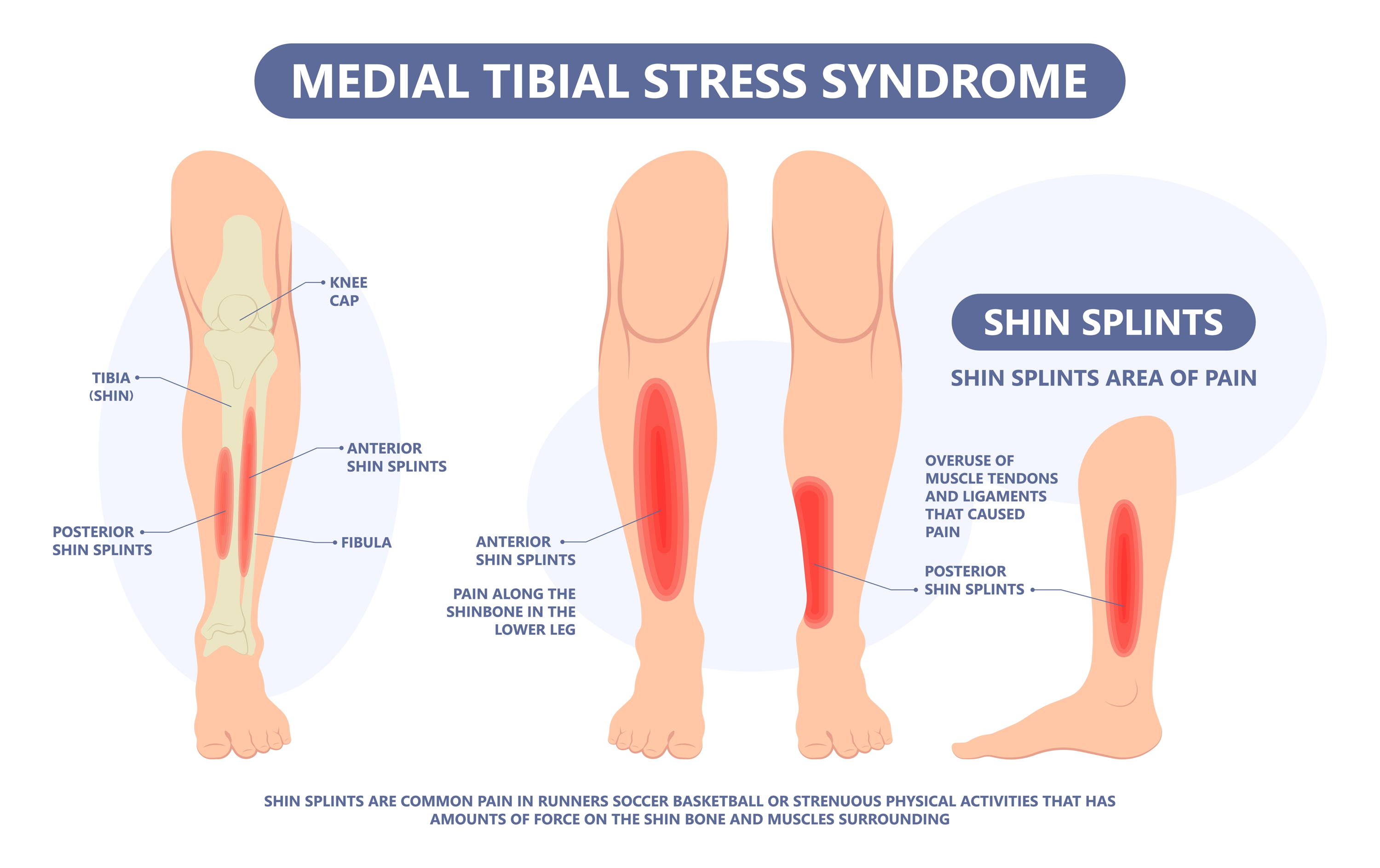 What are the symptoms of Shin Splints?
Medial shin splints (inside part of leg) are usually caused by over-pronation, while anterior shin splints (outside part of leg) are related to a muscle imbalance between the calves and front leg muscles. The pain feels worse in the morning because the soft tissue in the lower leg tightens overnight. If you are experiencing discomfort when you flex your ankle and bring your toes towards your shin, you may have this injury.
What's the difference between shin splints and stress fractures?

While shin splints can be painful but tolerable, stress fractures are more severe and debilitating if you ignore or train through the symptoms. Unlike shin splints, stress fractures will have point tenderness in a single spot on the bone. Pain will be focal and progressive while worsening with weight-bearing activity. Shin splints usually do not require complete rest, and clinicians most often recommend modifying your exercise program by implementing low-impact activities.
How do I treat Shin Splints?
As frustrating as this may sound, the first step is to rest from running. Try icing your shins for 30 minutes every three hours for three days to reduce swelling and inflammation. If the pain is severe, you can take medications like Ibuprofen and Aspirin in moderation to help. In addition, wearing insoles in your running shoes will help support your arch and improve pressure distribution through your running cycle.
Recent studies have shown that over-the-counter insoles can be as effective as custom orthotics. You can also modify your workout program by performing lower-impact activities such as biking and swimming while your leg heals.
The healing process usually takes about three to six months, depending on the cause and duration of the injury. Pay attention to physical cues such as equal strength and flexibility in both feet or lack of pain while pushing off and running. Misalignment in the foot or ankle may also contribute to this condition, as imbalances can translate up the kinetic chain and create problems. Improving flexibility and stability of the foot and ankle is essential for recovery.
If none of these methods work, see a doctor. You may need imaging to determine if the problem is more severe such as a stress fracture.
Stretching and Strengthening Exercises
How can I prevent Shin Splints?
Shin splints can be caused by various factors, making the injury difficult to diagnose and frustrating to treat. People with flat feet or those who overpronate while running are susceptible to this injury and must wear the right shoes. An improper fit or incorrect style of running shoes is one of the most common reasons we've seen people get shin splints. At Holabird Sports, our experts will watch your stride and recommend the perfect pair of shoes to help you avoid injury.
Another cause can be a muscle imbalance, such as a weak core, ankles or hips. It's imperative to warm up your calves, ankles and Achilles before exercise and cool down afterward. Finally, make sure you aren't increasing your mileage too quickly. Shin splints are an overuse injury, so avoid doing too much too soon.
Overstriding mechanics while running is one of the most common causes of shin splints. Increasing your step rate or cadence by just 1 step per minute decreases your risk of shin splints and stress fractures by 5%! To determine your step rate, count how many times your right foot hits the ground in 30 seconds and multiply by 4 (or use your smartwatch to see the average cadence). Take that number, increase it by 5% and then run to a metronome or playlist set to that many beats per minute. You should be able to effectively in your cadence by running to this new beat in as little as two weeks!
We know how frustrating it is to set personal fitness goals only to be derailed by injury. You can avoid most of these problems if you take the proper precautions. Many runners have the "warrior mentality," which enables them to push through the pain while neglecting the warning signs of a serious setback. Make sure you listen to your body and educate yourself about the warning signs, so you'll be ready to shine when race day arrives!
We hope you're enjoying the Holabird Sports and True Sports PT recovery series, where we explore the most common running injuries and how to avoid or overcome them. Stay tuned for our next post where we'll dive into the symptoms, prevention and treatment for IT Band Syndrome!