As a new parent, finding time to exercise can be challenging. The demands of caregiving can be draining. After a long day, exercise is probably the last thing on your mind. But its benefits can't be denied. Exercise improves your mood and sleep quality, reduces the risk of disease, and helps you maintain a healthy weight. All these benefits help you be a better parent and be more present for your child. So how can you stay active while nurturing your newborn?
Working out with your little one is an excellent way to accomplish both goals. But if logging your miles was hard enough before kids, pushing your new passengers adds another degree of difficulty. That's why Matt and Emily Reichardt started Bumbleride–to help parents live active lifestyles with their kids. With a simple setup, smooth movement and reliable safety, Bumbleride jogging strollers make it easy to get moving while spending quality time with your child.
In this article, we'll give you the best tips and techniques for running with a stroller. Whether you're new to running or getting back into the habit, we'll help you make the experience as effortless and enjoyable as possible. Then we'll recommend the best jogging stroller based on your needs.
Three Tips to Make Running with a Stroller Easier
As you adjust to running with a jogging stroller, keep in mind that you'll be pushing extra weight and won't be able to maintain your natural running position. Therefore, form becomes even more important. You'll want to avoid slouching while pushing the stroller because this puts more pressure on your lower back and other joints. Stand tall with your shoulders away from your ears and try to land with your feet under your hips. Imagine you're a puppet on a string and someone is holding you upright. This will help you run faster and stay injury free.
Your running cadence is the number of steps you take per minute. Studies show that increasing your step rate or cadence by just one step per minute decreases your risk of shin splints and stress fractures by 5%! To determine your step rate, count how many times your right foot hits the ground in 30 seconds and multiply by four. Take that number, increase it by 5% and then run to a metronome or playlist set to that many beats per minute. You should be able to effectively improve your cadence by running to this new beat in as little as two weeks!
One of the more common running mistakes is when your feet flare out to the side during the swing phase. Pretend your feet are running on train tracks–striding forward, not out to the side. This symptom could also be a sign of weak adductor muscles on the inside of your leg and tight internal rotators at the hip. Consult with a physical therapist to address any muscle imbalances that may contribute to this movement pattern.
Best Stroller for Runners: Bumbleride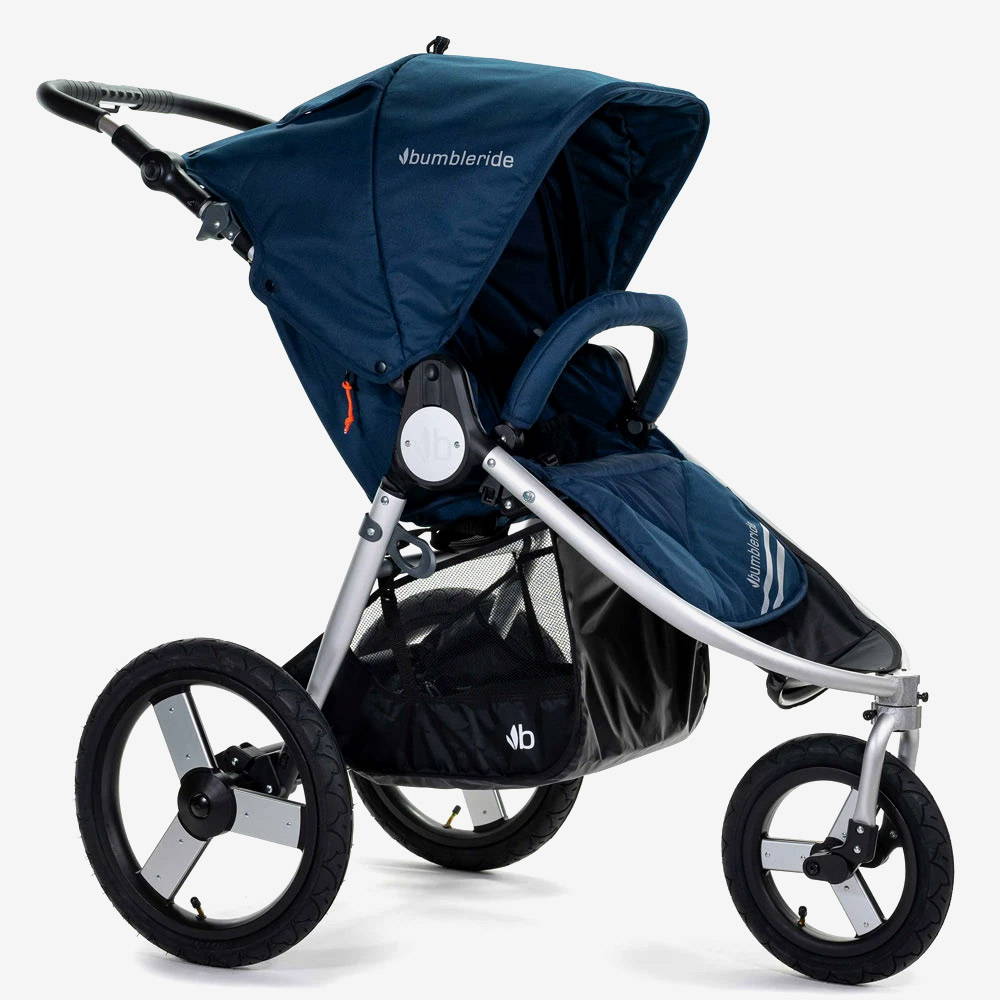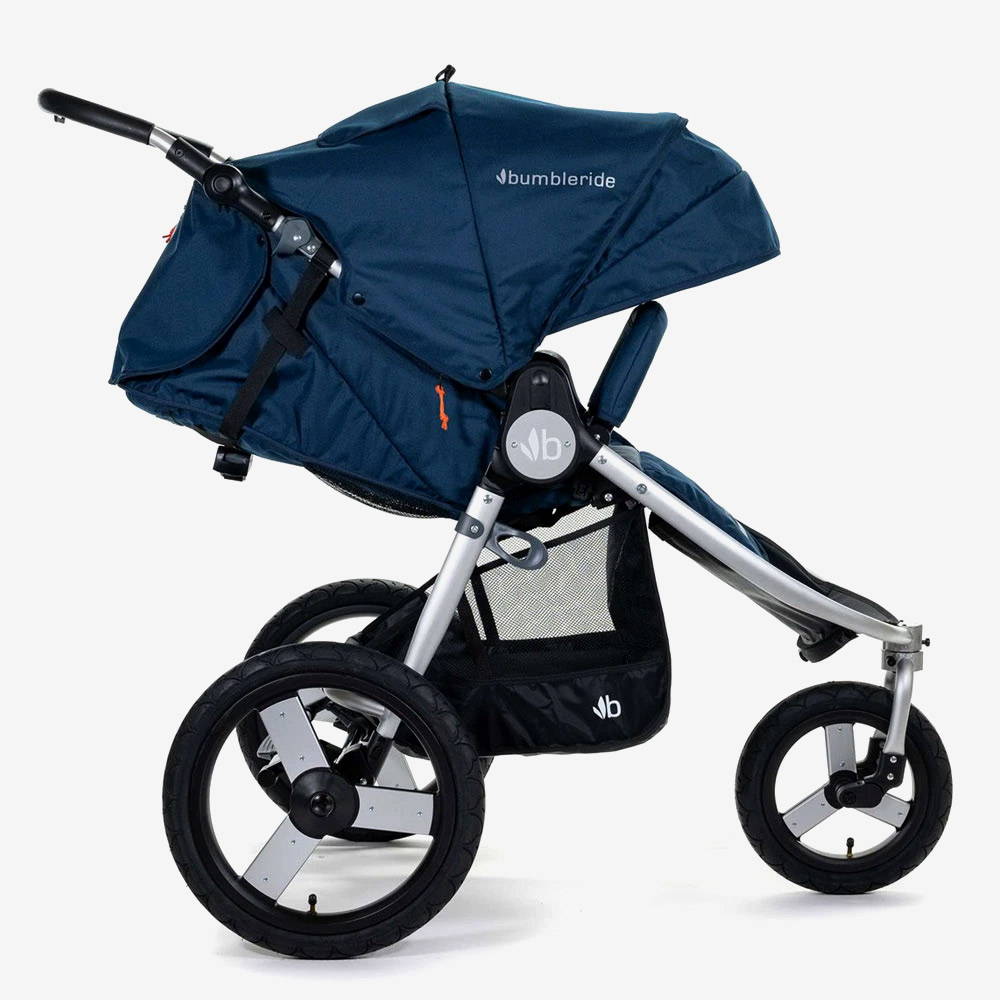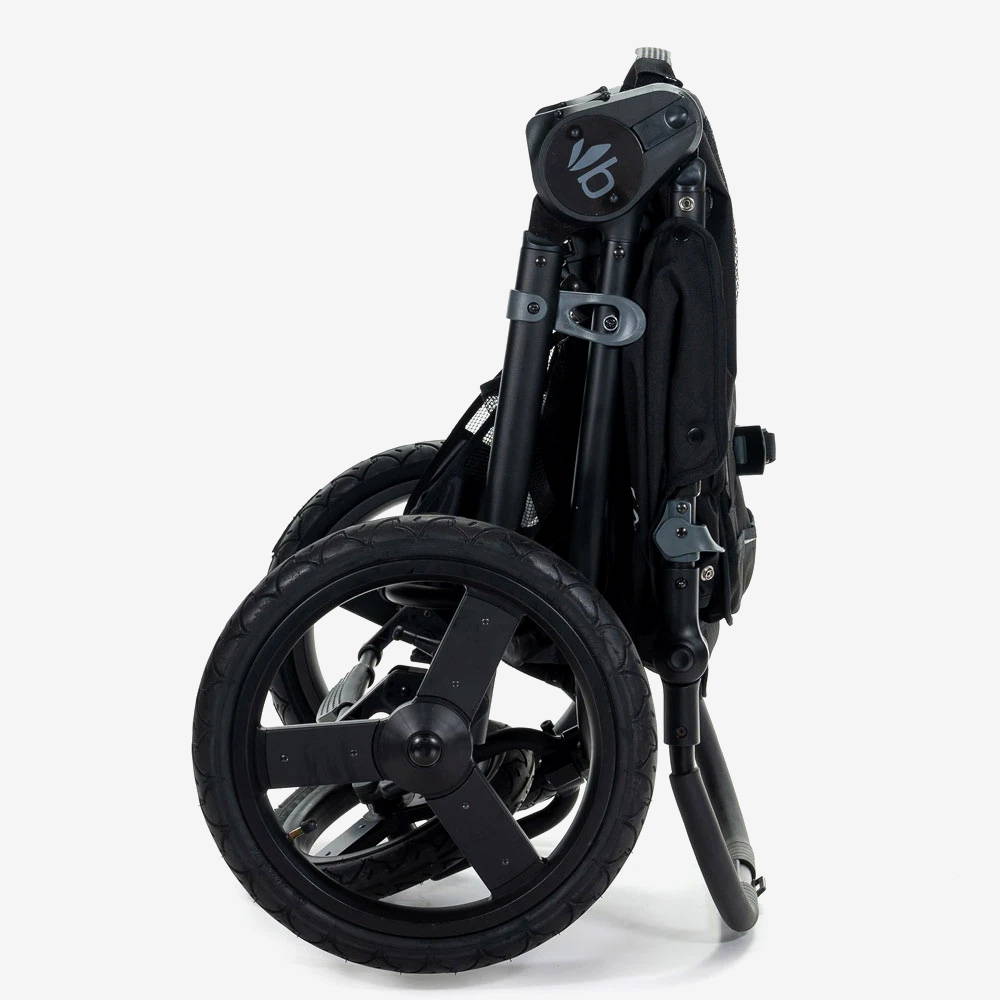 The Bumbleride Speed Jogging Stroller is perfect for parents who want to bring their kids along for a jog around the neighborhood. It accommodates your active lifestyle while following an eco-friendly design. The Bumbleride Speed provides many benefits for the whole family, including:
All-wheel suspension and air-filled tires:

Larger 16" rear tires make it easier to go over debris or uneven terrain at higher speeds.

Three different wheel settings:

Fully locked for running, open swivel to maneuver through crowded spaces and a 30% swivel mode for jogging.

Features for kids:

Spacious canopy with 45+ UPF protection, PFC-free durable water repellent fabric, and a stable structure that ensures your passenger will be safe and sound.

Adjustable handlebar with TPR grip and safety strap:

Allows you to run safely with one arm on the handle while the other moves freely as if you were running without a stroller.
More Stroller Jogging Tips
Safety First-

Wait until your newborn is at least eight months old before starting to exercise. Consult with your pediatrician to ensure your child has the proper head and neck support for running or jogging. Check your stroller's safety manual for all important information.

Be Prepared-

Bring water, snacks and toys to keep your little passenger entertained and traveling in first-class comfort. Focus on their enjoyment first because everything else trickles down from that.

Choose the Right Place to Run-

Avoid busy streets and sidewalks. Running while pushing a stroller can cause you to trip and fall because you may not see incoming bumps and cracks in the pavement. Instead, opt for a smooth surface like a track or quiet neighborhood roads. Also, find a time when it's not too busy with traffic or other distractions that can disrupt the experience.

Enjoyment >> Performance-

Remember your goal: to spend quality time with your child while enjoying the benefits of exercise. Don't worry about your pace or hitting any PRs. It's more about connecting with your child while promoting healthy habits. Have fun while encouraging an active lifestyle, creating memories that will last a lifetime!
At Holabird Sports, our customers have trusted us for over three decades to meet their needs. We specialize in running and racquet sports, carrying the best products in the business. Our goal is to provide accurate information and quality service to help you reach your fitness goals.