As an avid runner, I have always been curious about my heart rate during my runs, but I didn't want to wear a cumbersome chest strap in conjunction with my GPS watch to get that info; too much extra gear for me.
I knew that wrist-based heart rate monitoring had been made available to runners and athletes for a little while now, but I thought it to be fairly inaccurate from what I'd read and heard from others. What I heard recently, though, about Polar's increased heart rate accuracy with the release of the M430- its 6 LED optical sensor wrist-based heart rate tech, instead of the standard 2 to 4 sensors- made me a bit curious.
I knew the chest strap will always be the most accurate, but this peaked my interest. Polar's M430 wrist-based heart rate monitor also acts as a daily activity tracker, allowing smart notifications and MyFitnessPal synchronization. That pushed me over the edge, since I try and stay informed on my nutrition, so I decided to give it a try. It also syncs with: Strava, Facebook, TrainingPeaks and Nike+.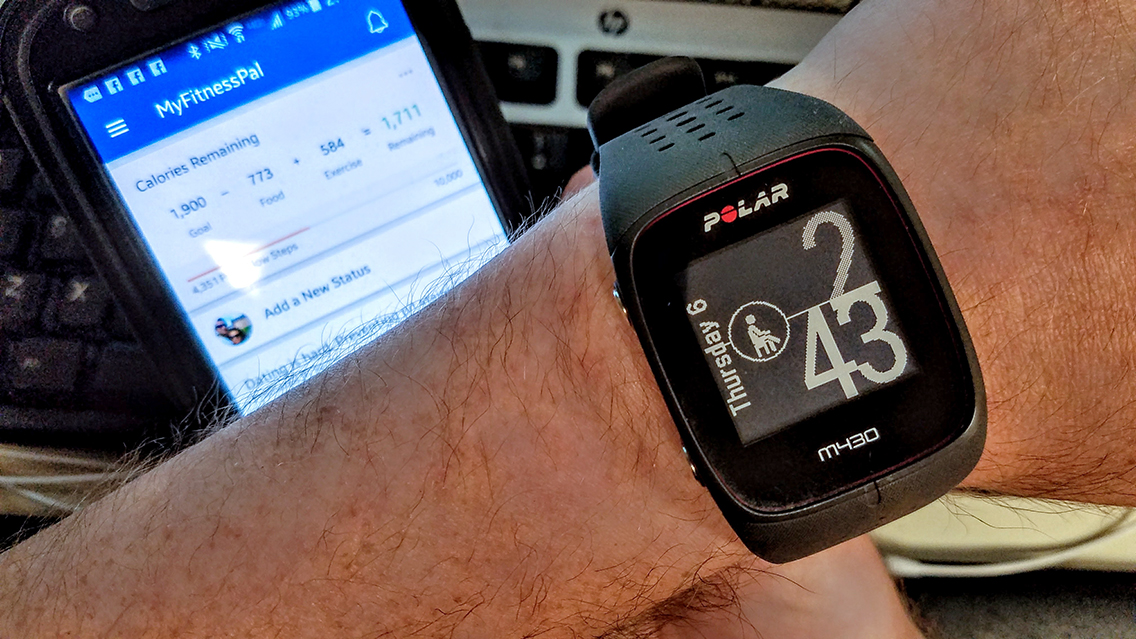 product reveal 
As soon as I got it out of the box, I fell in love with the sleek design and velvet soft, silicone wrist strap, and putting it on my wrist did not disappoint; it's super comfortable. I knew I could comfortably wear this watch all day for daily activity tracking, as well as out on my runs. The screen is black and white which might deter some people, but it's really easy to read, especially while running. And that's exactly what I want.
In the above photo, you can see the watch, my phone, and I hanging out at my desk together. With the steps I took throughout the day (it was about 2 pm), you can see that I could still consume 1,711 calories to stay on track with my goals as I had already burned 584 by walking around the office. I was sitting at the time of the photo- hence the little sitting man icon. He runs with me when I'm running, stands when I'm standing and walks... well, when I'm walking.
Setting it up and syncing it with the Polar Flow app on my [Android] phone was a breeze. I also set it up on my PC to take full advantage of all the Flow app has to offer. There are a wide variety of sport profiles to choose from ranging from running and rowing to disc golf and table tennis. If it's a physical activity, this watch probably has a sport profile ready to go for it. If not, you can always customize your own sport profile.
One of my co-workers, Cathy, who's a CrossFit Level 1 trainer and a resident product expert here, loves this feature. She says, "it's awesome for a less conventional sport like CrossFit (yes, there's a CrossFit profile, deal with it) where you aren't doing just ONE thing as part of your workout. Its sleek design with flush buttons don't get pushed inadvertently- and this is something I can truly appreciate, especially while switching between movements like pull-ups and pushups, where my wrist angle changes."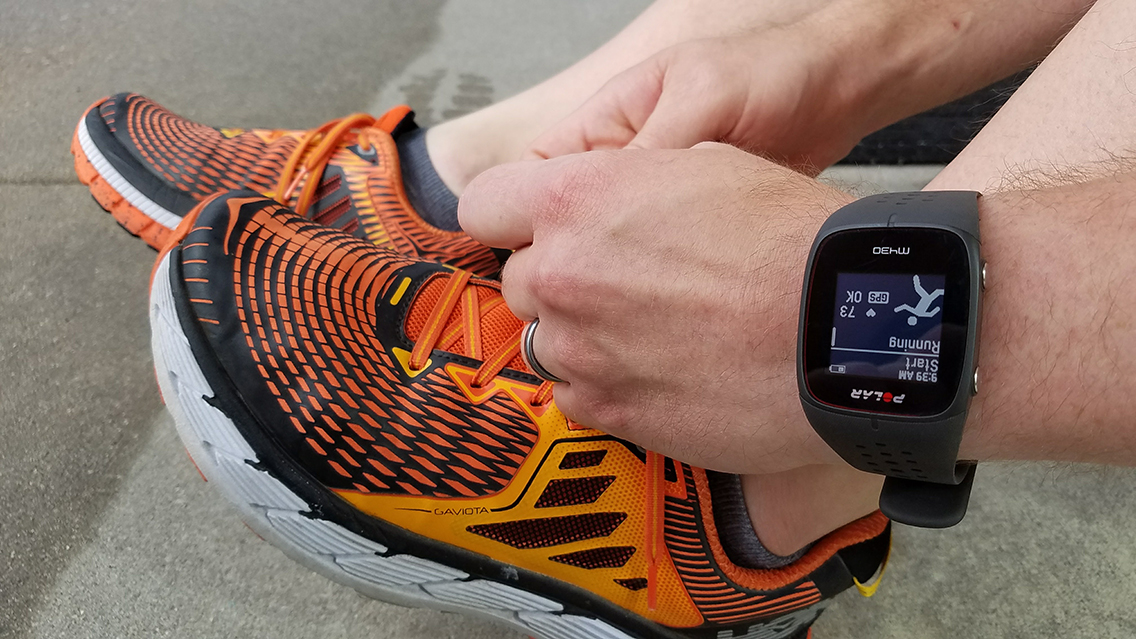 The first run 
So here I am, a runner, preparing for my run. First time out. I hit the start button once to enter pre-training running mode, so it could start reading my heart rate and link up to GPS (the M430 found GPS in no time) and I was ready to go. I hit the start button a second time to start recording and took off. I barely noticed I was wearing the watch because it is so lightweight and comfortable. I loved seeing my heart rate with my pace and distance stats so I could stay in my target heart rate zone and get the most out of my run. I had customized my screens and alerts before my run and I was impressed with the real-time comprehensive data I was able to see out on the road.
After my run, while I stretched, I synced the watch data to the Flow app which took no time (I wasn't counting) but it felt like less than a minute.
And the lightweight bit isn't a joke. It seems like Cathy and I have a lot of the same sentiments about the M430, as she said: "the perforated watchband is a feature that I absolutely love because it makes for one of the lightest in the field of watches with an optical heart rate sensor."
Below you can see the data of one of her runs (I forgot to screenshot mine). It calculated time, distance, average HR, calories burned, HR max, fat burn percentage, average pace, max pace, ascent (highest distance climbed/ran), average cadence (number of full cycles taken within a minute, by the pair of feet) and finally, max cadence.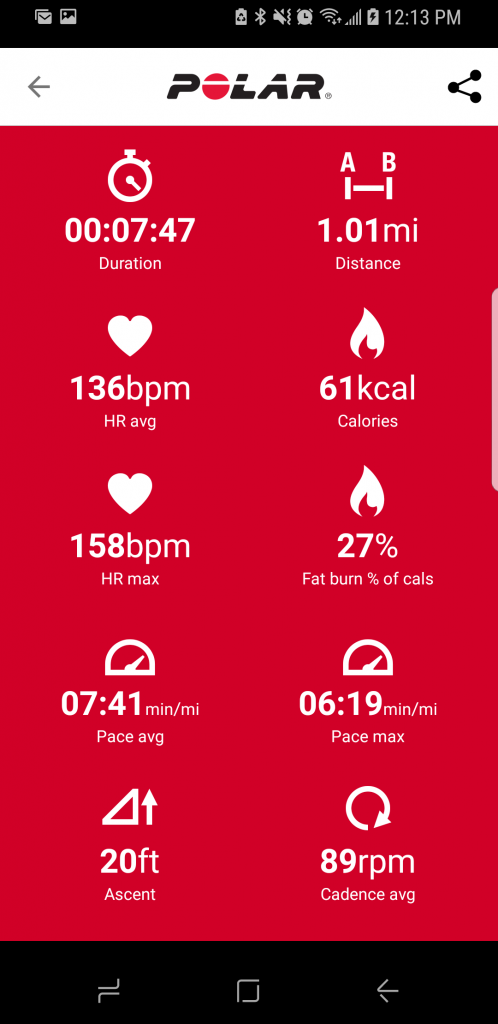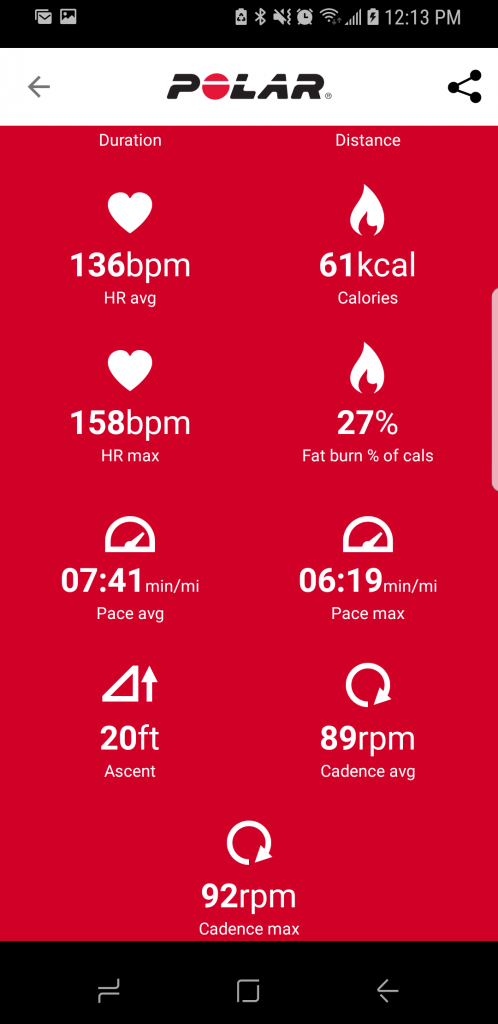 Using the app 
Since my own first run, it's been a couple of weeks that I've been wearing it. I can easily compare training data, improvements, recovery and more, using the Polar Flow app. I can see where I can improve my performance and make sure I am getting the proper amount of recovery. I had never worn a daily activity tracker before the M430, but now that I have one, I really like it. Having the entire day to day activity summary, including my sleep data, to add into my running stats to get a full picture of my performance, it's motivating. I feel like I am getting so much more out of my runs and my days. If you use MyFitnessPal, you'll love that the M430 automatically adjusts your daily calorie intake for the day as you do more activity, like I talked about earlier.
Cathy's experience mimics my own, she said of her M430: "it connects seamlessly to my smartphone so that my data is stored quickly and is easily accessible whenever I want to view it. The information is very comprehensive, which helps to understand the full picture during training and give me accurate, real-time stats. I get to see my work unfold in front of me and I'm able to make adjustments to my training effort along the way. I spend a lot of time reviewing my results so that I know if I need a change in programming or in my recovery."
And I mentioned the smart notifications, too, but for example: if you get a text message or if someone comments on Facebook post, this watch will notify you. You can always turn this feature off if you are not interested.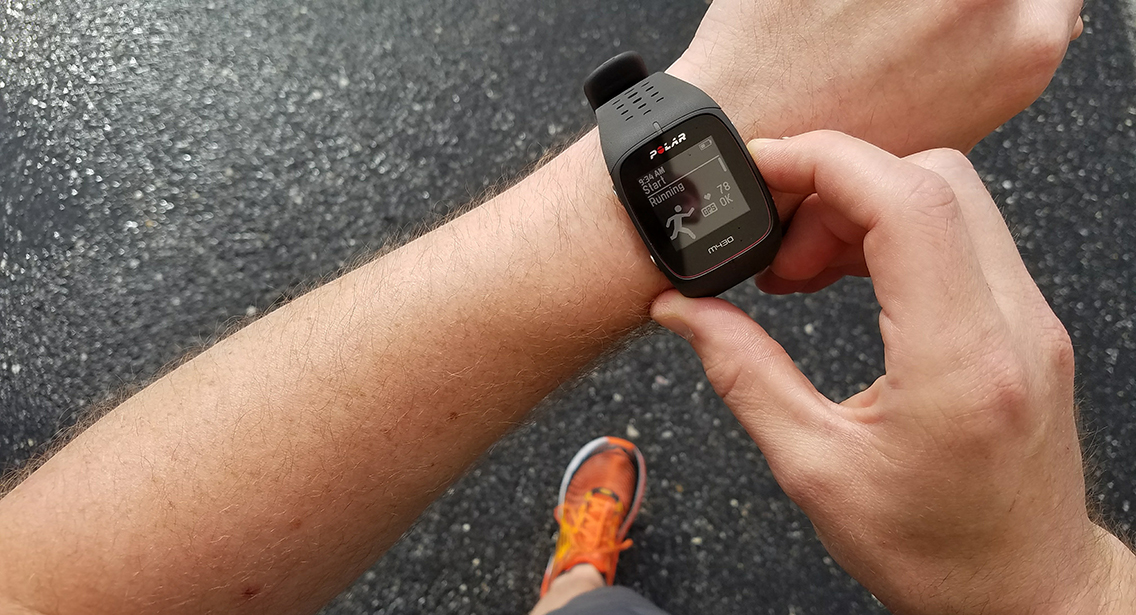 Now, what about battery life?
It seems good to me (I know that's not a profound statement), but I was a little worried it wouldn't be too great with the daily activity tracking-
on the contrary 
- I charge it less than once a week. I can go on multiple runs throughout the week and not worry about it dying.
So all in all, I am very happy with this watch and would recommend it to anyone who wants to accurately track their heart rate during their runs or workouts. It is also a great choice for people who want a daily activity tracker to count steps and track their sleep.
And since I've referenced Cathy's thoughts throughout the blog, we'll end with her overall thoughts: "I have to say that this new technology is one of my very favorites and I've had several, so I'm practically an expert on these now." 
Below are some of the daily activity stats: active time, calories, steps, how far you are from your daily goal and week and month comparisons.