Anyone who's been following the Holabird Sports Blog with any regularity knows by now that I'm a tennis player, not a runner. So why am I writing a blog post about running shoes? Well, I may not be an avid runner, but I do have very flat feet that overpronate severely. I really need a supportive, well-cushioned shoe if I do decide to take a run or even if I'm going to be on my feet for a while.
While more minimal shoes have been gaining steam for several years, I just haven't found one that's offered enough support and cushioning for me to feel comfortable while running or standing for long periods of time. Ultimately, I always end up going back to a shoe with a lot more support and cushioning underfoot—especially when I was working in the Holabird Sports showroom and regularly spending eight or nine hours a day on my feet.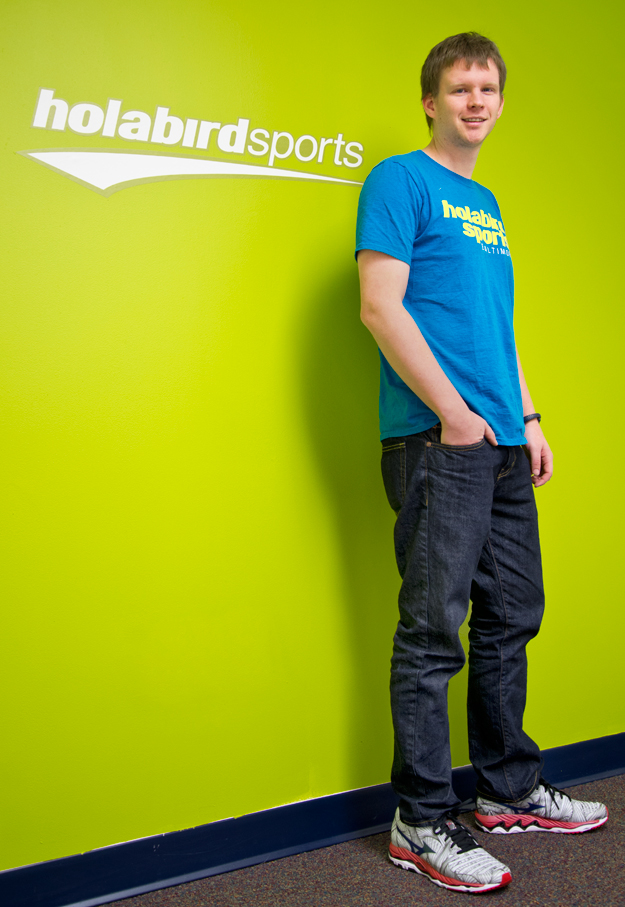 Unfortunately, support and motion control shoes are traditionally on the heavy side. Like most people, I don't like lugging a pair of really heavy, brick-like shoes around on my feet. Fortunately, Mizuno has traditionally managed to keep their support shoes on the lighter side—in part thanks to Wave technology—and the trend has continued with the Wave Paradox. The Paradox weighs in at just 10.6 ounces for a men's size 9 and still it has plenty of cushioning for me.
Last week I went to an event and stood for around four-and-a-half hours on concrete and still felt comfortable at the end. Without a good, supportive pair of shoes, my feet would normally feel sore and fatigued after standing for so long on a hard surface. I know because I've tried it before and it's… well… not fun for me or my feet.
My only real complaint is that after a month or so of on-and-off wear, the upper on my pair of Wave Paradoxes has started to yellow underneath the overlays that cover most of the shoes. It's completely cosmetic and hasn't affected the functionality of the shoes, but it is pretty noticeable and has sort of spoiled the otherwise sharp looks of the Paradox.
Overall, I liked the Wave Paradox very much. It provided enough support for my feet even when I was standing for an extended period of time. The lighter weight is a definite plus, especially for people used to wearing heavy motion control shoes. Whether you're running regularly or just spend a lot of time on your feet, the Paradox is worth trying on for anyone with low arches and overpronation issues.
Check out the Mizuno Wave Paradox.