Spring is around the corner and it's time for trail running. Did you know that running on bumpy, rocky, root-filled uneven terrain can burn more calories than running on a flat surface? Not to mention the coordination you need to hop said roots and dodge those rocks. It is muddy here. After a few days of on and off rain, the one thing we have plenty of is mud. My dog leaves muddy paw prints wherever he goes and I find myself jumping around puddles.
While you are burning more calories, improving your balance and agility, you are also working your legs and ankles more than you would on a flat path. Therefore, it's important to start slow. It's a good idea to start on a relatively flat path rather than a mountain and start slow. Try doing a 15 minute trail run then see how you feel the next day. Once you feel comfortable, increase your run time slowly.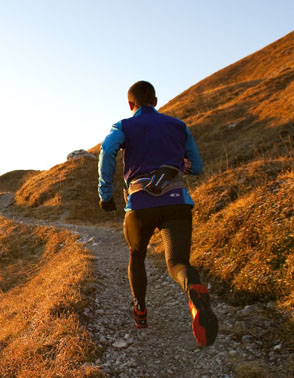 Yes, there will be obstacles on the trail. That doesn't mean you need to keep your eyes on the road. Staring down at the trail leaves you unable to see other things coming your way, including tree branches. So while it may be tempting to look at the ground, it's important to keep your eyes up to keep them from getting poked out. If you're crossing slippery, super steep or tricky terrain, slow down and walk. Just because you are trail "running" does not mean that walking isn't allowed. In fact, even experienced trail runners slow down to a walk from time to time.
It's good etiquette (and safer) to stay to the right and announce yourself before passing, especially when running by dogs or horses (if you see a horse, step to the side and ask if it's okay to pass, trust me, you do not want to kicked by a horse).
However, the most important tip when it comes to trail running is to wear the right shoes. Your regular shoes just won't cut it. You need more foot protection and different outsoles. Those big, lugged outsoles on
trail running shoes
are to keep you from slipping or hurting your feet on rocks, they also improve traction.
Trail shoes are heavier, with a thicker sole that can help maintain the integrity of the shoe, even in the toughest of conditions.
Trail running shoes often feel lower to the ground; this is due to a denser midsole. This is important because it offers more stability, making you less likely to twist your ankle. The lugs will offer more traction on a dusty or "loose" trail and can stop you from skidding down hills or from falling while turning. The most important difference between trail shoes and road shoes are the rock plates. These are pretty much exactly as they sound, they stop rocks and roots and other things from pushing through the sole of your shoe into your foot. Good trail shoes don't just offer sole protection, toe bumpers can keep you from stubbing or breaking your toes.
If you are running on hardcore terrain with lots of rocks or if your feet just hurt after a trail run, you might want to consider going with a more protective shoe. The
Salomon XA Pro 3D
have a thick rock plate, big toe guard and a wider platform.
The
Salomon SpeedCross
is lighter for faster trail running and/or through muddy conditions. Wider lugs release mud easier to keep your shoes (somewhat) clean.